Cheap Team Bonding Activities Singapore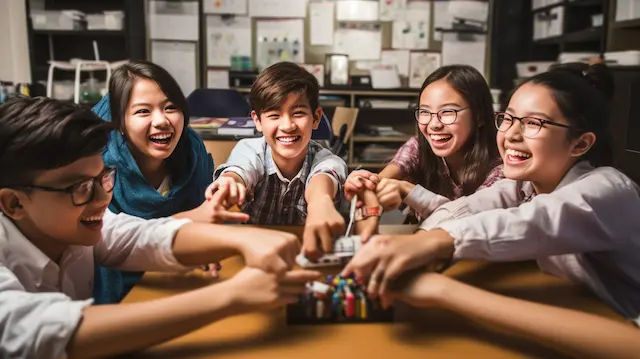 The best cheap team bonding activities in Singapore are Terrarium Workshop, Laser Tag, Combat Archery Tag, Poolball, Amazing Race, and Ninja Tag.
These games and workshops are designed to promote healthy competition, collaboration, communication, and camaraderie among team members. From small startups to large corporations, they create a positive work environment and enhance teamwork.
Moreover, if you need help in facilitating these exciting activities, do not hesitate to have FunEmpire, with 8,000+ 5-Star client reviews and an impressive track record of over 50,000 successful events, they will surely help you create memorable experiences without breaking the bank!
So, check out these best Cheap Team Bonding Activities in Singapore for your colleagues to enjoy!
Quick Summary
The best cheap team bonding activities in Singapore are Terrarium Workshop, Laser Tag, Combat Archery Tag, Poolball, Amazing Race, and Ninja Tag.
Leading a fun team bonding activity requires clear communication, preparation, and a focus on fostering engagement and interaction among members.
FunEmpire's cheap bonding activities in Singapore stand out as the best, with 8,000+ 5-Star client reviews and an impressive track record of over 50,000 successful events to date.
Best Cheap Team Bonding Activities In Singapore
1) Terrarium Workshop
One of the most unique and budget-friendly activities in Singapore is a terrarium workshop. Terrariums are miniature gardens housed in glass containers, and creating them together offers a creative and relaxing experience. Participants can learn about plant care, design their own terrariums, and bring them back to the office as a reminder of their shared experience.
Terrarium workshops are often conducted by experienced instructors who provide guidance and materials. This team building workshop is not only affordable but also help teams bond through a shared sense of achievement and connection to nature.
2) Laser Tag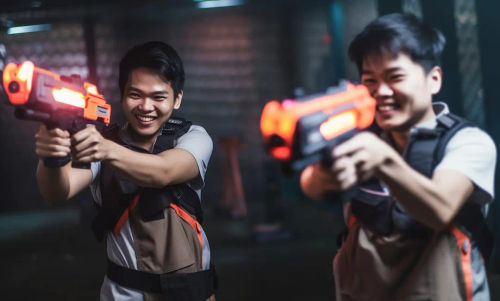 Laser tag is a perfect game for team building, suitable for all ages! Its inclusive and versatile nature allows participants of different generations to come together and form lasting bonds through exciting missions.
Whether played outdoors or indoors, laser tag offers the opportunity to enjoy the beauty of nature while accommodating groups of any size. Don't miss out on the chance to include laser tag in your next team building event agenda and create unforgettable memories!
3) Combat Archery Tag
Embark on an unforgettable adventure and experience the exhilarating fusion of dodgeball and archery in Archery Tag! Engage in electrifying head-to-head battles as you strategically aim foam-tipped arrows at opponents, all while donning comfortable face masks for added safety.
Immerse yourself in the thrill of this action-packed team-building activity and create lasting memories with your friends. Join us today and get ready to unleash your inner archer in this exciting and heart-pounding game!
4) Poolball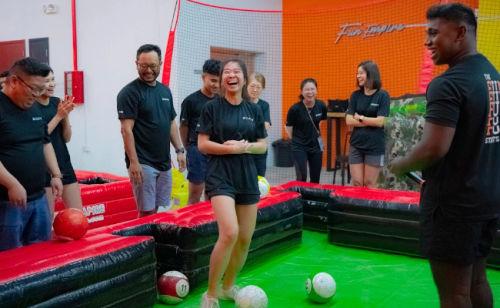 Immerse yourself in the exhilarating world of our diverse selection of games on the massive pool table. From the classic and timeless Poolball Classic to the adrenaline-pumping and unpredictable Poolball Sabotage, these extraordinary games are designed to not only entertain but also enhance your strategic planning skills, promote effective team communication, foster camaraderie among players, and foster inclusivity.
Join us in this ultimate challenge and conquer the giant pool table today, embarking on an unforgettable journey of thrilling competition and endless fun!
5) Amazing Race
Experience Singapore's vibrant culture and cuisine like never before with the FunEmpire's Amazing Race! Our innovative event combines both physical and virtual activities, allowing you to explore Chinatown from the comfort of your own home.
Solve puzzles along the way as you discover renowned landmarks and embark on a truly unique journey through our nation's rich heritage. Join us today for an adventure unlike any other!
6) Ninja Tag
Ninja Tag is a high-energy game that's perfect for office teams who need to bond in a fun way. The objective of the game is simple: all players have to try and tag each other with foam ninja swords while avoiding being tagged themselves.
This activity helps to bring out teamwork and strategy among team members, and encourages them to think on their feet. It also helps to build trust because it requires players to have faith that their teammates will protect them when they're being attacked.
Ninja Tag is a great way to get your great team moving, and can be played outdoors or indoors – all you need are some foam ninja swords and a few willing participants! Plus, it's one of the most affordable team activities in Singapore.
7) Bullet Strike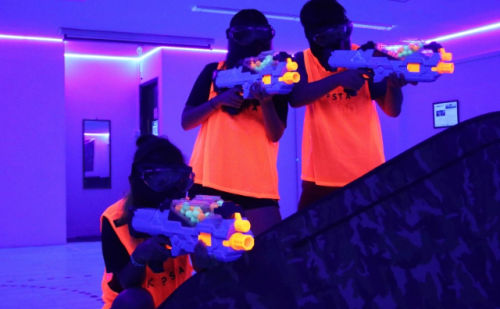 If your team is looking for a thrilling way to bond, then Bullet Strike could be the perfect activity. It's an exciting virtual reality experience that immerses players in a simulated environment where they must work together as a team to take out their opponents.
This game requires intense teamwork and communication skills among participants, and helps build trust between team members. It's also a great way to get creative, as players must come up with tactical strategies to outsmart their opponents.
Bullet Strike is an incredibly fun and affordable team activity that your whole team will love – and it can be experienced in Singapore!
8) Clay Making Workshop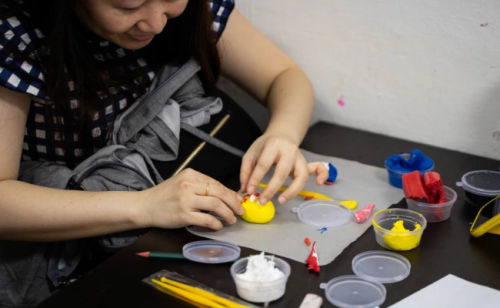 Discover the artistry of working with clay in our engaging Clay Making Workshop. Unleash your creativity as you mold and shape clay into stunning pottery pieces. Our experienced instructors will guide you through various techniques, from hand-building to wheel throwing, ensuring that you develop a strong foundation in clay manipulation.
Whether you're a beginner or have prior experience, this workshop offers a hands-on experience to create functional and decorative pottery that reflects your personal style.
9) Candle Making Workshop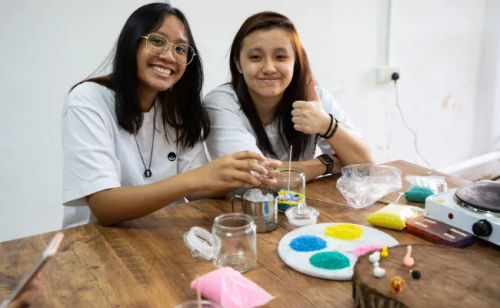 Immerse yourself in the world of scents and craftsmanship with our Candle Workshop. This workshop provides a hands-on opportunity to learn the intricate process of making candles from scratch. From selecting fragrances and waxes to mastering the art of wick placement, you'll gain insights into every step of candle creation.
By the end of the workshop, you'll not only have a collection of uniquely crafted candles but also a newfound appreciation for the soothing ambiance that candles can bring to any space.
10) Leather Making Workshop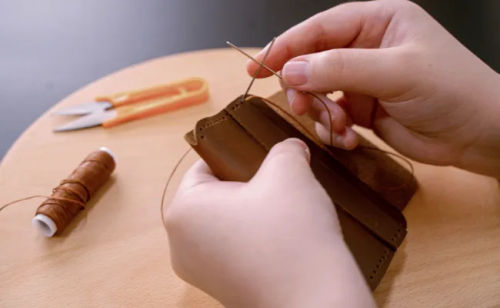 Unleash your inner artisan in our Leather Making Workshop, where you'll embark on a journey into the realm of leathercraft. Under the guidance of skilled leatherworkers, you'll explore the techniques of cutting, stitching, and finishing to create your own leather goods.
From wallets to belts and even small accessories, this workshop equips you with the skills to craft items that showcase both functionality and elegance. Delve into the tactile world of leather and leave with handcrafted pieces that exude character and charm.
11) Escape Room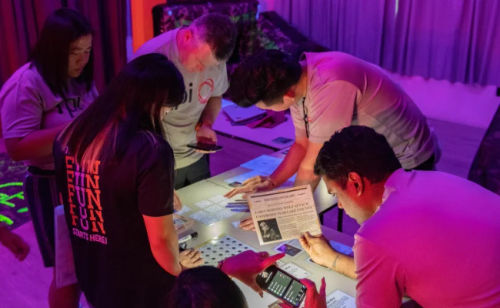 Escape room have gained immense popularity as team activities. Singapore offers a range of affordable escape rooms with exciting themes, solve puzzles, and intricate challenges. These challenges require teamwork, effective communication and thinking skills to escape within a given time limit.
Participants can bond over the shared excitement and adrenaline rush of deciphering clues and unraveling mysteries together. Escape room challenges provide an immersive experience that strengthens team dynamics and fosters trust among colleagues.
12) Art Jamming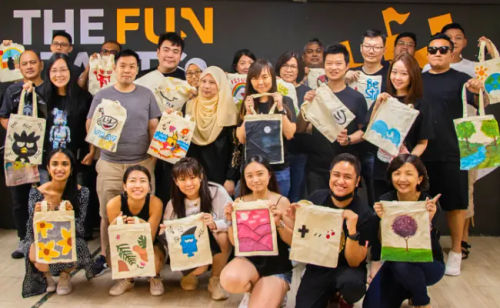 Art jamming provide a creative and inexpensive outlet for team meeting. In these sessions, members can express their creative side through art while engaging in meaningful conversations in canvas painting experience. Singapore offers numerous art studios and workshops that provide affordable art jam experiences.
Participants can unleash their creativity, collaborate on group projects, and appreciate each other's unique perspectives. The sessions promote communication, open-mindedness, and foster a sense of collective creativity within the team.
13) Bubble Soccer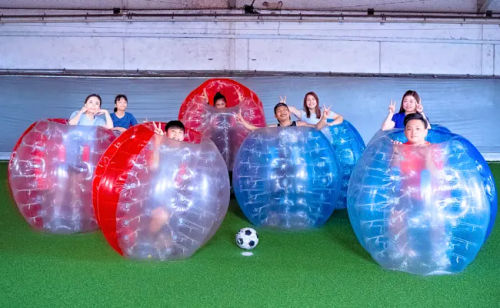 Bubble Soccer is a great way for teams to bond while having plenty of laughs. It's also relatively inexpensive compared to other team activities. All you need is an inflatable ball and some open space, and your great team can start playing immediately with the goal of earning the highest score points.
The idea behind Bubble Soccer is that each player wears an inflated bubble suit which protects them from bumping into each other. This means that all kinds of crazy body-to-body contact is allowed and even encouraged!
This activity allows teams to work together in a fun way, while also improving their agility, coordination and speed. With an experienced referee to make sure everything runs smoothly, Bubble Soccer can be one of the most enjoyable team activities you can do in Singapore.
14) Giant Board Games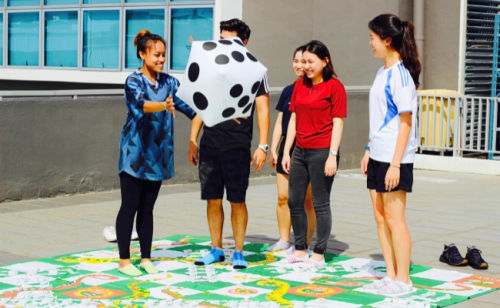 Are you searching for a thrilling and innovative approach to add excitement to your upcoming event? Look no more! Life-sized versions of beloved childhood games are the answer. Whether it's giant Jenga, Pick Up Sticks, Connect Four, or Snakes & Ladders, the options are practically limitless.
These engaging board games serve as excellent icebreakers in Singapore, offering bigger challenges and the opportunity to create new memories. It's time to reintroduce those cherished pastimes into your life!
15) Saber Tag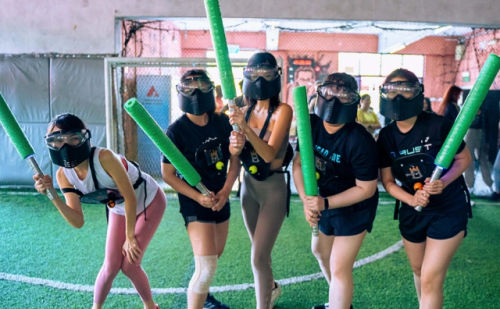 Prepare your sword and embark on thrilling missions such as the legendary Saber Wars and the awe-inspiring Defenders of the Galaxy! Gather your team and put your communication, coordination, and collaboration skills to the ultimate test as you strive for glorious victory.
Immerse yourself in the adrenaline-fueled world of intense saber combat and get ready to embrace a whole new level of gaming excitement!
16) SaberFit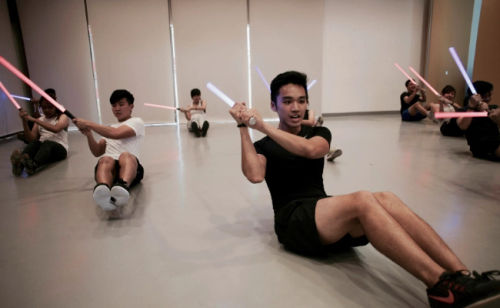 Prepare yourself for an adrenaline-pumping saber fitness workout that blends combat techniques and partner fighting! This unique group exercise is unparalleled, incorporating team building elements that are ideal for your upcoming team bonding event in Singapore.
Participants will not only face an original challenge but also have the opportunity to strengthen camaraderie among colleagues during this unforgettable experience. Expect a good sweat and loads of fun!
17) Bullet Ball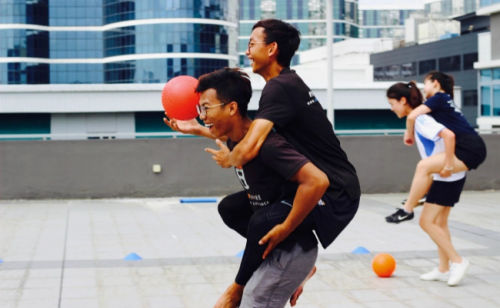 Have you ever played Dodgeball? If you're looking for an adrenaline-pumping experience, get ready for an even more thrilling and action-packed version with Bullet Ball! Created by FunEmpire, a leading team building company, this original concept takes the excitement to a whole new level.
Perfect for your upcoming session in Singapore, Bullet Ball combines the strategic gameplay of Dodgeball with exciting twists and turns that will keep you on the edge of your seat. And the best part?
It's not only a fun team building activity, but it's also budget-friendly, ensuring that you can have a blast without breaking the bank! Get ready to unleash your competitive spirit and have an unforgettable time with Bullet Ball!
18) Virtual Time Travel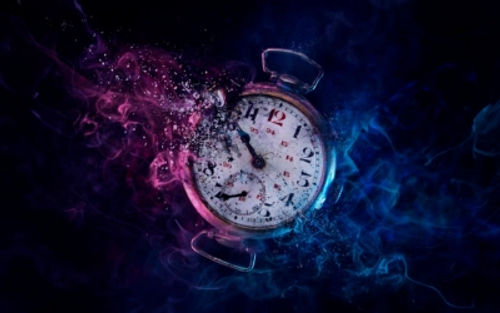 Step into a world where history comes to life and takes on a new dimension with the Virtual Time Travel Game. This innovative experience transcends traditional team-building activities, allowing participants to collaboratively journey through different epochs, solve challenges, and forge stronger connections along the way.
In the Virtual Time Travel Game, your team becomes a group of intrepid time travelers, equipped with state-of-the-art virtual reality technology. As you put on your VR headsets, the present fades away, and you find yourselves transported to pivotal moments in history.
From ancient civilizations to significant historical events, each era presents a unique setting filled with mysteries to unravel and puzzles to solve.
19) Balloon Sculpting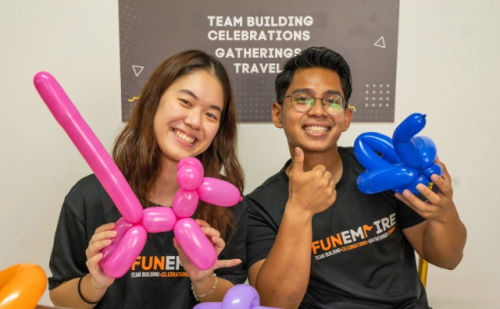 If you're looking for something unique for your bonding session, why not try out balloon sculpting? This fun and creative activity requires participants to work together to create sculptures using balloons.
Balloon sculpting encourages collaboration among team members, as they must come up with ideas and strategies that will help them construct the sculpture. It also helps teams bond in a non-competitive environment by allowing them to express their creativity in a unique way.
20) Perfume Workshop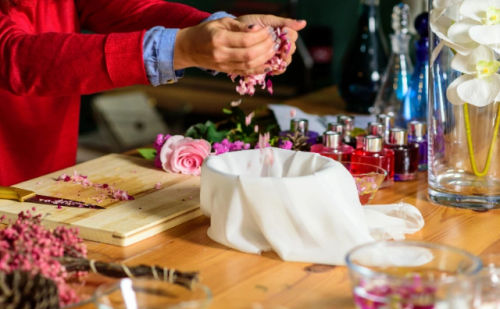 Step into the captivating world of fragrances with our Perfume Workshop. Learn the art of blending aromatic notes to create a unique and personalized scent that encapsulates your individuality.
Our expert perfumers will guide you through the fundamentals of fragrance composition, from understanding top, middle, and base notes to mastering the delicate balance of scents. With a wide range of essential oils and aromatic ingredients at your disposal, you'll craft a signature perfume that tells a story and lingers as a captivating memory.
21) DIY Cooking Classes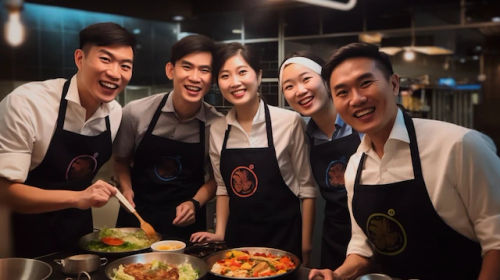 Cooking classes are an excellent way to foster team bonding while learning new skills. Singapore offers a variety of do-it-yourself cooking class that are both affordable and interactive. Teams can come together to prepare delicious meals under the guidance of professional chefs.
Through the process of cooking, they can learn to communicate effectively, delegate tasks, and work in sync to create culinary masterpieces. The shared experience of cooking and enjoying a meal together strengthens relationships and creates lasting memories.
Why is Team Bonding Important
Team bonding is an essential part of a productive and healthy workplace. It helps to create quality time, trust, foster collaboration, and encourage communication among the team. Regular team activities can enhance communication skills, boost morale, reduce stress levels, and promote creativity within the office space.
When implemented correctly, team building exercises can help to break barriers between colleagues and create a more harmonious office environment. Team building can also help to build skills such as conflict resolution, time management, and leadership.
Singapore, known for its vibrant culture and diverse population, offers a wide array of options when it comes to team activities that are not only effective but also cost-efficient. These activities range from unique culinary experiences, invigorating outdoor challenges, to creative workshops.
Each activity is designed to cater to different team dynamics, making them perfect for any team, regardless of size or industry. Engaging in these activities allows teams to step out of the office environment and experience something new together, strengthening their bond while also having fun.
Benefits of Team Activities
Cost-Effective: Cheap activities allow companies to promote team unity and engagement without straining the budget. This enables more frequent team-building initiatives throughout the year.
Inclusivity: Affordable activities make it easier to involve all team members, fostering a sense of inclusivity and ensuring that everyone has the opportunity to participate and contribute.
Variety: Budget-friendly activities can encompass a wide range of options, from outdoor games and workshops to creative challenges and problem-solving tasks, ensuring diversity in team bonding experiences.
Enhanced Communication: Team members collaborate and communicate more effectively during these activities, improving their interpersonal relationships and strengthening the overall team dynamic.
Stress Relief: Engaging in low-cost bonding activity provides a break from the regular work routine, reducing stress and enhancing overall employee well-being.
Skill Development: Many budget-friendly activities involve teamwork, problem-solving, and leadership skills, allowing team members to develop and showcase their abilities in a different context.
Camaraderie: Participating in these activities fosters a sense of camaraderie among team members, creating lasting memories and shared experiences that contribute to a positive work environment.
Creativity and Innovation: Affordable activities often encourage creative thinking and innovation, as team members collaborate to find solutions and achieve goals within limited resources.
Motivation Boost: Taking the best part in enjoyable and meaningful activities helps boost team morale and motivation, resulting in improved job satisfaction and increased productivity.
Tips for Maximizing the Experience
To make the most of your exciting team building activities, consider the following tips.
Plan ahead: Take the time to plan the activity in advance to ensure smooth logistics and make the most of the experience.
Set clear objectives: Determine the goals and objectives of the activity to ensure it aligns with the desired outcomes.
Communicate expectations: Clearly communicate the purpose, agenda, and expectations to all members beforehand.
Encourage participation: Create a supportive and inclusive environment that encourages active participation from all members.
Foster teamwork: Design activities that require collaboration, communication, and problem-solving to enhance team work skills.
Promote open communication: Encourage open and honest communication throughout the activity to foster trust and understanding among members.
Emphasize the learning experience: Encourage the team to reflect on their experiences and identify key takeaways for personal and professional growth.
Provide feedback and recognition: Acknowledge and appreciate individual and team efforts during and after the activity to boost morale and motivation.
Follow up and sustain momentum: Establish follow-up actions and strategies to ensure the exciting experience has a lasting impact on team dynamics.
Adapt and customize: Tailor the activities to suit the unique needs and preferences of your team to maximize engagement and enjoyment.
Cheap Team Bonding Activities Singapore
In conclusion, the value of affordable team activities in Singapore cannot be underestimated. These affordable team bonding activities in Singapore provide a gateway to enhanced teamwork, improved communication, and stronger relationships among team members, all while being mindful of budget constraints.
From engaging in creative workshops and volunteering initiatives to experiencing the thrill of virtual time travel or the joy of karaoke nights, these cost-effective options offer diverse avenues for teams to connect, collaborate, and grow.
By focusing on shared experiences and fostering a sense of unity, these activities contribute to a positive work environment and lay the foundation for continued success, both individually and as a cohesive team.
Looking for more articles? Check out our recommendations below:
Frequently Asked Questions (FAQs)
If you have any questions about cheap bonding activities for teams in Singapore, you can refer to the frequently asked questions (FAQs) about the best cheap bonding activities for teams in Singapore below:
What are the best cheap team bonding activities in Singapore?
The best cheap team bonding activities in Singapore are Terrarium Workshop, Laser Tag, Combat Archery Tag, Poolball, Amazing Race, and Ninja Tag.
What are some fun team building activities in Singapore that are affordable for every team member?
Singapore offers a variety of affordable team bonding activities. Some popular options include escape rooms, laser tag, and cooking classes. These activities are not only enjoyable but also promote team cohesion and cooperation among team members.
Can you suggest some fun team building games that encourage team members to work together?
Yes! Games like "The Human Knot" or "Egg Drop Challenge" are fun team building games that encourage team members to communicate and collaborate effectively. These games can be easily set up and don't require much equipment, making them an affordable option.
What are some fun team bonding activities that we can do during our team building session?
During your team building session, you can engage in activities such as a cooking team building activity or an outdoor scavenger hunt. These activities promote communication, collaboration, and problem-solving among team members.
Are there any online team building games that we can participate in remotely?
Absolutely! There are plenty of online team building games available. Virtual escape rooms, trivia quizzes, and online board games are great ways to bond with your team members remotely.
How can I encourage team members to actively participate in team building activities?
To encourage team members to actively participate, choose activities that are fun and engaging. Also, ensure that the activities cater to everyone's interests and abilities. This will motivate everyone to take part and enjoy the experience.
What are some cooking team building activities that we can try in Singapore?
Cooking team building activities are a great way to foster teamwork. You can book a group cooking class where you learn to make local dishes or even have a friendly cooking competition. These activities can help improve communication and collaboration among team members.
How do team building activities promote team cohesion?
Team building activities promote team cohesion by encouraging team members to work together towards a common goal. These activities often require communication, problem-solving, and cooperation, which can help strengthen relationships within the team.
Can you suggest some outdoor team building activities that we can do in Singapore?
Sure! Singapore offers a wide range of outdoor team building activities. You can try out dragon boating, forest adventure courses, or even a fun beach day filled with games. These activities are not only enjoyable but also great for promoting team cohesion.
What is a good team bonding exercise that can help improve our team's communication skills?
A great team bonding exercise that can improve communication skills is the "Blindfold Challenge". In this game, blindfolded team members must rely on instructions from their teammates to complete certain tasks. This activity encourages clear and effective communication among team members.