Corporate Events Singapore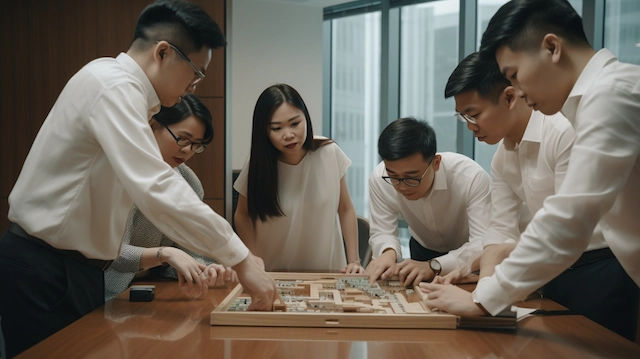 Corporate events in Singapore are essential for networking, branding, employee engagement, and industry exposure.
The best corporate events in Singapore are Terrarium Workshop, Laser Tag, Art Jamming, Bubble Soccer, Leather Workshop, SaberFit, Poolball, and Amazing Race.
For successful corporate events in Singapore, take into account factors such as location, venue capacity, available amenities, catering services, and nearby attractions.
FunEmpire, a leading team building company based in Singapore, boasts a remarkable track record of over 50,000 successful events and more than 8,000 client reviews, earning them a coveted 5-star rating.
Discover the top corporate events in Singapore for 2023, offering curated team building ideas to boost business growth and professional development.
Importance of Corporate Events in Singapore
In Singapore's competitive business environment, corporate events hold immense significance for companies seeking to make their mark. These events offer a platform to network with industry peers, forge strategic partnerships, and stay updated on emerging trends and innovations.
Moreover, corporate events provide opportunities for team building, showcasing products or services, and gaining valuable insights from industry experts through keynote speeches, panel discussions, and workshops.
By actively participating in these events, businesses can foster employee engagement, drive customer acquisition, and establish themselves as thought leaders within their respective industries.
Benefits of Attending Corporate Events
Networking Opportunities: Corporate events are a great platform to meet industry peers, potential clients, and thought leaders. These interactions can open up new business opportunities and partnerships.
Knowledge Sharing: Seminars, workshops, and panel discussions at corporate events provide insights into the latest industry trends, innovations, and strategies.
Brand Visibility: Exhibiting at corporate events can significantly increase brand exposure and recognition.
Employee Engagement: These events provide employees an opportunity to interact with their colleagues in a non-formal setting, boosting morale and fostering a sense of camaraderie.
Client Acquisition: Corporate events can be leveraged to attract potential clients and build long-lasting relationships with them.
Industry Exposure: Attending these events offers a deeper understanding of the industry, its challenges, and opportunities.
Professional Development: Corporate events provide numerous opportunities for learning and enhancing professional skills.
Sales Opportunities: Showcase products or services directly to a target audience who are interested in your industry.
Problem-Solving: Participate in discussions or brainstorming sessions that address industry challenges and find effective solutions.
Competitive Analysis: Gain insights into the strategies adopted by competitors and identify gaps in your own strategy.
Best Corporate Events Singapore
1. Terrarium Workshop
Indulge in the art of creating your own miniature garden in the Terrarium Workshop. Learn about different plant species, their care requirements, and design principles. Craft your own self-sustaining ecosystem using glass containers, soil, stones, and plants. This hands-on workshop provides a calming and creative experience while connecting participants with nature.
2. Non-Stitched Leather Workshop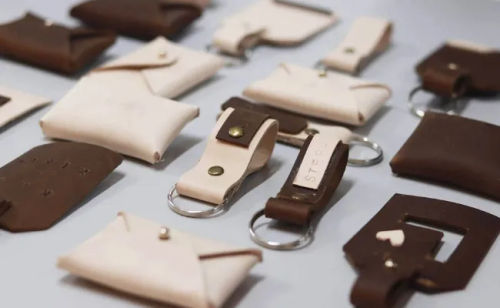 Unleash your creativity and craftsmanship in the Non-Stitched Leather Workshop. Learn the art of leather crafting without using any stitching techniques. Discover various methods such as folding, weaving, and riveting to create unique leather products like wallets, cardholders, or keychains. This hands-on workshop provides a great opportunity to acquire new skills while crafting personalized leather items.
3. SaberFit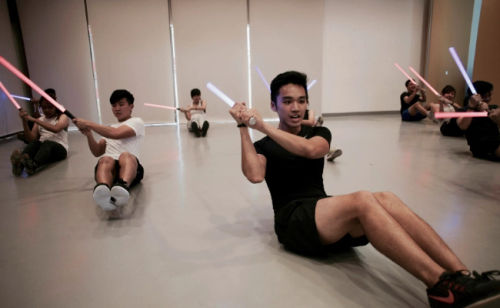 Ignite your inner Jedi with SaberFit, a fitness program inspired by lightsaber combat. Experience an energetic workout combining martial arts-inspired movements, choreography, and lightsaber techniques. Improve your strength, coordination, and endurance while unleashing your inner Star Wars hero. Suitable for all fitness levels, SaberFit adds an element of fun and excitement to your corporate fitness activities.
4. Amazing Race
Embark on an exhilarating adventure with the Amazing Race. Inspired by the popular TV show, this team-building activity challenges participants to navigate through a series of checkpoints and complete a variety of mental and physical challenges. Strengthen communication, problem-solving, and teamwork skills while exploring the city's landmarks and hidden gems.
5. Tote Bag Art Jamming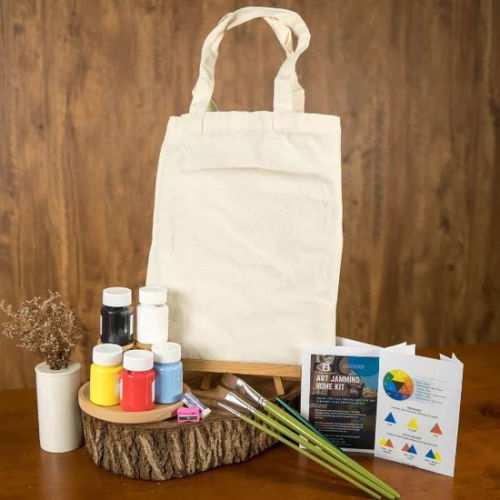 Unleash your artistic side in Tote Bag Art Jamming. Express yourself through painting and customization as you design your very own tote bag. Release your creativity, experiment with different colors and patterns, and create a unique accessory that reflects your style. This activity encourages self-expression and provides a relaxing and enjoyable outlet for participants.
6. Laser Tag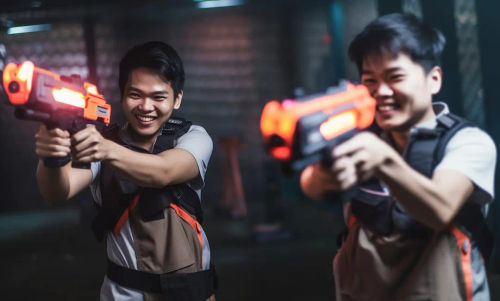 Step into an action-packed battlefield with Laser Tag. Armed with high-tech laser guns, players engage in thrilling combat simulations, strategically maneuvering through obstacles and attempting to tag opponents. Laser Tag promotes teamwork, strategic thinking, and adrenaline-pumping fun, making it an ideal choice for corporate team-building or social events.
7. Poolball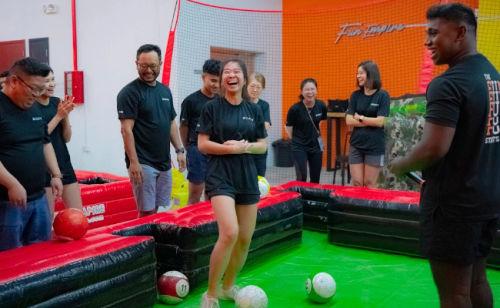 Combining pool and soccer, Poolball is a unique and entertaining activity that tests your precision and accuracy. Participants kick oversized soccer balls on a giant pool table, aiming to sink the colored balls into the pockets. This engaging fusion of sports brings out friendly competition, encourages teamwork, and guarantees plenty of laughter.
8. Clay Making Workshop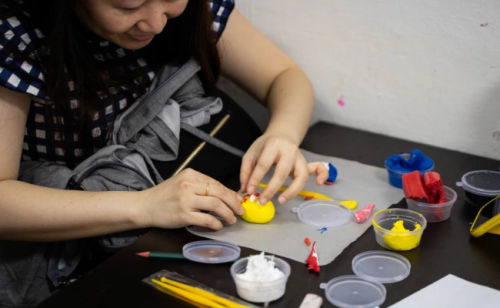 Unleash your artistic talents in the Clay Making Workshop. Learn the techniques of molding and sculpting clay to create beautiful and intricate figurines or decorative items. Explore your imagination, play with different textures, and bring your creations to life. This hands-on workshop allows participants to relax, de-stress, and tap into their artistic side.
9. Escape Room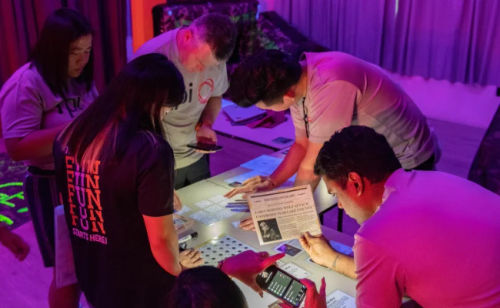 Experience the thrill of solving puzzles and unlocking mysteries in an Escape Room. Enclosed in a themed room, participants work together to decipher clues, solve riddles, and complete challenges within a time limit. This immersive and intellectually stimulating activity promotes teamwork, communication, and problem-solving skills, offering an unforgettable experience for corporate groups.
10. Canvas Art Jamming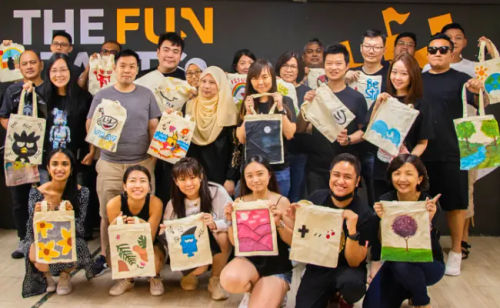 Unleash your creativity on canvas in the Art Jamming session. Paint, draw, and experiment with various art techniques under the guidance of an experienced artist. Explore colors, textures, and composition to create your own masterpiece. This relaxing and therapeutic activity encourages self-expression and allows participants to tap into their artistic abilities.
11. Saber Tag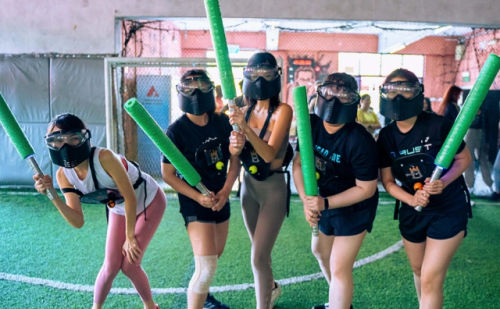 Engage in epic lightsaber duels with Saber Tag. Experience the excitement of fencing and martial arts combined with the thrill of wielding a glowing saber. Participants learn combat techniques, engage in friendly sparring matches, and immerse themselves in a unique, Star Wars-inspired experience. Saber Tag is perfect for team-building events or simply unleashing your inner Jedi.
12. Ninja Tag
Channel your inner ninja in the fast-paced and exhilarating Ninja Tag. Navigate through an obstacle course, tackling challenges such as climbing walls, balancing on beams, and overcoming agility-based obstacles. Compete against friends or colleagues while testing your strength, speed, and coordination in this high-energy activity.
13. Combat Archery Tag
Experience the exhilarating fusion of archery and dodgeball in Combat Archery Tag. Engage in fast-paced team battles where players shoot foam-tipped arrows at opponents, aiming to eliminate them from the game. This thrilling activity tests your agility, strategic thinking, and teamwork, making it an ideal choice for corporate team-building events and friendly competitions.
14. Bubble Soccer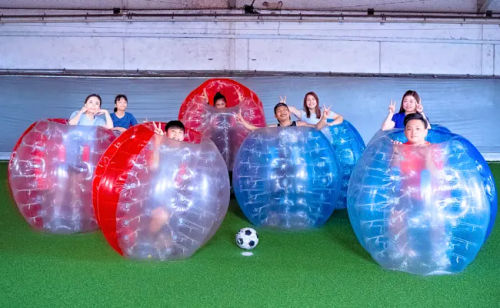 Take soccer to new heights with Bubble Soccer. Climb inside inflatable bubbles that protect your upper body and head, adding an exciting twist to the game. Bounce, roll, and collide with opponents as you strive to score goals. This hilarious and action-packed activity combines soccer with laughter and ensures a memorable experience for all participants.
15. Stitched Leather Workshop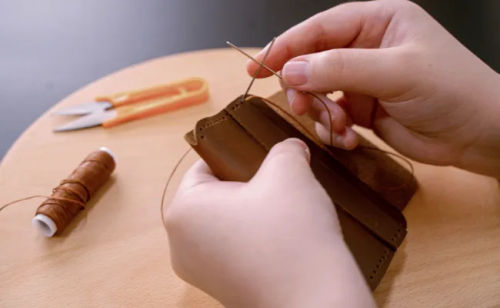 Explore the art of traditional leather crafting in the Stitched Leather Workshop. Learn stitching techniques, patterns, and skills required to create exquisite leather products like wallets, belts, or passport holders. This hands-on workshop provides an opportunity to develop craftsmanship and create personalized leather items with timeless appeal.
Tips for Attending Corporate Events in Singapore
Research the events beforehand to understand the target audience, event agenda, and keynote speakers. This will help you identify which events align best with your business goals and interests.
Prepare a concise elevator pitch about your company or project. This will enable you to introduce yourself effectively and make meaningful connections during networking sessions.
Take advantage of technology. Utilize event apps or online platforms to schedule meetings, access event materials, and connect with other attendees before, during, and after the event.
Corporate Events Singapore
As the corporate landscape in Singapore continues to thrive, attending the right events can significantly contribute to your business success. The best corporate events happening in Singapore in 2023 offer a wealth of opportunities to learn, network, and grow professionally.
Whether you're seeking industry insights, seeking potential partnerships, or aiming to position your brand as a leader, these events provide the ideal platform to achieve your objectives. Mark your calendars, prepare to immerse yourself in knowledge and innovation, and make the most of these outstanding corporate events in Singapore in 2023.
Looking for more articles? Check out our recommendations below:
Frequently Asked Questions (FAQ)
If you have any questions about corporate events in Singapore, you can refer to the frequently asked questions (FAQ) about the best Corporate Events In Singapore below: