Moss Terrarium Singapore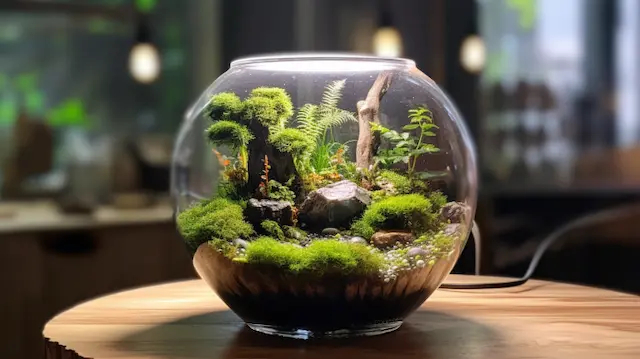 Welcome to the comprehensive guide to moss terrariums in Singapore! Moss terrariums (also known as mossariums) have gained popularity as captivating and low-maintenance indoor plants, bringing a touch of nature into any space. In this guide, we will explore the wonders of moss terrariums, how to create them, and the key factors for their successful growth.
Whether you're a beginner or an experienced gardener, you'll learn everything you need to know to create your very own self-sustaining ecosystem.
Understanding Moss Terrariums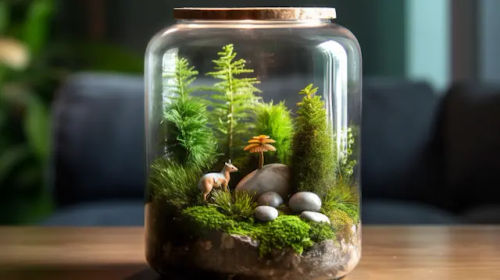 Moss terrariums are captivating miniature ecosystems that consist of carefully selected moss varieties, housed within glass containers. Unlike open terrariums, closed terrariums provide a self-sustaining environment where the moisture is recycled, creating a unique microclimate for the plants to thrive.
The choice of moss is crucial, as different species have specific requirements in terms of light, moisture, and temperature. Additionally, the soil composition plays a vital role in providing the necessary nutrients and drainage for the moss to grow healthily.
Getting Started with Moss Terrariums in Singapore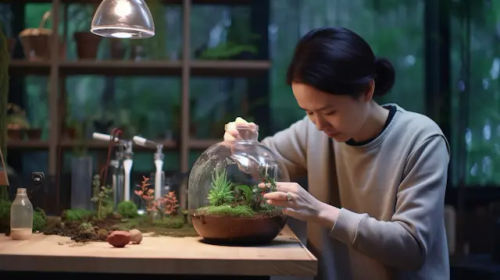 Choose a suitable glass container: Select a clean glass container that allows for proper airflow and sunlight penetration. Consider the size and shape that aligns with your desired aesthetic. A glass container provides a clear view of the self-sustaining ecosystem within.
Prepare the soil mixture: Create a well-draining soil mixture by combining peat moss, perlite, and activated charcoal. This mixture provides the necessary nutrients and promotes proper drainage for the plants to thrive in a closed terrarium.
Select the right moss: Choose moss varieties that are suitable for closed terrariums and can thrive in the Singapore climate. Consider factors such as light requirements, moisture levels, and temperature preferences when choosing the moss for your terrarium.
Add decorative elements (optional): Enhance the visual appeal of your moss terrarium by incorporating decorative elements such as rocks, driftwood, or figurines. These elements can be creatively placed to create a natural-looking moss wall or to add a special touch to your terrarium design.
Plant the moss: Carefully place the chosen moss into the prepared soil mixture within the glass container. Ensure the moss has enough space to grow and spread. Creating a moss wall by adhering moss to one side of the container can add an interesting visual element.
Mist and maintain moisture: Lightly mist the moss and soil with water until the top layer of soil feels slightly damp. Maintaining the right moisture level is important for the self-sustaining ecosystem of the closed terrarium. Avoid overwatering, as it can lead to the growth of mold or other issues.
Place in an ideal location: Choose a suitable spot for your moss terrarium, considering factors such as indirect sunlight, moderate temperature, and minimal drafts. Finding the right place ensures optimal conditions for the moss to grow and thrive.
Designing Your Moss Terrarium
Designing a visually stunning moss terrarium allows you to unleash your creativity. Consider the shape and size of your glass container to determine the overall layout. You can create a lush moss wall by adhering moss to one side of the container, giving it a unique vertical touch. Experiment with different container options, such as round jars, hanging orbs, or geometric glass boxes, to achieve the desired aesthetic effect.
To add a touch of whimsy, choose decorative elements that complement the natural beauty of moss. Smooth pebbles, miniature figurines, or delicate fairy lights can bring charm and enchantment to your moss terrarium. Be mindful of not overcrowding the container, as moss requires space to grow and flourish.
Caring for Moss Terrariums in Singapore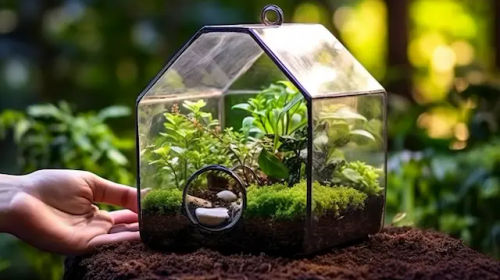 Watering: Lightly mist the terrarium when the top layer of soil feels dry to the touch. Avoid overwatering to prevent waterlogged conditions that can harm the moss. Maintaining the right moisture level is crucial for the moss to grow and thrive.
Light exposure: Place your terrarium in a location with indirect sunlight. Too much direct sunlight can cause the moss to dry out or become scorched. Find a suitable place where the terrarium can receive the right amount of light.
Monitoring humidity: Moss thrives in humid environments. Check the humidity levels within the terrarium and maintain a moderate level by occasionally misting the moss and the sides of the container. This helps create a favorable environment for the moss to grow.
Avoid overcrowding: Ensure that the moss has sufficient space to grow and breathe. Overcrowding can hinder proper airflow and lead to the development of mold or other issues. Allow the moss to spread naturally within the container.
Pests and maintenance: Regularly inspect your moss terrarium for signs of pests such as fungus gnats or spider mites. If infestation occurs, address it promptly with organic pest control methods. Remove any decaying leaves or debris to maintain a clean and healthy environment for the moss.
Temperature considerations: Moss thrives in moderate temperatures. Avoid extreme temperature fluctuations or exposure to drafts, as they can stress the moss and hinder its growth. Place the terrarium in a stable temperature environment.
Moss Terrarium Singapore
Creating your own moss terrarium is a fulfilling and captivating experience. With the right preparation, materials, and care, you can build an enchanting self-sustaining ecosystem that will thrive in Singapore's climate.
From choosing the ideal soil mixture to selecting decorative elements, this guide provides everything you need to know to design your very own moss terrarium. So why not get started today and bring out your inner green thumb!
Good luck with your moss terrarium journey! May your moss garden be full of life and beauty.
Looking to create other types of terrariums instead? Check out our recommendations below:
Frequently Asked Questions (FAQ)
If you have any questions about moss terrariums in Singapore, you can refer to the frequently asked questions (FAQ) about Moss Terrariums In Singapore below:
How often should I water my moss terrarium?
The frequency of watering depends on the moisture level of the soil. As a general rule, mist the terrarium lightly when the top layer of soil feels dry to the touch.
Can I use any type of soil for my moss terrarium?
It is recommended to use a well-draining soil mixture specifically formulated for terrariums. A blend of peat moss, perlite, and activated charcoal is commonly used to provide the ideal environment for moss growth.
Where can I purchase moss and other materials for my terrarium in Singapore?
You can find a variety of moss species and terrarium supplies at local nurseries, garden centers, or online platforms that specialize in indoor plants and gardening.
Are moss terrariums suitable for offices or low-light environments?
Moss terrariums can thrive in low-light environments, making them a great choice for offices or spaces with limited natural sunlight. Opt for moss varieties that are well-suited to low-light conditions.
Can I create a moss terrarium with an open container instead of a closed one?
While closed terrariums provide a self-sustaining ecosystem, you can still create an open moss terrarium. Keep in mind that open terrariums require more frequent watering and monitoring of moisture levels.
How can I get started with creating a moss terrarium in Singapore, and who should I contact for guidance?
To begin creating a moss terrarium in Singapore, research suitable moss species for your terrarium and gather necessary materials like containers and substrates. For expert guidance, contact local terrarium workshops or plant enthusiasts, and take note of their advice on moss selection, maintenance, and design techniques.