Simple Team Building Games Indoor Singapore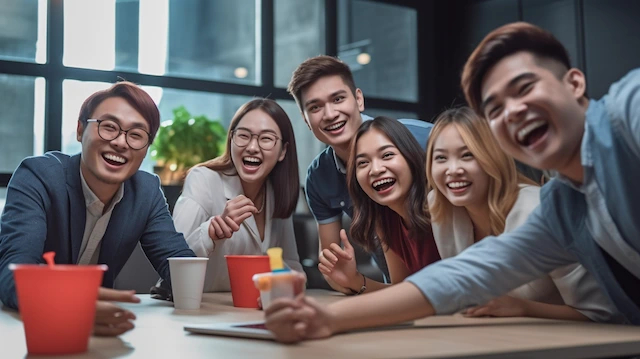 Team building activities play a vital role in enhancing collaboration, communication, and teamwork within organizations. These activities help foster a positive work environment, improve employee engagement, and boost productivity.
When it comes to team building, indoor games provide a convenient and accessible option, particularly in a vibrant city like Singapore.
With numerous indoor venues and a variety of games available, organizations in Singapore can engage in simple indoor team building games to strengthen their teams and achieve their goals.
Understanding the Benefits of Team Building Games
Team building games offer several benefits that contribute to a cohesive and productive work environment. These games facilitate effective team building and communication among team members, allowing them to build trust and understanding. Through problem-solving activities, teams learn to collaborate and find creative solutions together.
Moreover, team building games encourage employees to step out of their comfort zones, fostering personal growth and building resilience. These games also provide an opportunity for team members to bond, resulting in improved relationships and a sense of camaraderie.
Key Consideration Factors
When planning indoor team building games in Singapore, several key factors should be taken into consideration to ensure a successful and impactful experience. These factors can greatly influence the effectiveness and overall outcome of the team building activities. Here are some essential considerations to keep in mind:
Objective and Desired Outcomes: Clearly define the objective and desired outcomes of the team building games. Identify the specific skills, behaviors, or areas of improvement you want to target through the activities. This will help you choose games that align with your goals and create a focused and purposeful experience.
Team Dynamics and Size: Consider the dynamics and size of your team. Take into account the diversity of personalities, roles, and experience levels within the group. Certain games may be better suited for smaller or larger teams, or specific activities may be more effective in addressing the dynamics of your team.
Time Constraints: Assess the time available for the team building activities. Determine whether the games can be completed within the allocated time frame or if adjustments are necessary. It's important to strike a balance between engaging in meaningful activities and allowing for other work commitments or schedules.
Accessibility and Venue: Choose a venue that is easily accessible and suitable for indoor team building activities. Consider factors such as proximity to the workplace, availability of necessary facilities, and the capacity to accommodate the size of your team. Ensure the venue provides a comfortable and conducive environment for the games.
Budget: Evaluate your budget for team building activities. Determine the resources available for organizing indoor games, including venue rental, materials, facilitators, or professional organizers. Explore cost-effective options without compromising the quality and effectiveness of the games.
Safety Measures: Prioritize the safety of participants during the team building activities. Assess any potential risks or hazards associated with the chosen games and take appropriate safety measures. Provide clear instructions, implement necessary precautions, and ensure the well-being of all participants throughout the activities.
Feedback and Evaluation: Establish a system for collecting feedback and evaluating the effectiveness of the team building games. Encourage participants to share their thoughts, insights, and suggestions to improve future activities. Regularly review and assess the impact of the games on team dynamics, communication, and overall team performance.
By considering these key factors, you can ensure that your indoor team building games in Singapore are well-planned, targeted, and provide a valuable experience for your team. Remember to tailor your choices based on the specific needs and goals of your organization and adapt the activities as necessary to achieve optimal results.
Best Indoor Team Building Games in Singapore
In Singapore, indoor team building games are gaining popularity due to their convenience and versatility. Organizations can conduct these activities in various venues, such as conference rooms, community centers, or dedicated team building facilities.
Indoor games eliminate concerns related to weather conditions, ensuring that team building activities can take place regardless of the season. Moreover, the controlled environment of indoor settings allows for focused engagement, making it easier to facilitate specific learning objectives and tailor the games to the organization's needs.
1. Name Tag Match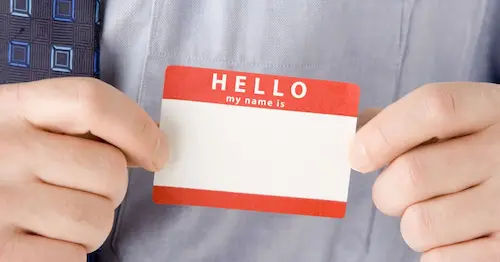 One popular indoor team building game is the Name Tag Match. The objective of this game is to promote communication and memory skills within the team. To play, participants write their names on adhesive tags and stick them on their foreheads without looking. The challenge is for each person to figure out the names of others by asking yes-or-no questions. This game encourages active listening, effective communication, and enhances team members' ability to remember and recall information. It can be adapted for different group sizes by adjusting the number of participants involved or introducing additional rules for added complexity.
2. Human Knot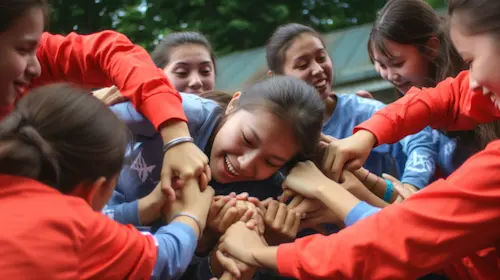 The Human Knot game is an excellent choice for fostering teamwork, problem-solving, and communication. Participants stand in a circle, reach across and grab the hands of two different people across the circle from them. The challenge is to untangle the human knot without releasing their hands. Team members must strategize, communicate, and work together to find a solution. This game promotes collaboration, adaptability, and builds trust among team members as they rely on each other to untangle the knot. Variations can be introduced by adding time limits or blindfolding certain participants to increase the difficulty level.
3. Blind Drawing Challenge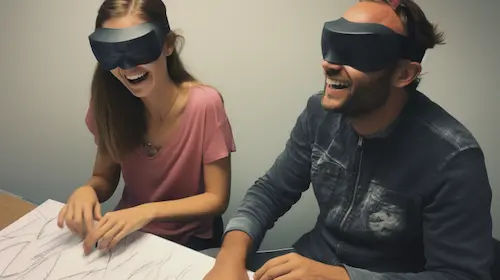 The Blind Drawing Challenge is an engaging indoor team building game that emphasizes trust, communication, and teamwork. Participants are paired up, with one person blindfolded and the other given a drawing tool and paper. The sighted partner describes an object or a shape to the blindfolded partner, who attempts to draw it based solely on the verbal instructions. This activity enhances active listening, effective communication, and trust between team members. By reflecting on the experience, participants can identify the importance of clear instructions and active engagement in achieving a common goal.
4. Tower Building Contest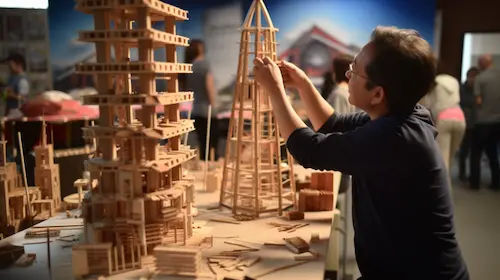 The Tower Building Contest is a competitive yet collaborative game that encourages teamwork, creativity, and strategic thinking. Teams are provided with materials such as straws, tape, and lightweight objects, and their objective is to build the tallest freestanding tower within a specified time limit. This game requires teams to plan, allocate tasks, and work together to construct a stable and impressive tower. It promotes problem-solving, communication, and enhances the team's ability to think critically under pressure. To add more challenge, additional rules can be introduced, such as limiting the number of materials or imposing restrictions on certain construction techniques.
5. Escape Room Adventure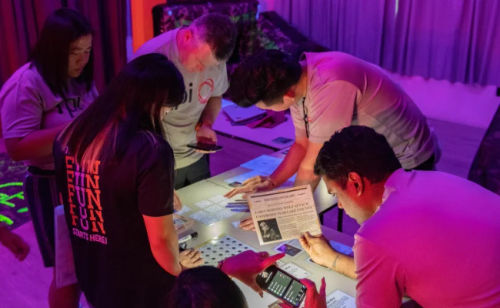 Escape rooms have become increasingly popular for team building in Singapore. Participants are locked in a themed room and must work together to solve puzzles, find clues, and ultimately escape within a specified time frame. These immersive and thrilling experiences promote problem-solving, collaboration, and effective communication. Singapore offers a variety of escape room venues, each with its unique themes and challenges, providing teams with an exciting and engaging team building activity.
6. The Marshmallow Challenge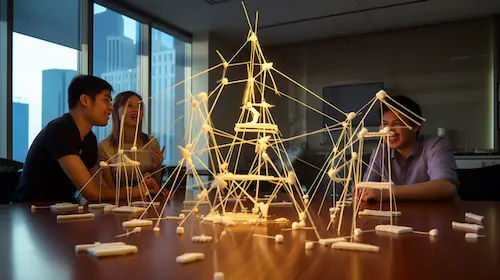 The Marshmallow Challenge is a simple yet powerful team building game that encourages creativity, innovation, and collaboration. Teams are given a limited amount of time and a set of materials, including spaghetti sticks, tape, and a marshmallow. The objective is to build the tallest structure using these materials, with the marshmallow placed on top. This game requires teams to brainstorm ideas, plan their approach, and work together to construct a stable tower. It highlights the importance of prototyping, iteration, and learning from failures.
7. Office Olympics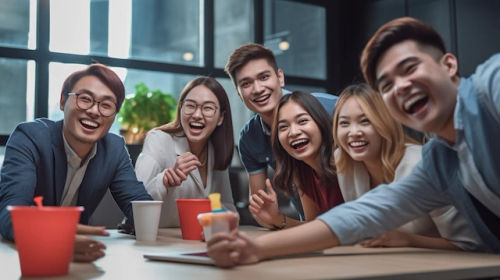 Office Olympics bring the spirit of friendly competition and team bonding into the workplace. Teams compete in a series of indoor games that can be easily set up in an office environment. Games may include paper basketball, desk chair relay, or mini golf using office supplies. Office Olympics promote teamwork, camaraderie, and a sense of fun within the workplace. By incorporating friendly competition, teams can build stronger relationships, boost morale, and create a positive work atmosphere.
8. Indoor Treasure Hunt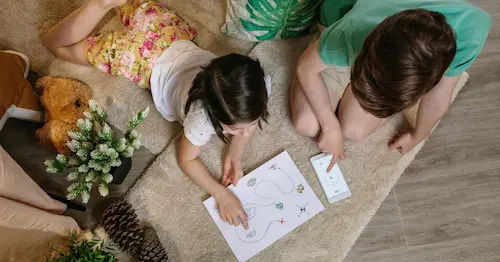 Indoor treasure hunts are exciting and interactive team building activities that encourage problem-solving, collaboration, and communication. Teams follow a series of clues or riddles to discover hidden objects or treasures within a designated indoor space. To make the game more engaging, organizers can incorporate a theme or storyline that adds intrigue and excitement. Indoor treasure hunts provide an opportunity for team members to work together, think creatively, and celebrate their collective achievements.
9. Improv Games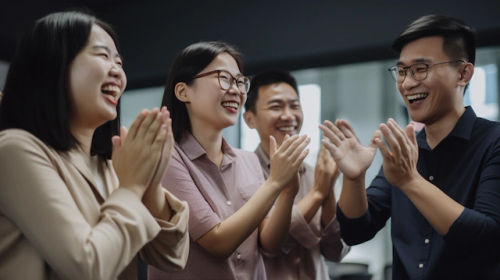 Improv games offer a dynamic and engaging way to improve communication, creativity, and adaptability within teams. These games involve spontaneous and unscripted performances where participants must think on their feet and collaborate with their team members. Examples of improv games suitable for team building include "Yes, and…" where participants build on each other's ideas, and "Three Words Story" where each team member adds three words to collectively create a story. Improv games foster a supportive environment, encourage active listening, and enhance teamwork skills.
10. Puzzle Challenge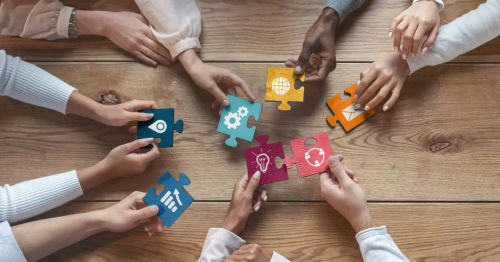 Puzzle challenges provide an intellectually stimulating team building experience that enhances problem-solving abilities and teamwork. Teams can engage in various types of puzzles, such as jigsaw puzzles, riddles, or brain teasers. Working together to solve puzzles requires effective communication, collaboration, and the ability to think critically. Organizers can introduce time limits or additional challenges, such as solving puzzles blindfolded or in a specific order, to make the game more challenging and engaging for participants.
Simple Team Building Games Indoor Singapore
In Singapore, indoor team building games provide organizations with a flexible and effective means of strengthening their teams. These games offer a range of benefits, including improved communication, enhanced problem-solving skills, and the development of a positive and collaborative work culture.
By incorporating simple yet engaging activities like Name Tag Match, Human Knot, Blind Drawing Challenge, and Tower Building Contest, organizations in Singapore can create memorable team building experiences that contribute to their overall success. Through these games, teams can bond, learn, and grow together, ultimately leading to higher productivity and a more cohesive work environment.
Looking for more articles? Check out our recommendations below:
Frequently Asked Questions (FAQ)
If you have any questions about indoor team building games in Singapore, you can refer to the frequently asked questions (FAQ) about the best Simple Indoor Team Building Games In Singapore below:
What are the benefits of indoor team building games compared to outdoor activities?
Indoor team building games offer advantages such as weather independence, accessibility, and the ability to create a controlled environment for focused activities. They are not affected by external factors like rain or extreme temperatures, allowing for consistent planning and execution.
How long should indoor team building games typically last?
The duration of indoor team building games can vary depending on the complexity of the game and the desired outcomes. Generally, games can range from 30 minutes to a few hours. It's important to consider the attention span and energy levels of participants when determining the game duration.
Can indoor team building games be customized for specific industries or team dynamics?
Yes, indoor team building games can be tailored to specific industries, team dynamics, or organizational goals. Organizers can modify game rules, themes, or challenges to align with the unique needs and characteristics of the participants.
Are there any age restrictions for participating in indoor team building games?
Age restrictions for indoor team building games may vary depending on the game's complexity and physical requirements. Some games may be more suitable for adult participants, while others can be adapted for all age groups. It's important to choose games that are inclusive and safe for all participants.
How can I assess the effectiveness of indoor team building games?
The effectiveness of indoor team building games can be assessed through participant feedback, observation of improved teamwork and communication in the workplace, and measuring specific outcomes or goals set for the team. Post-game evaluations, surveys, and discussions can provide valuable insights into the impact of the games.
Are there any professional team building organizers in Singapore?
Yes, there are professional team building organizers in Singapore who specialize in designing and facilitating indoor team building activities. These organizers can provide tailored solutions based on your requirements, objectives, and budget.
Can indoor team building games be conducted virtually or remotely?
Yes, indoor team building games can be adapted for virtual or remote settings. Various online platforms and tools enable teams to engage in interactive activities, puzzles, and virtual simulations that promote collaboration and team bonding.
Are there any safety considerations for indoor team building games?
Safety is a crucial aspect of indoor team building games. Organizers should ensure that the games are conducted in a safe environment, free from potential hazards. They should provide clear instructions, monitor activities, and consider any physical or health-related concerns of the participants.
How can I choose the most suitable indoor team building game for my team?
When choosing an indoor team building game, consider your team's dynamics, goals, and preferences. Assess the skills you want to develop or improve, and select games that align with those objectives. Additionally, take into account the size of your team, the available space, and the level of complexity that suits your participants.
Can indoor team building games be combined with other team-building initiatives?
Absolutely! Indoor team building games can be integrated with other team-building initiatives such as workshops, seminars, or outdoor activities. Combining different approaches provides a holistic and comprehensive team development program that addresses various aspects of teamwork and collaboration.