Team Bonding Activities Small Business Singapore
Team bonding activities are essential for any small business in Singapore looking to build a strong and positive team culture. Not only do these activities help with morale, they also provide an opportunity for team members to get to know each other better, share ideas, and develop problem-solving skills.
In this article, we will discuss the 12 best team bonding activities for small businesses in Singapore to strengthen their teams. From virtual escape rooms to outdoor challenges like kayaking or rock climbing, there is something here for everyone.
We'll explore how each fun team building event works as well as its key benefits so you can find the perfect match for your organization's needs!
Best Team Bonding Activities For Small Businesses In Singapore
1) Terrarium Workshop Singapore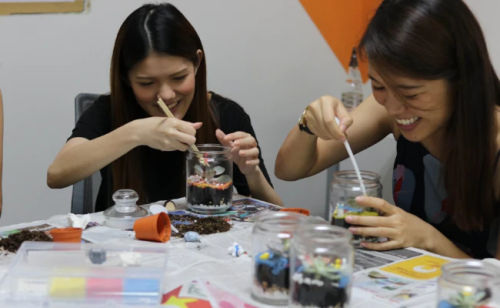 This is a great team bonding activity where teams can learn about nature while creating something unique. Each participant in a Terrarium Workshop will have the chance to create their own terrarium, and everyone's works of art are combined into one bigger creation at the end. Participants will have fun discovering new plants together, learning basic gardening skills, and connecting with each other in an interesting environment.
2) Art Jamming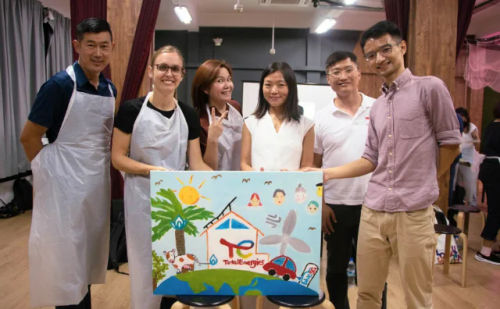 Art Jamming is one of the most popular team bonding activities for small businesses in Singapore and it's not hard to see why. It brings out creativity, encourages collaboration, and helps teammates become more comfortable with each other. With Art Jamming sessions, teams can have fun while creating their own artwork together, making something they can be proud of as a group. There are a variety of materials, tools, and canvases available for teams to work with. This activity is sure to be memorable for team members as they create something beautiful together!
3) Giant Whack-A-Mole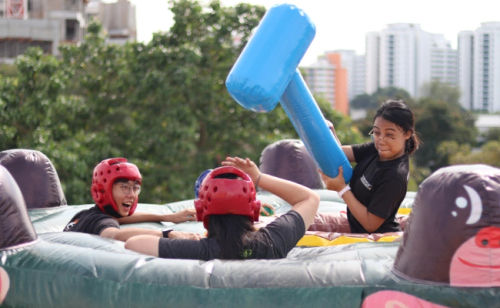 Everyone knows the classic game of Whack-A-Mole! For this team bonding activity, you'll need to use a larger version and make it more challenging. A large inflatable board with cutouts for the moles is perfect for this. You can have teams competing against each other or even playing together cooperatively in order to get the highest score. This is a great way to foster team spirit and have some fun together. It's also perfect for smaller teams as everyone can join in the team building game at the same time!
4) Giant Board Games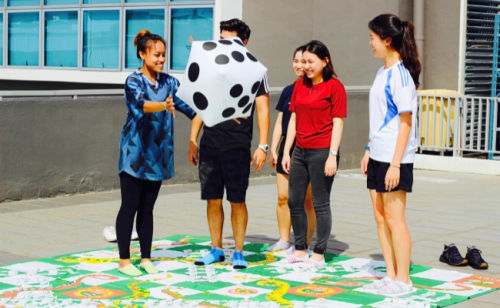 If your team is looking for an activity that is both fun and competitive, giant board games are perfect. Not only do they provide a great opportunity for activities, but also for developing communication skills and strategy within the team. Giant board games are perfect for small businesses in Singapore as they can be easily set up at any outdoor venue of your choice. Also, these games can be used to create a lot of excitement and encourages every team member to come up with creative ideas on how to win. It is also an excellent way to get your team talking, laughing, and creating memories that will last a lifetime!
5) Cooking Class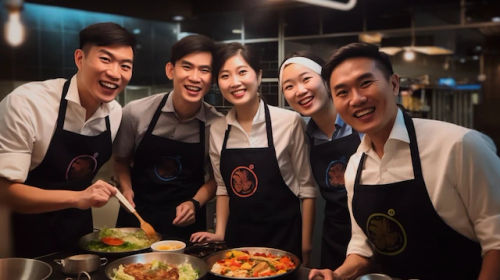 Food is one of the great unifiers in Singapore, and a cooking class can be a great way for a small business's team to come together. A hands-on experience like this can provide opportunities for collaboration and problem-solving as well as taste testing! Plus, the end result is something everyone can enjoy – delicious food! There are several cooking classes that cater to small business teams in Singapore. They offer a variety of cuisines, such as local street food, Chinese cuisine, or Western-style cooking. The classes typically involve working together as a group to create dishes from start to finish.
6) Virtual Escape Rooms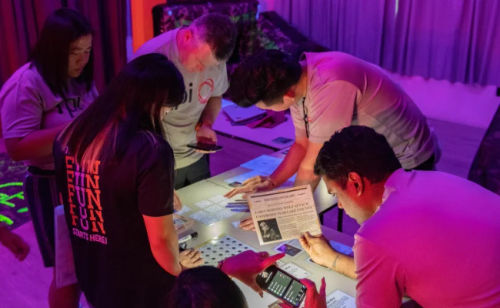 Escape rooms offer a great way to bond your team, but with the added challenge of working remotely. Virtual escape rooms can be hosted online and will require teams to work together to solve puzzles and riddles in order to progress through the game. This is a great way for small businesses in Singapore to engage their employees while also developing problem-solving skills that will be useful in the work place.
7) Kayaking
and Fishing in the Singapore River: An exciting way to bond with your team is by taking a day to explore the Singapore river. You'll be able to take part in a range of activities, from kayaking and fishing, to exploring the different landmarks along the river. This activity will give your team an opportunity to get away from their work lives and bond over shared experiences.
8) Rock Climbing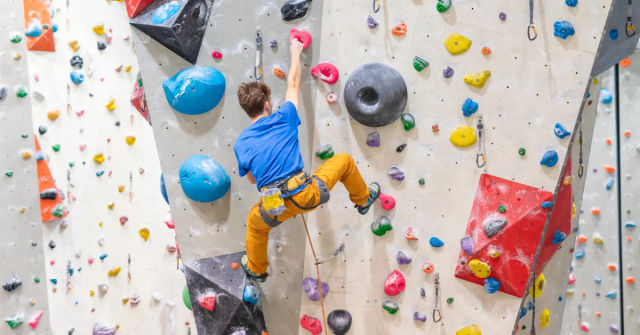 Rock climbing is a great team activity for small businesses in Singapore. Not only does it bring out the competitive spirit in everyone, but it also gives your team members an opportunity to bond with each other. Plus, rock climbing is an exciting physical activity that will help boost morale and productivity within your business. There are various indoor rock-climbing gyms all across Singapore, and some of them even offer group discounts for small businesses. So, why not give rock-climbing a try!
9) Problem-Solving Activities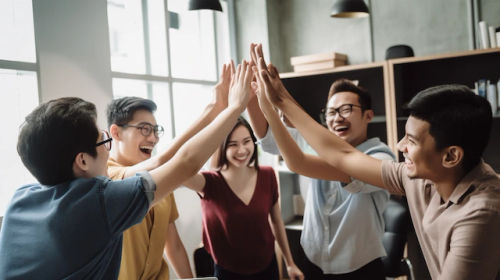 Problem-solving activities can be an effective way to foster teamwork and relationship building among members of a small business. These activities challenge individuals and groups of people to work together as a team in order to solve intricate puzzles. This type of activity encourages collaboration, problem-solving skills, communication, and creativity among small business teams. In addition, it also helps build trust and reinforces the idea that everyone can contribute to the team's success.
9) Icebreakers and Team Building Exercises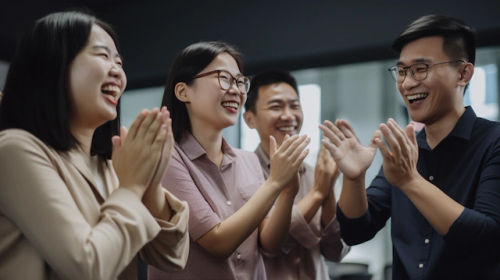 Icebreakers are a great way to break the ice and get everyone talking. Team building exercises can help build trust, communication, problem solving skills and motivate team members to work together more effectively. These activities are especially useful for small businesses in Singapore with limited budgets as they can be easily done in-house or remotely with little cost. Examples of activities include introductions games, trust falls, office Olympiads and team scavenger hunts.
10) Creative Thinking and Collaborative Projects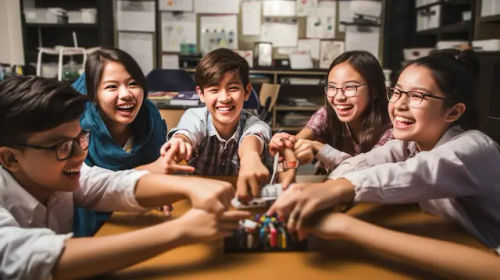 Creative thinking and collaborative projects are an excellent way for small businesses to build team spirit in Singapore. By encouraging employees to brainstorm ideas, collaborate with each other and work together towards a common goal, managers can foster a positive working environment that will help drive success. This type of activity also gives employees the opportunity to practice their problem-solving and communication skills, as well as learn from each other in a fun and engaging way. Some of the most popular forms of team building for small businesses include escape rooms, scavenger hunts, virtual murder mysteries, game shows and more.
11) Group Games and Sports
Get your team together for some classic group games like Capture the Flag, or try something new with activities such as Archery Tag. For those looking to stay active, why not organize a friendly sports game? Team members can bond by competing against each other in a variety of sports including basketball, badminton and soccer. Not only is it fun for the employees involved, but it also helps to promote teamwork and communication.
12) Outdoor Challenges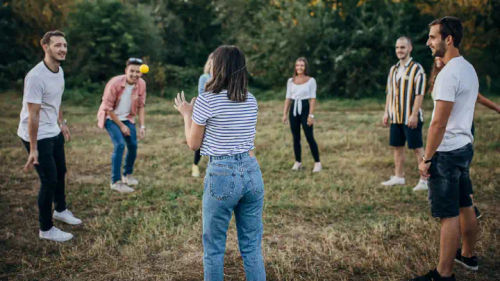 Get your team out of the office and into nature for a few hours. Outdoor challenges are some of the most effective team bonding activities as they force people to work together in order to complete tasks, such as orienteering or problem-solving activities. These activities provide an opportunity for team members to get to know each other better outside of the workplace, while still maintaining a healthy competitive spirit.
Outdoor challenges also help to increase team morale, build trust within the team and develop leadership skills. Singapore is home to many outdoor adventure parks perfect for such activities, so you're sure to find something that suits your team's interests!
Team Bonding Activities Small Business Singapore
Team bonding activities are essential for small businesses in Singapore as they help to foster a sense of camaraderie, collaboration and problem-solving skills. From cooking classes to icebreakers and outdoor challenges, there's something out there that will suit your team's needs. So why not take the time to plan an exciting team building activity today?
With these 12 best team bonding activities for small business teams in Singapore, you can ensure everyone is talking, laughing, and creating memories that will last a lifetime!
Looking for more articles? Check out our recommendations below:
Frequently Asked Questions (FAQs)
If you have any questions about team bonding activities for small businesses in Singapore, you can refer to the frequently asked questions (FAQ) about the team bonding activities for small businesses in Singapore below:
Why are team bonding activities important for small businesses in Singapore?
Team bonding activities promote collaboration, communication, and teamwork among employees. They help build trust, improve morale, and enhance overall productivity within small businesses in Singapore.
How do team bonding activities benefit small businesses?
Team bonding activities foster stronger relationships among team members, leading to improved communication, increased motivation, enhanced problem-solving skills, and a positive work environment. These benefits ultimately contribute to the success of small businesses in Singapore.
Are team bonding activities suitable for all types of small businesses?
Yes, team bonding activities can be tailored to suit the specific needs and preferences of different small businesses in Singapore. From creative pursuits to outdoor adventures, there is a wide range of activities available to accommodate various industries and team dynamics.
Can team bonding activities be customized for remote or virtual teams?
Absolutely! Many team building activities Singapore can be adapted for remote or virtual teams in Singapore. Virtual reality games, online escape rooms, and virtual team-building exercises are examples of activities that can bring remote teams together and foster collaboration.
How can team bonding activities improve communication among team members?
Team bonding activities often involve interactive and collaborative tasks that require effective communication to succeed. By participating in these best team building activities in Singapore, team members learn to communicate more openly, actively listen to others, and understand different perspectives, thereby enhancing overall communication within the team.
Are team bonding activities expensive to organize for small businesses?
The cost of team bonding activities can vary depending on the chosen activity, group size, and specific requirements. However, there are options available in Singapore to suit different budgets. Some activities, such as outdoor sports or DIY workshops, can be cost-effective while still providing impactful team bonding experiences.
How can team bonding activities contribute to employee engagement?
Team bonding activities create a sense of belonging and engagement among employees. By participating in fun and interactive experiences outside of work, employees feel valued, connected to their colleagues, and more invested in the success of the business.
Can team bonding activities help improve employee retention in small businesses?
Yes, team bonding activities play a crucial role in employee retention. When employees feel a sense of camaraderie and have positive relationships with their colleagues, they are more likely to remain engaged and satisfied with their work, reducing turnover rates within small businesses in Singapore.
How can small businesses in Singapore choose the right team bonding activity?
When selecting the next team building event, small businesses should consider factors such as team dynamics, interests of team members, desired outcomes, and budget. It's important to choose an corporate team building event that aligns with the company culture and goals while ensuring that team members can actively participate and enjoy the experience.
Are team bonding activities a one-time event or an ongoing process?
Team bonding activities can be both. While one-time events, such as outdoor adventures or workshops, provide immediate team-building benefits, it is also essential to foster an ongoing culture of team bonding within the organization. This can include regular team-building activities, social events, and fostering open communication channels to continuously strengthen team relationships.