Team Building Company Singapore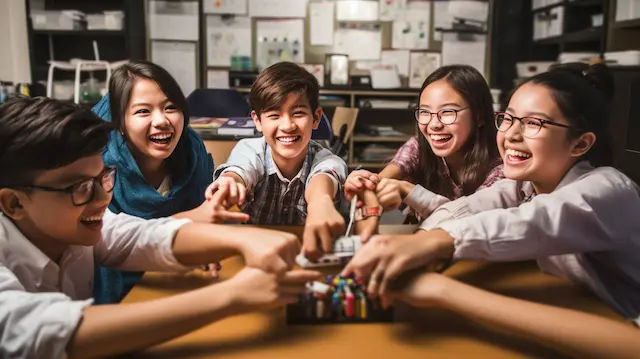 Team building activities are a great way to get your team working together and boost morale. Whether you're looking for an outdoor adventure or an indoor challenge, there is no shortage of companies in Singapore that can help bring out the best in your team.
From virtual reality escape rooms to cooking classes, these 15 top-rated team building companies have something for everyone – all with experienced facilitators who will make sure everyone has a fun and productive experience.
Whether you're looking for something unique or just want to stick with the team building classics, these are the best team building companies in Singapore!
Best Team Building Companies In Singapore
1) Terrarium Singapore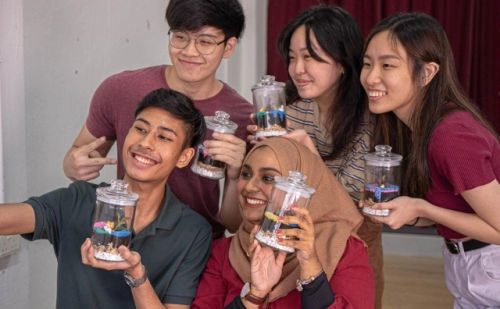 Terrarium Singapore is a premier team building vendor that offers a unique and engaging team building experience through the art of terrarium making. Participants have the opportunity to create their own miniature ecosystems, fostering collaboration and creativity among team members. With a focus on sustainability and environmental consciousness, Terrarium Singapore combines fun and learning to create a memorable corporate team building event.
2) FunEmpire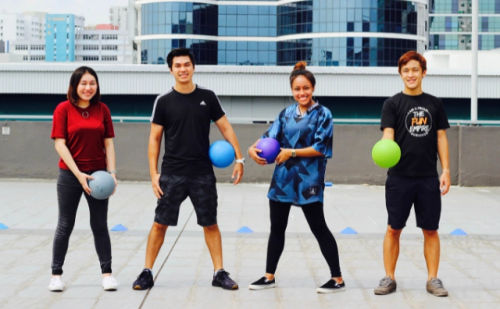 FunEmpire is a leading team building company in Singapore that offers a diverse range of interactive and exciting activities. From outdoor team building activities like bubble soccer and laser tag to creative pursuits such as art jamming and terrarium making, FunEmpire caters to various team sizes and preferences. Their customized approach ensures that team building experiences are tailored to meet specific goals and objectives, promoting collaboration and team bonding.
3) Laser Tag Singapore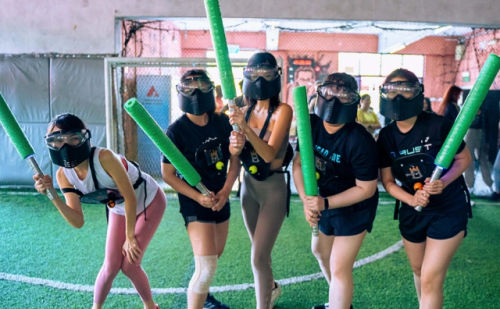 Laser Tag Singapore is a top team building company that specializes in thrilling laser tag experiences. Participants engage in high-energy battles using laser guns and wearables, strategizing and working together to achieve victory. With customizable game modes and immersive environments, Laser Tag Singapore creates an exciting atmosphere that promotes communication, strategy, and teamwork.
4) Bubble Bump Singapore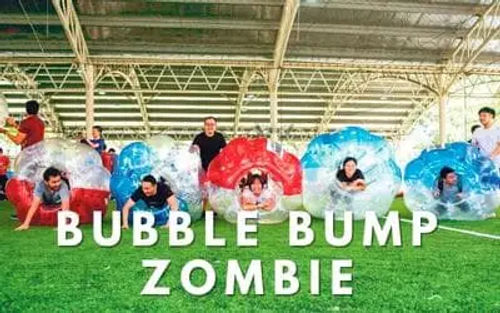 Bubble Bump Singapore offers a unique twist on team building with their exhilarating sport of bubble soccer. Participants wear inflatable bubbles that cover their upper body and head, adding an element of fun and laughter to the game. Bubble Bump Singapore's team building events encourage participants to collaborate, communicate, and compete in a light-hearted and entertaining manner.
5) Combat Archery Tag Singapore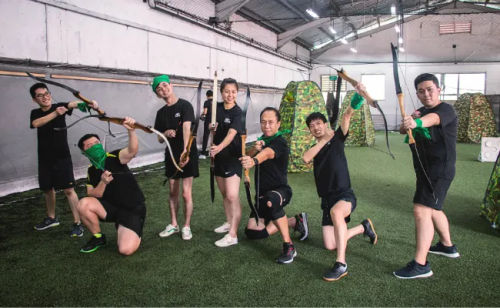 Combat Archery Tag Singapore combines archery, dodgeball, and paintball in an action-packed team building experience. Participants use foam-tipped arrows and specialized bows to engage in strategic battles, promoting teamwork, coordination, and problem-solving skills. The intense and dynamic nature of Combat Archery Tag fosters team cohesion and provides an adrenaline-fueled experience.
6) Escape Room Singapore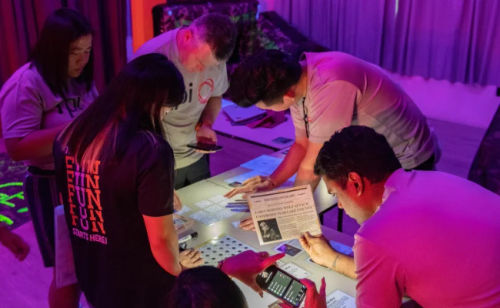 Escape Room Singapore offers immersive and challenging team building activities in a simulated escape room environment. Teams must work together to solve puzzles, unravel mysteries, and escape within a set time frame. This interactive and intellectually stimulating experience fosters communication, critical thinking, and collaboration among team members.
7) Poolball Singapore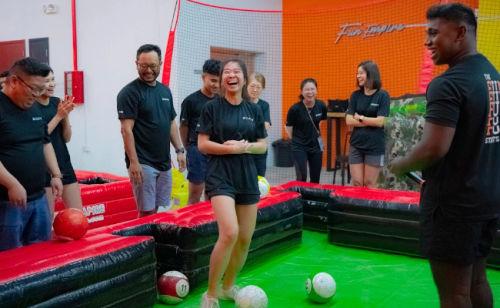 Poolball Singapore provides a unique team building experience by combining the games of pool and soccer. Participants play soccer on a giant pool table, using their feet to kick oversized soccer balls into the pockets. This unconventional activity promotes teamwork, coordination, and friendly competition, creating an engaging and memorable team building experience.
8) Art Jamming Singapore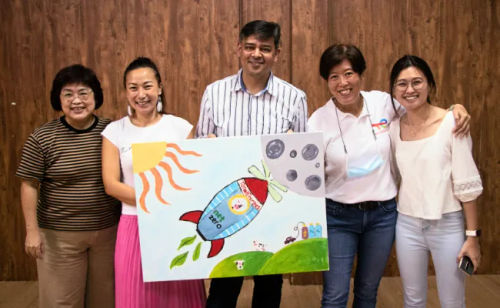 Art Jamming Singapore offers a creative and relaxing team building activity that allows participants to express their artistic side. Teams engage in a painting session, where they can collaborate on a mural or create individual artworks. Art Jamming Singapore encourages self-expression, fosters creativity, and promotes a sense of unity and shared accomplishment among team members.
9) Leather Workshop Singapore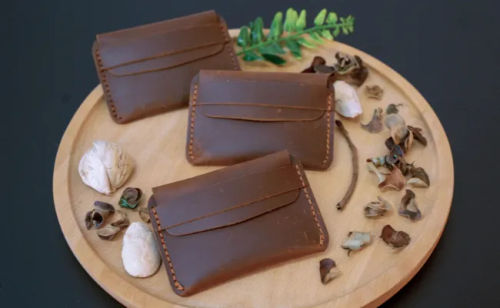 Leather Workshop Singapore provides a hands-on team building experience focused on the craft of leatherworking. Participants learn the art of creating leather goods, such as wallets, keychains, or customized accessories. This activity promotes collaboration, attention to detail, and craftsmanship, while allowing team members to unleash their creativity and create tangible keepsakes.
10) Candle Workshop Singapore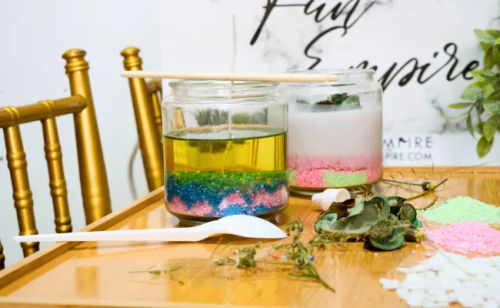 Candle Workshop Singapore offers a soothing and interactive team building activity centered around candle-making. Participants learn the techniques of creating their own scented candles, allowing for self-expression and relaxation. Candle Workshop Singapore encourages teamwork, creativity, and mindfulness, providing a unique and therapeutic team building experience.
11) Team Building Singapore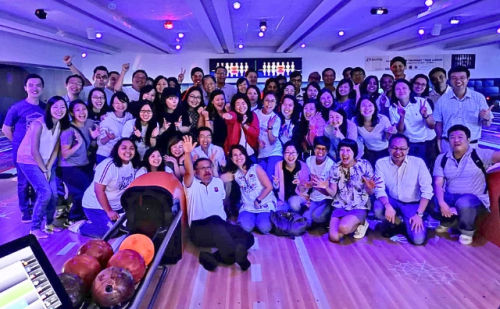 Team Building Singapore is a comprehensive team building company that offers a wide range of activities and services. From outdoor adventures to indoor workshops, they provide customized team building solutions tailored to meet specific organizational goals. With a focus on fostering communication, collaboration, and leadership skills, Team Building Singapore helps organizations strengthen team dynamics and boost employee engagement.
12) Team Building Activities Singapore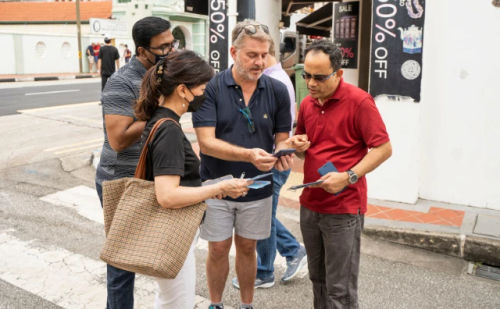 Team Building Activities Singapore specializes in designing and organizing a variety of engaging team building activities. Their offerings include problem-solving challenges, physical adventures, and creative workshops that cater to different team sizes and preferences. By promoting effective communication, trust, and camaraderie, Team Building Activities Singapore aims to enhance teamwork and employee motivation.
13) Team Building Games Singapore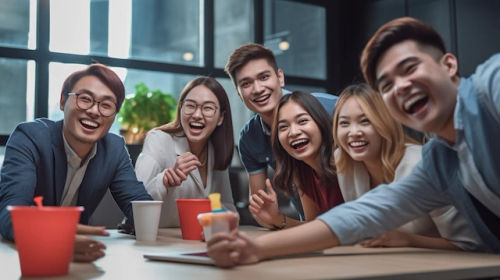 Team Building Games Singapore focuses on providing interactive and engaging games that facilitate team bonding and skill development. From icebreaker activities to strategic challenges, their games are designed to promote collaboration, problem-solving, and healthy competition. Team Building Games Singapore offers a diverse range of options suitable for different group sizes, ensuring a memorable and impactful team building experience.
14) Archery Tag Singapore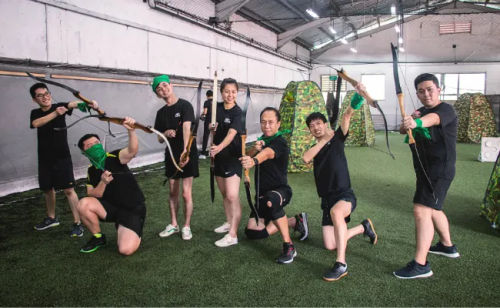 Archery Tag Singapore combines the thrill of archery with the excitement of a team-based game. Participants use specialized bows and foam-tipped arrows to engage in friendly combat. This intense and strategic activity promotes teamwork, communication, and accuracy. Archery Tag Singapore offers a dynamic and adrenaline-pumping team building experience that encourages camaraderie and friendly competition.
15) Virtual Team Building Singapore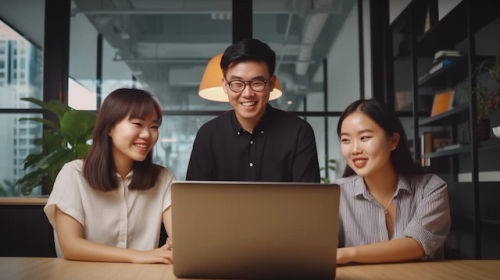 Virtual Team Building Singapore provides innovative and engaging virtual team building event that can be conducted remotely. Through online platforms and interactive tools, teams can participate in virtual escape rooms, virtual reality experiences, and various other collaborative challenges. Virtual Team Building Singapore helps organizations overcome geographical barriers and foster teamwork in the digital age.
Team Building Company Singapore
Overall, the top team building companies in Singapore are dedicated to delivering exceptional experiences that leave a lasting positive impact on teams. Whether it's through outdoor adventures, creative workshops, strategic challenges, or virtual engagements, these companies understand the importance of fostering strong team dynamics and enhancing employee morale. By engaging in team building activities provided by these companies, organizations in Singapore can create a more cohesive, motivated, and productive workforce.
Looking for more articles? Check out our recommendations below:
Frequently Asked Questions (FAQs)
If you have any questions about Team Building Companies in Singapore, you can refer to the frequently asked questions (FAQ) about the Best Team Building Companies in Singapore below:
How do I choose the right team building company in Singapore?
When choosing a team building company, consider factors such as the company's experience and reputation, the variety and suitability of their activities, testimonials and reviews from previous clients, customization options, and their ability to align with your organization's goals and values. It's also important to communicate your objectives and requirements clearly to ensure the company can meet your expectations.
Can team building activities be conducted virtually?
Yes, many team building companies now offer virtual team building activities that can be conducted remotely. These fun team building activities utilize online platforms and interactive tools to engage teams and promote collaboration in a virtual environment. Virtual team building is especially useful for organizations with remote or distributed teams.
How far in advance should I book team building activities?
It's recommended to book team building programs well in advance, especially if you have specific dates or requirements. Popular team building companies in Singapore tend to have busy schedules, so booking in advance ensures availability and allows ample time for planning and customization.
Can team building activities be tailored for specific team objectives?
Yes, team building activities can be customized to align with specific team objectives. Whether it's improving communication, developing leadership skills, enhancing creativity, or fostering problem-solving abilities, team building companies can work with you to design corporate team building activities that address your specific goals and desired outcomes.