Desk Terrarium Singapore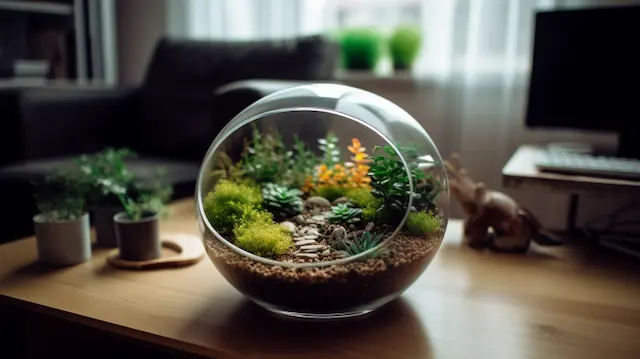 Welcome to the comprehensive guide on desk terrariums in Singapore. In recent years, desk terrariums have gained immense popularity as stylish and low-maintenance indoor plant arrangements. Whether you're looking to add a touch of nature to your workspace or enhance the ambiance of your living space, desk terrariums are an excellent choice.
This guide will equip you with the knowledge to select, set up, and care for desk terrariums, ensuring they thrive in the Singaporean climate.
What are Desk Terrariums?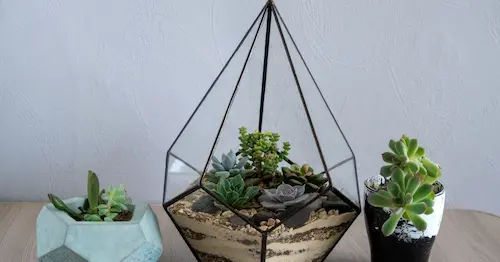 Desk terrariums are self-contained miniature gardens enclosed within terrarium glass containers. They provide a mesmerizing glimpse into the natural world, offering a unique blend of botanical beauty and creative expression.
There are various types of desk terrariums, including open terrariums that house plants requiring more airflow, and closed terrariums that create a self-sustaining ecosystem. Popular choices for desk terrarium plants include air plants, succulents, and ferns, known for their adaptability to indoor environments.
Benefits of Desk Terrariums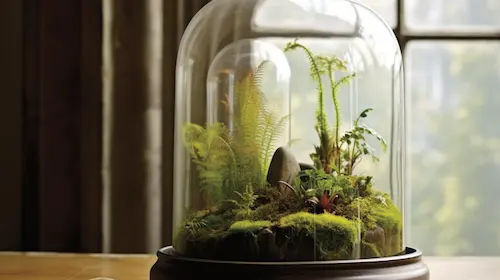 Improved air quality by absorbing toxins and releasing fresh oxygen.
Reduced stress levels and enhanced focus and creativity.
Minimal maintenance requirements compared to traditional potted plants.
Aesthetic appeal and versatility as decorative pieces.
Top 5 Terrarium Plants For Your Desk in Singapore
When it comes to selecting plants for your desk terrarium in Singapore, certain varieties thrive exceptionally well in indoor environments. Here are the top 5 terrarium plants that are perfect for adorning your desk:
1. Fittonia (Nerve Plant)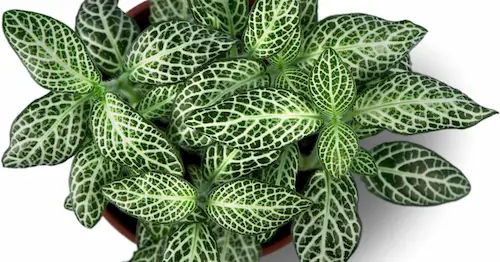 Known for its strikingly patterned leaves, Fittonia is a popular choice for desk terrariums. Its compact size and vibrant colors make it visually appealing and easy to maintain.
2. Pilea (Chinese Money Plant)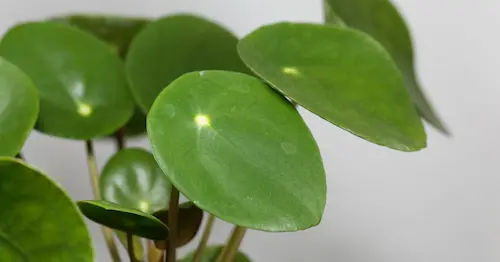 With its unique round leaves and attractive appearance, Pilea is a favorite among terrarium enthusiasts. It thrives in moderate lighting conditions and adds a touch of freshness to any desk space.
3. Peperomia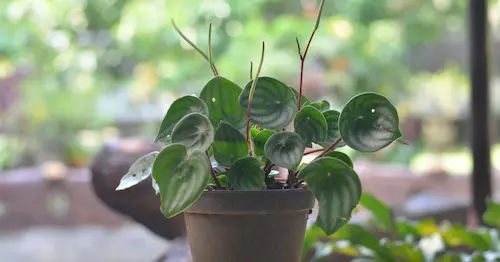 Peperomia plants come in various leaf shapes and textures, making them a versatile choice for desk terrariums. These plants are relatively low-maintenance and adapt well to indoor environments.
4. Selaginella (Spikemoss)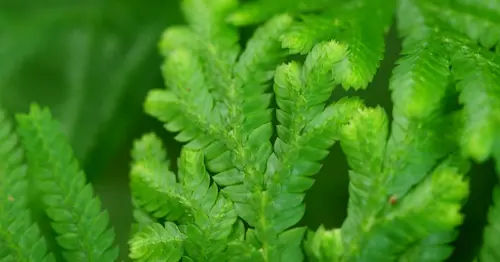 Selaginella is a type of fern-like plant that adds a touch of elegance to any terrarium. Its delicate and feathery foliage creates a lush and tropical ambiance, perfect for a desk terrarium.
5. Haworthia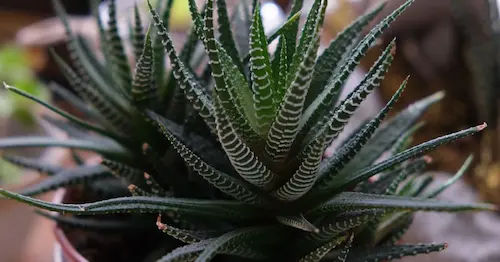 Known for its architectural appeal, Haworthia is a small succulent that thrives in bright, indirect light. Its distinctive rosette-shaped leaves and low water requirements make it an excellent choice for a desk terrarium.
These top 5 terrarium plants for your desk in Singapore offer a combination of beauty, adaptability, and ease of care. Incorporating these plants into your desk terrarium will not only enhance the aesthetics but also contribute to a healthier and more vibrant workspace.
Remember to choose plants that are suitable for the size of your terrarium and consider their growth habits and lighting requirements to ensure optimal growth and longevity.
Choosing the Right Desk Terrarium in Singapore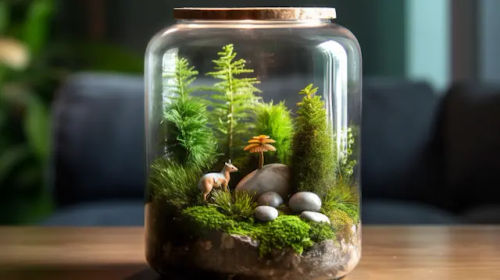 Consider the available space and choose an appropriate terrarium size.
Opt for glass jars or containers that provide transparency.
Explore full and comprehensive kits or DIY terrarium kits for convenience.
Check out reputable terrarium workshops and first terrarium shops in Singapore for expert advice and a wide range of options.
Setting Up and Caring for Desk Terrariums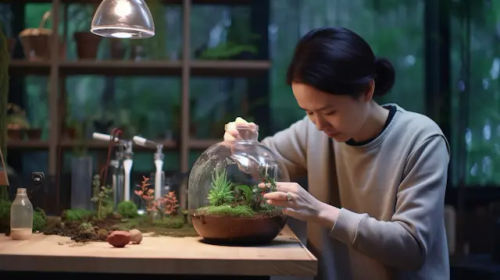 1. Select a suitable location
Choose a spot with bright, indirect light for most terrarium plants.
2. Prepare the container
Clean the glass jar or container thoroughly before starting.
3. Add drainage layers
Place a layer of small rocks or activated charcoal at the bottom to facilitate drainage.
4. Add soil
Add a layer of suitable terrarium soil, making sure it's appropriate for the chosen plant types.
5. Arrange the plants
Position the plants according to their growth habits and aesthetics, considering height, colors, and textures.
6. Decorate (optional)
Enhance the terrarium's visual appeal by adding decorative elements like figurines, stones, or colored sand.
7. Watering and humidity
Water the terrarium sparingly, avoiding overwatering. Mist the plants occasionally to maintain humidity.
8. Maintenance
Prune and remove any dead or yellowing foliage. Fertilize sparingly if necessary. Monitor for pests and take appropriate action if needed.
Tips and Tricks for Successful Desk Terrariums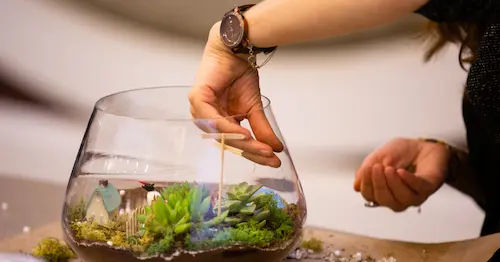 Incorporate air plants for minimal maintenance, as they don't require soil.
Experiment with different plant combinations and arrangements.
Personalize your terrarium with creative gardening needs like miniature figurines or decorative stones.
Create visual interest by varying textures, colors, and heights.
Desk Terrarium Singapore
Congratulations! You are now equipped with the knowledge and insights to embark on your desk terrarium journey. By following the guidelines provided in this comprehensive guide, you'll be able to select the perfect desk terrarium, set it up with care, and ensure its thriving growth in Singapore's climate.
Enjoy the beauty and serenity that desk terrariums bring to your living and working spaces, and don't hesitate to explore terrarium workshops or connect with fellow terrarium enthusiasts for ongoing inspiration and support. Happy terrarium making!
If you're looking to learn how to create your own terrarium, consider booking a Terrarium Workshop with Terrarium Singapore. We'll provide all the necessary materials as well as guided facilitation during the workshop.
Alternatively, if you're looking to create different types of terrariums instead, check out some of our other guides below:
Frequently Asked Questions (FAQ)
If you have any questions about desk terrariums in Singapore, you can refer to the frequently asked questions (FAQ) about Desk Terrariums In Singapore below:
What types of air plant terrariums are suitable for desks in Singapore?
Desk-friendly air plant terrariums typically include small glass containers, hanging globes, or geometric terrariums that can easily fit on your workspace without taking up too much room.
Can I attend a terrarium workshop in Singapore to learn how to create my own desk terrarium?
Yes, many terrarium workshops in Singapore cater to green enthusiasts interested in creating their own desk terrariums. These workshops provide expert guidance and all the necessary materials.
What is a green capsule, and how does it benefit two green enthusiasts working together?
A green capsule is a compact, self-contained terrarium designed for small spaces like desks. It allows two green enthusiasts to collaborate on creating and maintaining a mini ecosystem that brings nature into their workspace.
How important is fresh air circulation for a desk terrarium, and how can I ensure it?
Fresh air circulation is crucial for preventing mold growth and maintaining healthy plants in a desk terrarium. Ensure proper ventilation by choosing an open or semi-closed container and placing it in an area with good air circulation.
Where can I find a full and comprehensive kit to create my own desk terrarium in Singapore?
You can find a full and comprehensive kit for creating desk terrariums at local terrarium shops, gardening centers, or online retailers specializing in terrarium supplies. Some terrarium workshops also provide kits as part of their courses.