Terrarium Glass Containers Singapore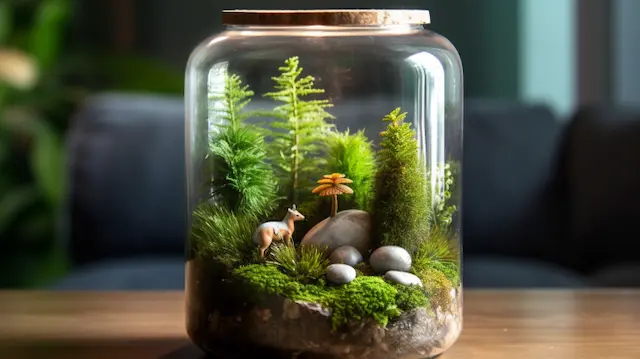 Terrariums have gained immense popularity as captivating indoor decorations, bringing a touch of nature into our living spaces. When it comes to choosing the best terrarium containers, you have to learn factors like size, shape, lid options, and material quality play an important role. In this article, we will explore the top terrarium glass containers available in Singapore.
Whether you prefer closed terrariums with high humidity or open terrariums that require less moisture, we have you covered. Let's dive into the fascinating world of terrariums and discover the perfect container to showcase your green thumb.
Understanding Terrarium Glass Containers
Terrarium containers are specifically designed glass vessels that create an ideal environment for plants to grow. They come in various shapes and sizes, providing a perfect habitat for both closed and open terrariums. Closed terrariums are sealed environments that retain high humidity, while open terrariums allow for air circulation.
The choice between the two depends on factors such as the plants you want to grow and the level of maintenance you prefer. Etsy, an online marketplace, is a great place to find a wide variety of terrarium containers that suit your preferences.
Factors to Consider When Choosing Terrarium Glass Containers
When choosing terrarium containers, several factors are important to ensure the success of your mini garden. Consider the following factors:
Size: Choose a container that provides ample space for your plants to grow. Consider the height and width to accommodate their growth potential.
Shape: The shape of the container can enhance the visual appeal of your terrarium. From classic jars to modern geometric designs, choose a shape that aligns with your style.
Material Quality: Opt for high-quality glass containers that offer clarity and durability. This ensures a clear view of your plants and long-lasting performance.
Lid Options: Decide whether you want a container with a lid or without one. Closed terrariums require a lid to maintain high humidity, while open terrariums don't need one.
Ease of Maintenance: Consider how easy it is to access and clean the container. Containers with wider openings or removable lids make maintenance tasks more convenient.
Top 10 Terrarium Glass Containers in Singapore
Without further ado, here are the top terrarium glass containers available in Singapore in 2023:
1. Hanging Teardrop Terrarium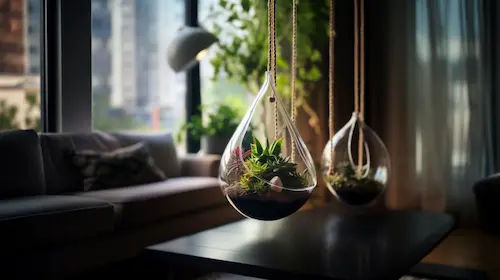 The Hanging Teardrop Terrarium is a stunning glass container shaped like a teardrop, designed to be hung from a ceiling or hook. It provides an elegant and eye-catching display for your terrarium. With its spacious interior, you can create a lush and verdant miniature garden with various plant species cascading down from the top. This hanging terrarium is a perfect choice for adding a touch of botanical beauty to any space.
2. Large Bell Jar Terrarium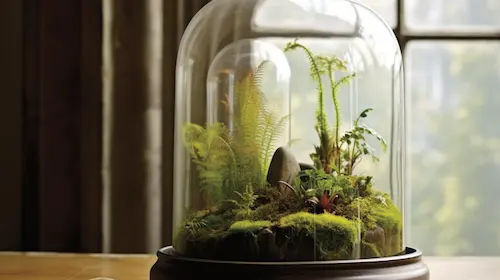 The Large Bell Jar Terrarium features a classic bell-shaped glass container with a wide base and a domed top. This spacious terrarium allows ample room for creative plant arrangements and captures attention with its timeless design. The clear glass offers a crystal-clear view of your miniature world inside. Its large size provides a versatile space to experiment with different plant species and decorative elements, creating a captivating focal point for any room.
3. Bubble Bowl Terrarium
The Bubble Bowl Terrarium is a unique glass container in the shape of a spherical bubble. Its seamless and curved design adds a contemporary touch to your terrarium display. The round shape of the bowl provides a panoramic view of the plants and their intricate details. This versatile container allows you to showcase a variety of plants, including cascading vines, colorful succulents, or even a miniature landscape. The Bubble Bowl Terrarium is a modern and stylish option for creating a visually striking terrarium centerpiece.
4. Geometric Prism Terrarium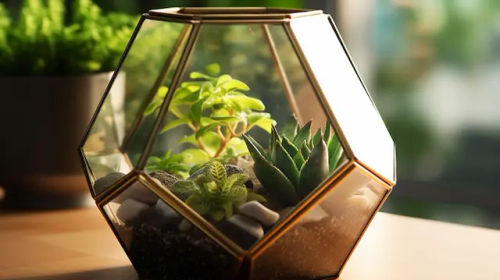 The Geometric Prism Terrarium features a faceted glass container with a geometric design, such as a pyramid, hexagon, or octagon shape. Its clean lines and modern aesthetics add a touch of sophistication to your terrarium display. The multi-sided glass panels create interesting reflections and refractions, enhancing the visual appeal of your miniature garden. This geometric terrarium is perfect for showcasing succulents, air plants, or other small plant species, allowing you to create a captivating display that doubles as a decorative art piece.
5. Glass Globe Terrarium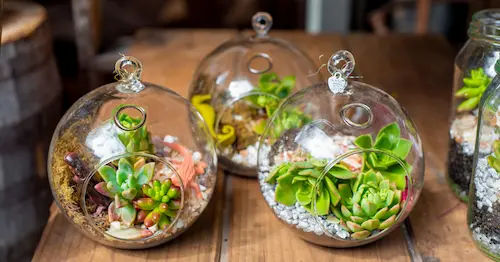 The Glass Globe Terrarium is a spherical-shaped container that provides a whimsical and enchanting display for your terrarium. Its round shape creates a captivating world within, allowing you to showcase your favorite plants, moss, and decorative elements. The clear glass offers optimal visibility and allows sunlight to permeate, promoting healthy plant growth. The compact size of the glass globe makes it a versatile choice for smaller terrarium arrangements, whether you hang it or display it on a tabletop.
6. Wooden Base Terrarium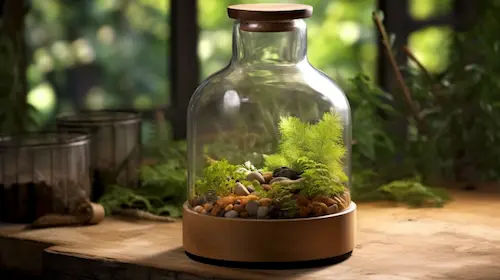 The Wooden Base Terrarium combines the beauty of glass with the warmth of natural wood. It features a glass container placed on a sturdy wooden base, providing an earthy and organic aesthetic. The wooden base elevates the terrarium, adding visual interest and creating a striking contrast with the glass. This terrarium design allows for easy customization, enabling you to arrange a variety of plants and decorative elements. The combination of glass and wood creates a harmonious and visually pleasing terrarium display.
7. Hanging Glass Bulb Terrarium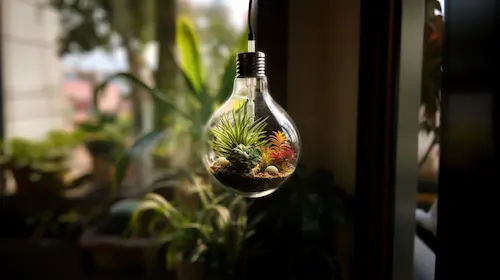 The Hanging Glass Bulb Terrarium resembles a small glass bulb or flask with an opening that allows for easy access to the inside. It is designed to be hung and offers a unique way to display your terrarium. This hanging terrarium provides a compact space for creating a miniature garden with small plants, moss, or even air plants. Hang multiple glass bulb terrariums at different heights for a stunning cascading effect that adds a touch of whimsy and greenery to any room.
8. Vintage Apothecary Terrarium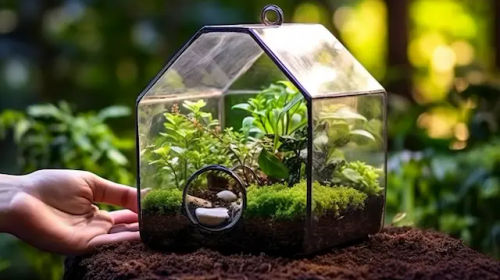 The Vintage Apothecary Terrarium is a charming glass container inspired by vintage apothecary jars. It features a clear glass body with a cork or stopper lid, adding a nostalgic and timeless touch to your terrarium display. The vintage-inspired design creates an elegant showcase for your plants and allows you to create a vintage-themed miniature garden. This terrarium style is perfect for displaying succulents, cacti, or other small plants, infusing a touch of old-world charm into your living space.
9. Crystal Clear Terrarium
The Crystal Clear Terrarium is a glass container with exceptional clarity, offering a pristine view of your terrarium creation. Its transparent glass allows for optimal light transmission, providing a bright and inviting environment for your plants to thrive. The simple and sleek design of the Crystal Clear Terrarium complements any interior style and allows the focus to remain on the lush greenery and intricate details of your terrarium. This versatile container is perfect for both closed and open terrarium setups.
10. Corked Glass Bottle Terrarium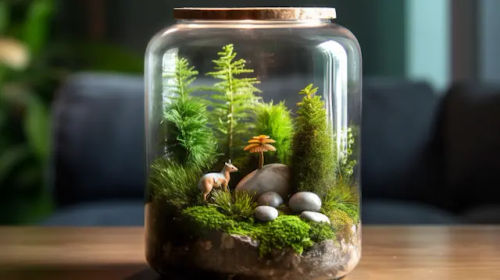 The Corked Glass Bottle Terrarium features a charming and rustic glass bottle with a cork stopper. Its compact size makes it suitable for creating small and intimate terrarium arrangements. The bottle's narrow neck adds a unique element to the display, allowing you to showcase delicate plants, sand art, or decorative elements. The cork stopper provides easy access for maintenance and adds a quaint and organic touch to the terrarium. The Corked Glass Bottle Terrarium is a perfect choice for those who appreciate a minimalist and eco-friendly terrarium design.
Care and Maintenance Tips for Terrarium Glass Containers
To ensure the longevity of your terrarium plants and glass containers, consider the following care and maintenance tips:
Watering: Water your terrarium based on the moisture needs of the plants. Closed terrariums require less frequent watering due to the high humidity levels, while open terrariums may require more regular watering.
Light: Place your terrarium in a location where it can receive appropriate light. Different plants have varying light requirements, so make sure to research and choose plants accordingly.
Ventilation: If you have a closed terrarium, open the lid occasionally to allow for fresh air circulation. This prevents excessive moisture buildup and helps maintain a healthy environment.
Pruning: Regularly trim and prune your plants to control their growth and maintain the desired shape of your terrarium. This also helps prevent overcrowding and encourages healthy growth.
Terrarium Glass Containers Singapore
Choosing the right terrarium glass container is crucial for creating a captivating miniature world. Consider factors like size, shape, lid options, and material quality to find the perfect container that suits your needs. With the top options listed above, you can easily find a container on Etsy that complements your desired terrarium style. By providing the optimal environment and proper care, you can watch your terrarium plants grow and thrive, creating a stunning display for you to enjoy and share.
Looking for more articles? Check out our recommendations below:
Frequently Asked Questions (FAQ)
If you have any questions about terrarium glass containers in Singapore, you can refer to the frequently asked questions (FAQ) about the best Terrarium Glass Containers In Singapore below:
What is the ideal size of a terrarium glass container?
The ideal size depends on the number and size of plants you want to include. Consider the available space and the plants' growth potential to ensure a balanced terrarium.
Are there any specific care instructions for terrarium glass containers with lids?
Terrariums with lids require occasional venting to maintain a balanced moisture level. Open the lid for a short period regularly to allow fresh air circulation.
Can I use any type of glass container for a terrarium?
It's recommended to use glass containers specifically designed for terrariums. They provide the necessary clarity, durability, and design features to support plant growth.
How often should I water my terrarium in a glass container?
The watering frequency depends on the plant types and the moisture requirements of your terrarium. Monitor the soil's moisture levels and water only when it starts to dry out.
Can I customize the design of a terrarium glass container?
Yes, you can customize your terrarium glass container by adding decorative elements, such as rocks, figurines, or colored sand, to create a personalized and unique display.