Group Activities Enhance Team Building Singapore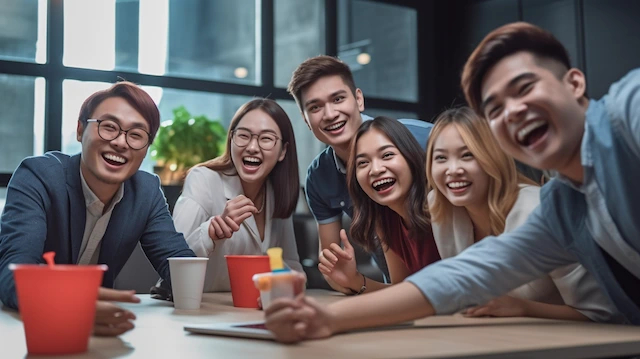 Team building is an essential aspect of fostering a cohesive and successful work environment. By engaging in group activities, teams can enhance their collaboration, communication, and overall effectiveness. Singapore, with its vibrant and diverse landscape, offers a plethora of opportunities for team building.
In this article, we will explore the best group activities to enhance team building in Singapore in 2023. Whether you're seeking outdoor adventures, immersive workshops, or exciting team building activities, Singapore has something to offer for every team's needs.
The Benefits of Team Building
Improved Communication: Team building activities promote better communication among team members, fostering effective collaboration and reducing misunderstandings.
Enhanced Collaboration: By engaging in collaborative tasks and problem-solving exercises, team members develop stronger bonds and learn to work together more efficiently.
Increased Morale and Motivation: Team building activities boost team morale, create a positive work environment, and increase motivation among team members.
Better Productivity: Team building improves overall productivity by fostering a sense of unity, encouraging creative thinking, and enhancing workflow efficiency.
Strengthened Company Culture: Team building contributes to a positive company culture by promoting mutual respect, trust, and support among team members.
Understanding Effective Group Activities
Effective group activities for team building share common characteristics. They are designed to encourage problem-solving, cooperation, trust-building, and the exploration of new ideas. These activities can range from physical challenges that require teamwork and strategic planning to creative workshops that stimulate innovation.
By engaging in these activities, teams can improve their communication skills, learn to collaborate effectively, and develop a greater appreciation for each team member's contributions. Moreover, such activities often incorporate elements of fun and excitement, making the team building experience memorable and enjoyable.
Factors to Consider When Choosing Group Activities
Team Size: Consider the size of your team and choose activities that can accommodate everyone comfortably.
Interests and Preferences: Take into account the interests and preferences of your team members to ensure their active engagement and enjoyment.
Goals and Objectives: Define your team's goals and objectives for team building and select activities that align with those objectives.
Budget: Evaluate your budget and explore activities that fit within your financial constraints.
Accessibility: Consider the accessibility of the activities, including location and any physical requirements, to ensure the participation of all team members.
Best Group Activities to Enhance Team Building in Singapore
Creative Activities
1. Terrarium Workshop
Join a terrarium workshop and learn the art of creating miniature gardens in glass containers. This hands-on team building activity encourages collaboration as team members can work together to design and assemble their own unique terrariums. It also promotes a sense of nature and relaxation, providing a refreshing break from the usual work environment.
2. Art Jamming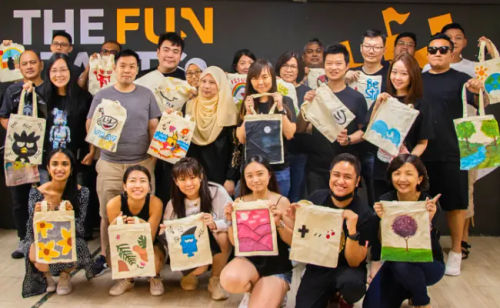 Unleash your team's creativity with art jamming, where team members can express themselves through painting on canvas. This activity encourages artistic expression, fosters collaboration as team members can share ideas and techniques, and provides a relaxing and enjoyable environment for team bonding.
3. Candle Making Workshop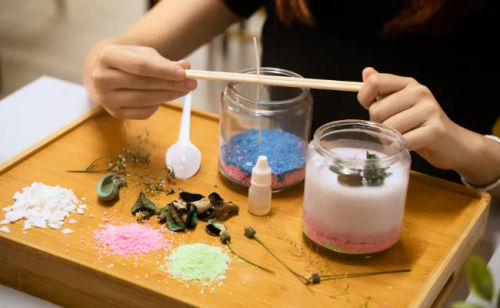 Engage in a hands-on candle making workshop where your team can learn the art of creating unique scented candles. This activity promotes creativity, as team members can experiment with different fragrances and designs. It also encourages collaboration as they can work together to share ideas, learn new techniques, and produce their own customized candles.
4. Clay Making Workshop
Participate in a clay making workshop where your team members can mold and shape clay into unique creations. This activity stimulates creativity and allows team members to explore their artistic side. It also fosters teamwork as they can collaborate on group projects, exchange ideas, and provide feedback on each other's clay sculptures.
5. Perfume Workshop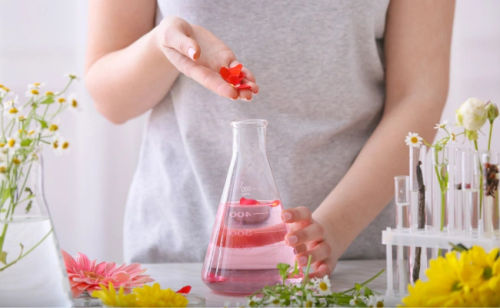 Immerse your team in the world of fragrances with a perfume workshop. Team members can learn about different scents, ingredients, and blending techniques to create their own personalized perfumes. This activity stimulates creativity, encourages collaboration as participants can share fragrance combinations and feedback, and provides a unique sensory experience for team bonding.
6. Cooking Class
Bond with your team over a cooking class where everyone can collaborate in preparing and enjoying a delicious meal together. This activity promotes teamwork, communication, and creativity as team members work together in the kitchen, share cooking techniques and ideas, and experience the joy of creating and savoring a meal as a team.
7. Leather Workshop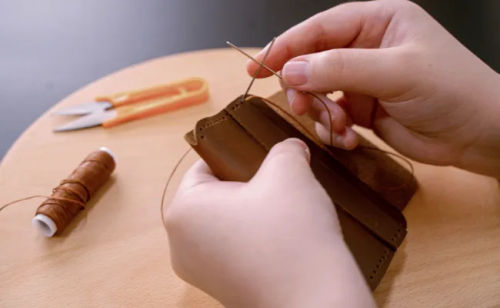 Engage in a leather workshop where your team can learn the art of crafting personalized leather goods. This hands-on activity promotes creativity, as team members can design and create their own leather products such as wallets, keychains, or bracelets. It fosters collaboration as they can exchange ideas, offer assistance, and appreciate each other's craftsmanship.
8. Balloon Sculpting
Explore the art of balloon sculpting as your team members learn to twist and shape balloons into various creations. This interactive activity promotes creativity, as participants can design and make their own balloon sculptures. It also encourages teamwork as team members can collaborate to create larger, more intricate balloon sculptures, and showcase their creations to the rest of the team.
Adventure Activities
9. Poolball™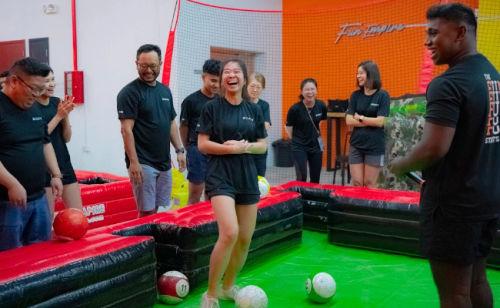 Combine soccer and pool in this unique activity where teams strategize and compete on a giant billiards table. Poolball™ promotes teamwork, communication, and coordination as team members work together to sink balls using their feet and body movements. It's a fun and energetic game that fosters friendly competition and enhances team dynamics.
10. Saber Tag®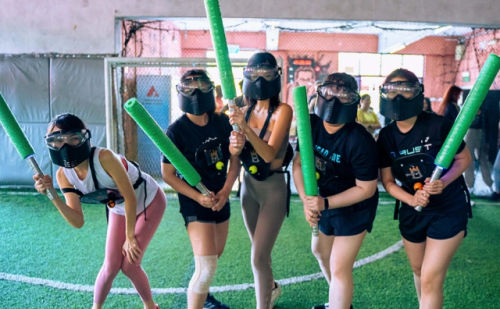 Experience the thrill of lightsaber combat in a safe and exhilarating game of Saber Tag®. Team members can engage in exciting battles using foam lightsabers, promoting teamwork, agility, and strategic planning. This activity encourages active participation, boosts adrenaline, and provides a memorable and unique team bonding experience.
11. SaberFit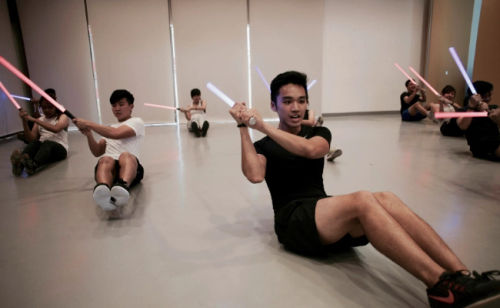 Engage in a high-energy fitness workout with SaberFit, which incorporates lightsaber moves into a fun and challenging exercise routine. This activity combines elements of martial arts, cardio, and strength training, fostering teamwork, fitness, and camaraderie. Team members can work together, motivate each other, and improve their physical fitness while having a blast.
12. Ninja Tag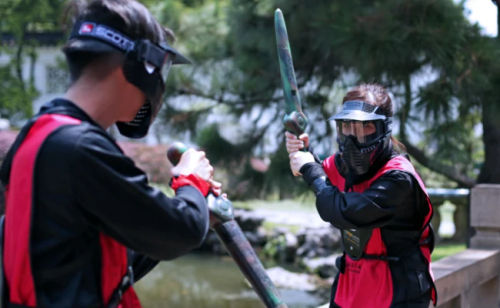 Navigate through obstacle courses and compete against other teams in a thrilling ninja-themed game. Ninja Tag requires teamwork, agility, and problem-solving skills as team members overcome challenges, strategize, and outmaneuver their opponents. It promotes camaraderie, boosts confidence, and enhances team coordination and communication.
13. Laser Tag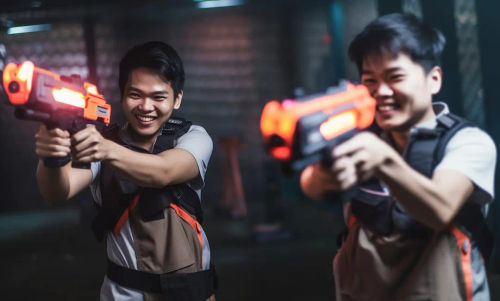 Experience the excitement of laser tag as teams strategize, communicate, and work together to outsmart their opponents. Laser Tag fosters teamwork, coordination, and quick decision-making as players navigate through themed arenas, aim for targets, and score points. It's a thrilling activity that promotes communication, strategic thinking, and friendly competition.
14. Archery Tag
Combine archery skills with team-based combat in the adrenaline-pumping game of Archery Tag. This activity requires teamwork, accuracy, and agility as teams compete against each other in a safe and exhilarating archery battle. It encourages communication, coordination, and strategic planning, providing an exciting and memorable team building experience.
15. Bullet Strike (Nerf Gun)
Engage in action-packed battles using foam dart guns with Bullet Strike. Teams strategize, communicate, and work together to outmaneuver their opponents in a safe and thrilling Nerf gun game. This activity promotes teamwork, coordination, and friendly competition, providing an enjoyable and interactive experience for team bonding.
16. Giant Board Games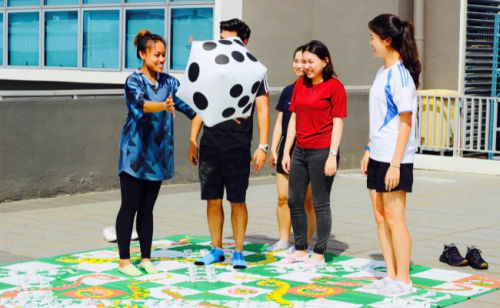 Enjoy oversized versions of classic board games, such as Jenga or Snakes and Ladders, where teams compete and collaborate to achieve victory. Giant Board Games promote teamwork, problem-solving, and friendly competition. It offers a playful and interactive experience, encouraging communication and strategic thinking among team members.
17. Bullet Ball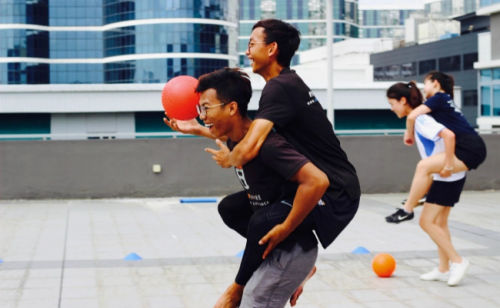 Participate in an energetic and engaging game that combines elements of soccer and volleyball. In Bullet Ball, teams compete against each other, aiming to score goals using a giant inflatable ball. This activity encourages teamwork, communication, and coordination, while providing a fun and competitive atmosphere for team bonding.
18. Bubble Soccer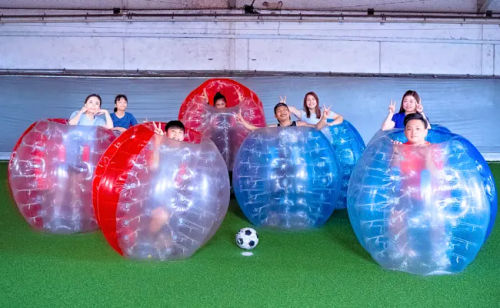 Get inside giant inflatable bubbles and play a unique and hilarious version of soccer. Bubble Soccer promotes teamwork, laughter, and friendly competition as team members bump into each other and try to score goals. It's a fun and memorable activity that encourages communication, teamwork, and a good sense of humor among participants.
Planning and Execution Tips
Set Clear Goals: Define clear goals and objectives for the team building activities to ensure a focused and purposeful experience.
Allocate a Budget: Plan and allocate a budget that covers expenses such as venue rentals, transportation, and any additional services or facilitator fees.
Choose a Suitable Venue: Select a venue that provides the necessary facilities and creates a conducive environment for the activities.
Communicate Details in Advance: Communicate the details, expectations, and schedule of the team building activities to your team well in advance to allow for adequate preparation.
Encourage Active Participation: Foster active participation by encouraging all team members to contribute, collaborate, and share their ideas during the activities.
Follow Up and Reflect: Conduct a post-event debriefing session to gather feedback, discuss key takeaways, and determine how the team building experience can be leveraged to enhance team dynamics and achieve organizational goals.
Group Activities Enhance Team Building Singapore
Team building activities in Singapore provide an excellent opportunity for organizations to strengthen teamwork, enhance communication, and foster a positive work environment. By considering the diverse range of group activities available, understanding the benefits they offer, and aligning them with your team's needs, you can create impactful team building experiences. Prioritize team building as an investment in your team's growth and success, and explore the recommended activities to enhance team building in Singapore in 2023.
Looking for more articles? Check out our recommendations below:
Frequently Asked Questions (FAQ)
If you have any questions about group activities to enhance team building in Singapore, you can refer to the frequently asked questions (FAQ) about the best Group Activities To Enhance Team Building In Singapore below: