Outdoor Team Building Games Singapore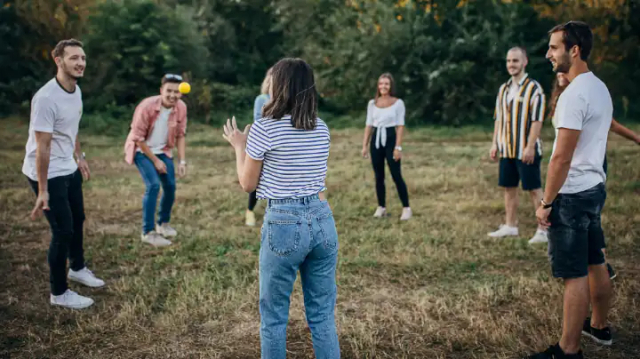 Are you looking for exciting and effective ways to enhance teamwork and collaboration within your organization? Outdoor team building games are an excellent choice to foster a sense of unity and develop crucial skills among team members. In Singapore, the demand for outdoor team building games continues to rise as companies recognize the numerous benefits they bring.
Whether you're a small startup or a large corporation, engaging in these team building games can lead to improved communication, enhanced problem-solving abilities, and stronger relationships among your team. In this article, we'll explore the best outdoor team building games in Singapore for 2023, helping you plan an unforgettable experience that boosts team spirit and productivity.
Benefits of Outdoor Team Building Games
Improved Communication: Outdoor team building games encourage participants to communicate effectively, both verbally and non-verbally. Collaborative activities and challenges require clear and concise communication, fostering stronger connections and understanding among team members.
Enhanced Problem-Solving Skills: These games promote critical thinking and problem-solving abilities. Participants are challenged to think creatively, analyze situations, and develop innovative solutions as they work together to overcome obstacles and achieve common goals.
Strengthened Relationships: Engaging in outdoor team building games allows team members to build trust, develop camaraderie, and strengthen their relationships. Through shared experiences and the need for cooperation, participants develop a sense of unity and bond on a deeper level.
Increased Motivation and Engagement: Outdoor team building games inject fun and excitement into the workplace, boosting motivation and engagement among team members. By breaking away from routine tasks, these games re-energize participants and ignite their enthusiasm.
Enhanced Leadership and Teamwork: These games provide opportunities for individuals to demonstrate leadership skills and for teams to work collaboratively. Participants learn to trust and rely on each other, fostering a sense of teamwork, accountability, and synergy.
Importance of Choosing the Right Games
Choosing the right outdoor team building games is crucial to ensure that the activities align with the goals and objectives of your team. It's essential to consider the specific dynamics and challenges your team faces to create a meaningful and impactful experience.
For example, if your team struggles with communication, games that emphasize effective verbal and non-verbal communication would be beneficial. Similarly, if your team needs to enhance trust and cooperation, games that foster teamwork and collaboration would be more appropriate. By selecting games that address your team's unique needs, you can maximize the benefits and create a tailored experience.
Factors to Consider When Selecting Outdoor Team Building Games
Group Size and Composition: Consider the size of your team and the number of participants involved. Some games are better suited for smaller groups, while others are designed for larger teams. Ensure the games can accommodate the number of participants you have.
Physical Requirements: Assess the physical abilities and fitness levels of your team members. Choose games that are inclusive and can be adapted to suit different fitness levels. Consider any specific physical limitations or requirements that may impact participation.
Location and Venue: Select a location and venue that offer suitable outdoor spaces and facilities for the chosen games. Consider factors such as accessibility, amenities, and the availability of necessary equipment or props. Ensure the venue aligns with the objectives and logistics of your event.
Duration and Time Constraints: Determine the duration of the event and the time constraints you have. Some games may require more time to complete, while others can be incorporated into shorter timeframes. Plan the activities accordingly to maximize engagement and participation.
Budget Considerations: Consider your budget for the outdoor team building event, including any associated costs such as venue rental, facilitator fees, and equipment. Evaluate the cost-effectiveness of the games you choose and ensure they align with your allocated budget.
Objectives and Team Dynamics: Align the games with the specific goals and objectives of your team. Consider the dynamics and challenges within your team and select games that address those areas. Whether you aim to improve communication, build trust, or enhance problem-solving skills, choose games that cater to your team's needs.
Best Outdoor Team Building Games Singapore
1. Ninja Tag
Ninja Tag is an exhilarating game that combines elements of tag and agility. Participants will navigate through a challenging obstacle course while attempting to tag or evade their opponents. This game promotes quick thinking, strategic planning, and physical agility, making it a thrilling team building activity.
2. Bubble Soccer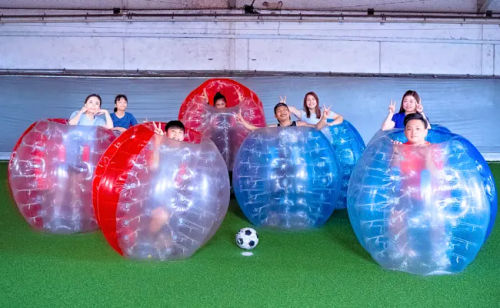 Bubble Soccer adds a hilarious twist to the traditional game of soccer. Participants wear inflatable bubbles that cover their upper body, allowing them to bump, roll, and bounce off each other while trying to score goals. This game encourages teamwork, communication, and a good sense of humor, making it a perfect choice for a fun-filled team building experience.
3. Poolball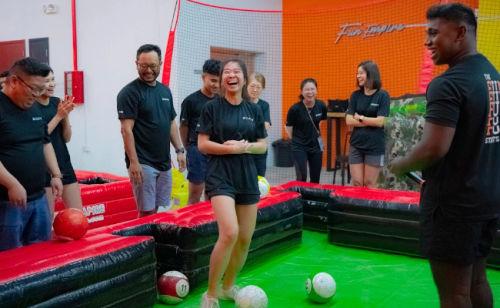 Poolball is a unique blend of billiards and soccer. Played on a giant pool table with oversized soccer balls, participants aim to pocket the balls into designated pockets using their soccer skills. This game enhances coordination, teamwork, and strategic thinking, creating a dynamic and entertaining team building experience.
4. Laser Tag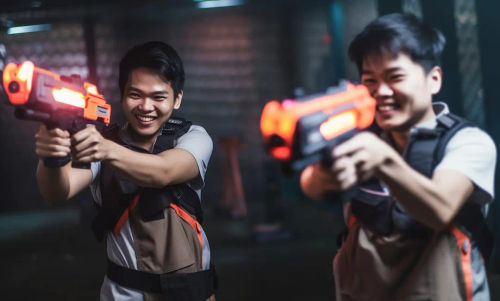 Laser Tag is a high-tech game where participants engage in simulated combat using infrared laser guns. Set in specially designed arenas, teams strategize, communicate, and aim to "tag" their opponents with laser beams. This game promotes teamwork, communication, and strategic planning while providing an adrenaline-pumping and immersive experience.
5. Combat Archery Tag
Combining elements of archery and dodgeball, Combat Archery Tag challenges teams to eliminate their opponents using foam-tipped arrows. Participants utilize their aiming skills, agility, and teamwork to win. This game fosters communication, problem-solving, and collaboration in a thrilling and safe environment.
6. Saber Tag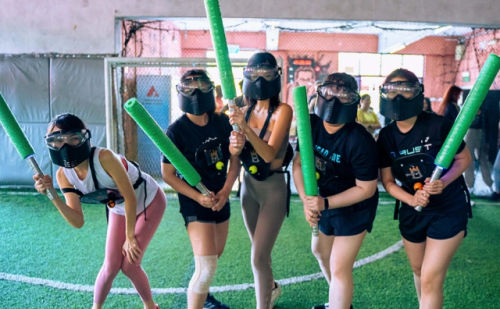 Saber Tag brings the excitement of lightsaber battles to life. Participants wield foam-padded lightsabers and engage in friendly duels. Teams strategize, block, and strike their way to victory, promoting teamwork, coordination, and quick reflexes while having an epic Star Wars-inspired team building experience.
7. SaberFit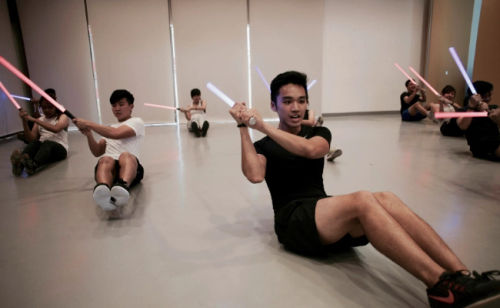 SaberFit combines fitness and lightsaber choreography for an energizing team building activity. Participants learn choreographed moves and engage in a high-energy workout using foam-padded lightsabers. This game promotes physical fitness, coordination, and team bonding, providing a unique and exhilarating team building experience.
8. Bullet Strike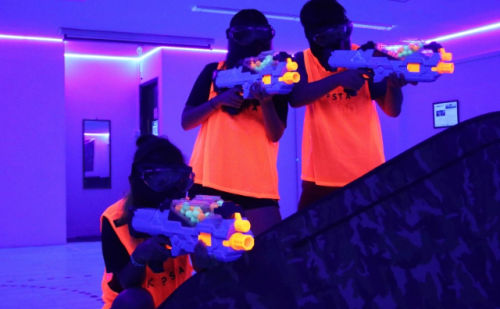 Bullet Strike is an immersive augmented reality game that combines real-life environments with virtual gameplay. Participants use their smartphones and specially designed equipment to engage in dynamic battles, capturing bases and completing missions. This game enhances communication, strategic thinking, and teamwork while providing an exciting and futuristic team building experience.
9. Bullet Ball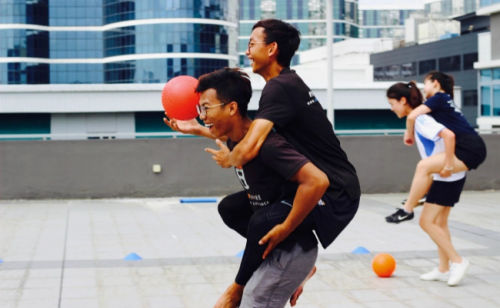 Bullet Ball is a fast-paced and challenging game that combines elements of soccer, handball, and dodgeball. Teams compete to score goals by throwing and catching a ball, all while avoiding being hit by opponents' shots. This game improves coordination, communication, and teamwork while providing an action-packed team building experience.
10. Giant Whack-A-Mole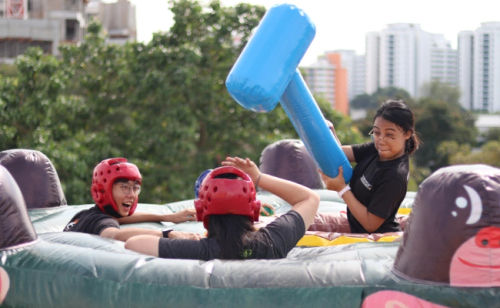 Giant Whack-A-Mole takes the classic arcade game to a whole new level. Participants become the "moles" and must dodge giant foam mallets wielded by their teammates. This game promotes agility, quick reflexes, and team coordination, while providing laughter-filled moments and a memorable team building experience.
Tips for Organizing a Successful Outdoor Team Building Event
To ensure a successful outdoor team building event in Singapore, it's important to plan and organize it effectively. Consider the following tips:
Logistics: Start by determining the date, time, and duration of the event. Choose a location that offers suitable outdoor spaces and facilities for the games you have selected. Make sure the venue is easily accessible and has amenities like restrooms and parking.
Safety Considerations: Prioritize the safety of all participants. Conduct a thorough risk assessment of the venue and the games you plan to include. Ensure that all necessary safety measures are in place, such as proper equipment, first aid supplies, and trained staff or facilitators.
Team Composition: Take into account the composition of your team when organizing the event. Consider the size of the groups and any specific requirements based on the dynamics and goals of your team. Strive for a balanced mix of individuals to encourage collaboration and interaction.
Pre-Event Communication: Communicate the details of the event to your team well in advance. Provide clear instructions, including what to bring, appropriate attire, and any specific rules or guidelines. Encourage team members to come prepared physically and mentally for the outdoor activities.
Facilitation: Engage professional facilitators or trainers to lead the team building activities. They can provide guidance, create a positive atmosphere, and ensure that the games run smoothly. Experienced facilitators can also offer valuable insights and debrief sessions to help participants reflect on their experiences.
Post-Event Evaluation: After the outdoor team building event, conduct an evaluation to assess its effectiveness and gather feedback from participants. This feedback will help you improve future team building activities. Reflect on the outcomes achieved and identify areas for growth and further development within your team.
Outdoor Team Building Games Singapore
Outdoor team building games in Singapore offer a fantastic opportunity to foster teamwork, enhance communication, and develop crucial skills within your organization. By carefully selecting the right games that align with your team's goals and dynamics, you can create a meaningful and impactful experience.
The top outdoor team building games in Singapore for 2023 provide a diverse range of activities that cater to various skill sets and preferences. From problem-solving challenges to trust-building exercises, these games offer a platform for personal and professional growth.
Remember, organizing a successful outdoor team building event requires careful planning, attention to safety, and effective facilitation. Consider logistics, safety considerations, team composition, and pre-event communication to ensure a smooth and enjoyable experience for all participants. Engage professional facilitators to guide the activities and provide valuable insights.
Looking for more articles? Check out our recommendations below:
Frequently Asked Questions (FAQ)
If you have any questions about outdoor team building games in Singapore, you can refer to the frequently asked questions (FAQ) about the best Outdoor Team Building Games In Singapore below:
Are outdoor team building games suitable for all fitness levels?
Yes, outdoor team building games can be adapted to accommodate different fitness levels. Providers often offer variations or modifications to ensure inclusivity and participation for all participants.
What is the recommended group size for outdoor team building games?
The recommended group size can vary depending on the game and its requirements. Some games work well with smaller teams of 6-10 participants, while others are designed for larger groups of 20 or more.
Can outdoor team building games be customized to address specific team challenges?
Yes, many providers offer customization options to tailor the games to your team's specific challenges and goals. They can work with you to create a program that meets your unique requirements.
Are there age restrictions for outdoor team building games?
Age restrictions, if any, depend on the specific games and their safety considerations. Some games may have minimum age requirements due to physical demands or complexity. Check with the providers for age suitability.
How long do outdoor team building games usually last?
The duration of outdoor team building games can vary based on the game and event format. Some games can be completed within an hour, while others may span several hours. Providers can provide more specific information.
What is the cost of organizing outdoor team building games in Singapore?
The cost varies depending on factors such as the number of participants, the chosen games, the duration of the event, and any additional services provided. Contact providers directly for accurate pricing information.
Can outdoor team building games be conducted indoors?
While many outdoor team building games are designed for outdoor settings, some can be adapted for indoor venues, depending on space availability. Consult with providers to explore suitable options.
Are there safety measures in place for outdoor team building games?
Yes, reputable providers prioritize participant safety. They have safety protocols, trained staff, and necessary equipment to ensure a safe and enjoyable experience. Providers can provide details on their safety measures.
How far in advance should I book outdoor team building games?
It's recommended to book outdoor team building games in advance, especially during peak seasons. Contact providers as early as possible to secure your preferred date and ensure availability.
Can outdoor team building games be conducted in bad weather?
In cases of inclement weather, outdoor team building games may need to be rescheduled or adjusted. Providers usually have contingency plans in place and can advise on weather-related arrangements.