Outdoor Team Building Workshops Singapore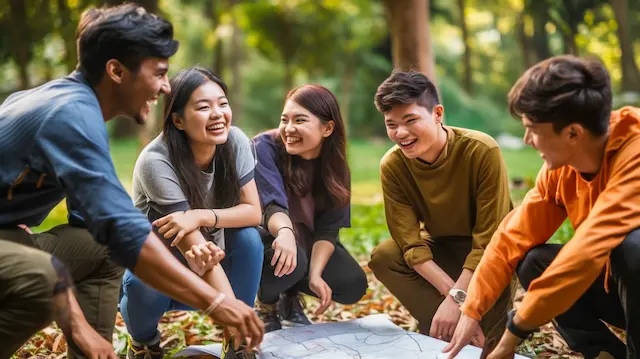 Are you looking for exciting ways to enhance teamwork, communication, and collaboration within your team? Outdoor team building workshops in Singapore offer an excellent opportunity to achieve these goals while enjoying the beauty of nature. In this article, we will explore the top outdoor team building workshops in Singapore for 2023.
These workshops are carefully selected based on their reputation, unique features, and their ability to deliver impactful team development experiences. So, whether you're a business owner, team leader, or HR professional, get ready to discover the best workshops to ignite your team's potential and foster a thriving work environment.
Overview of Outdoor Team Building Workshops
Outdoor team building workshops are experiential programs designed to improve teamwork, communication, problem-solving, and leadership skills among team members. Unlike indoor workshops, outdoor programs take participants out of their usual office environment and immerse them in natural settings, providing a refreshing and dynamic backdrop for learning and growth.
Outdoor workshops often incorporate exciting activities such as rope courses, adventure challenges, treasure hunts, and team building games that encourage participants to step out of their comfort zones, build trust, and collaborate effectively. These workshops have gained immense popularity in Singapore due to their ability to create memorable experiences and deliver tangible results in team development.
Benefits of Outdoor Team Building Workshops
Enhanced Teamwork: Outdoor team building workshops provide a platform for team members to collaborate, communicate, and problem-solve together outside of the traditional office environment. Engaging in challenging activities fosters teamwork, encourages cooperation, and strengthens the bonds among team members.
Improved Communication: Outdoor workshops promote effective communication by requiring participants to engage in open dialogue, active listening, and clear instructions. Collaborative activities help team members understand the importance of effective communication and develop strategies to overcome communication barriers.
Leadership Development: Participating in outdoor team building workshops allows individuals to explore and develop their leadership skills. Through challenges and group activities, participants have opportunities to take on leadership roles, make decisions, and motivate others, fostering their leadership potential.
Trust Building: Building trust is essential for a cohesive team. Outdoor workshops often involve trust-building exercises, where team members rely on each other for support and accomplish tasks that require trust in their teammates. These experiences create a foundation of trust that carries over into the workplace.
Problem-Solving Skills: Outdoor team building workshops present unique problem-solving challenges that require teams to think critically and find innovative solutions. Participants learn to assess situations, collaborate on problem-solving strategies, and adapt to unexpected obstacles, enhancing their problem-solving skills.
Increased Morale and Motivation: Participating in outdoor activities in a relaxed and enjoyable setting can significantly boost morale and motivation within the team. The sense of achievement and camaraderie gained from successfully completing challenges or overcoming obstacles can have a positive impact on team members' overall job satisfaction.
Personal Development: Outdoor workshops provide opportunities for personal growth and development. Participants are pushed outside their comfort zones, allowing them to discover new strengths, build self-confidence, and develop resilience in the face of challenges.
Breakdown of Hierarchies: Outdoor team building workshops offer a leveled playing field where hierarchical structures often become less significant. This allows team members to interact and collaborate in a more egalitarian environment, fostering a sense of equality and inclusivity within the team.
Stress Reduction and Well-being: Being immersed in nature and engaging in outdoor activities has been proven to reduce stress and promote overall well-being. Outdoor team building workshops provide a refreshing break from the daily work routine, helping participants recharge, rejuvenate, and maintain a healthy work-life balance.
Long-lasting Relationships: Outdoor team building workshops create lasting memories and establish deeper connections among team members. The shared experiences and challenges faced together forge bonds that extend beyond the workshop, contributing to stronger relationships and a more cohesive team dynamic.
Best Outdoor Team Building Workshops Singapore
1. Terrarium Workshop
Experience the art of creating your own miniature ecosystem in an outdoor Terrarium Workshop. Learn the techniques of assembling and designing a terrarium using various plants, soil, and decorative elements. This hands-on activity promotes creativity, teamwork, and a sense of accomplishment as participants craft their unique green landscapes to take home.
2. WildVenture Challenge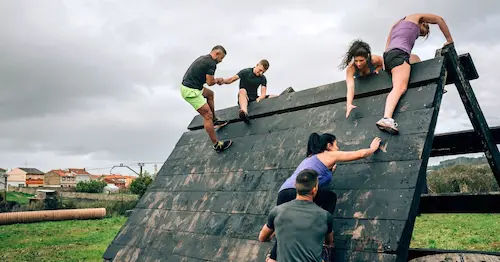 Get ready for an adrenaline-pumping adventure at the WildVenture Challenge. This workshop offers a range of thrilling outdoor activities such as rock climbing, abseiling, and navigating obstacle courses. Participants will push their limits, conquer fears, and foster teamwork as they tackle exciting challenges in a safe and supportive environment.
3. TeamBonding Asia
TeamBonding Asia specializes in creating engaging team-building experiences. Their workshops incorporate interactive activities like drum circles, escape rooms, and outdoor scavenger hunts. With a focus on experiential learning, TeamBonding Asia helps teams develop strong communication, problem-solving, and collaboration skills in a fun and memorable way.
4. Forest Escapades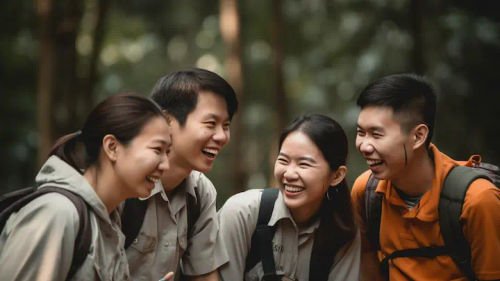 Immerse yourself in the lush greenery of Forest Escapades, located in Pulau Ubin. Engage in exciting outdoor challenges such as tree-climbing, zip-lining, and orienteering. This workshop promotes teamwork, leadership, and problem-solving skills while providing a unique opportunity to connect with nature and appreciate the beauty of the rainforest.
5. Outdoor Explorers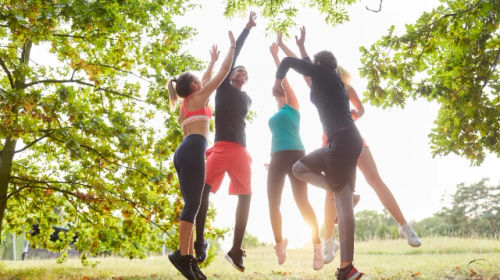 Outdoor Explorers offers a range of team-building activities that bring participants closer to nature. From eco-treks and kayaking adventures to nature-based problem-solving challenges, teams will develop resilience, effective communication, and a deeper appreciation for the environment. This workshop encourages exploration, discovery, and collaboration in the great outdoors.
6. Active Adventures
Prepare for an action-packed experience with Active Adventures. This workshop combines adventure activities such as high ropes courses, rock climbing, and team challenges. Participants will develop teamwork, communication, and leadership skills while pushing their boundaries and enjoying the thrill of outdoor adventures.
7. The Great Outdoors Experience
The Great Outdoors Experience offers a comprehensive range of team-building activities set against the backdrop of nature. Engage in exciting challenges like raft building, wilderness survival skills, and outdoor games. This workshop fosters team bonding, resilience, and problem-solving abilities, all while enjoying the beauty of Singapore's outdoor landscapes.
8. Thrill Seekers Team Building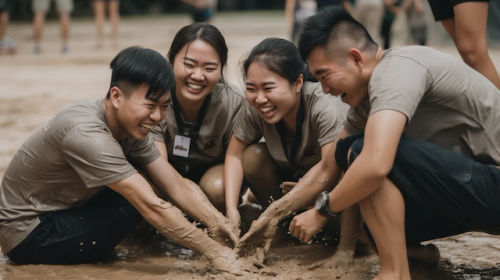 Thrill Seekers Team Building workshop offers a unique blend of adventure and team development. From high-energy activities like bungee jumping and skydiving simulations to problem-solving challenges, participants will conquer their fears, build trust, and develop effective communication skills, creating lasting memories and stronger team bonds.
9. NatureQuest Adventures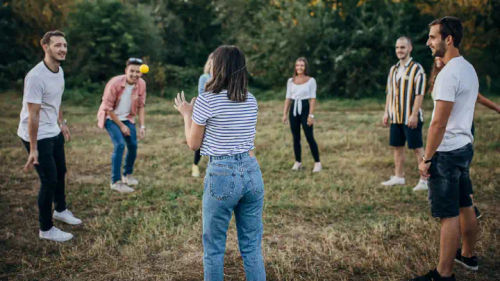 NatureQuest Adventures takes teams on a journey of exploration and discovery in Singapore's natural habitats. Engage in activities like nature walks, wildlife observation, and environmental conservation projects. This workshop encourages participants to develop a deeper connection with nature, promote environmental stewardship, and foster a sense of teamwork in protecting our natural resources.
10. Extreme Expedition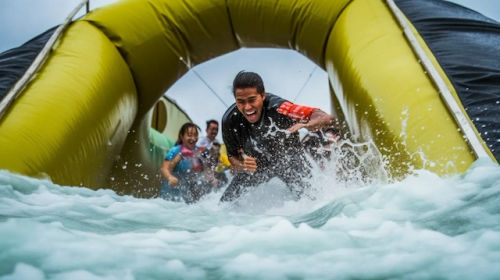 Prepare for an extreme outdoor experience with Extreme Expedition. This workshop offers a range of adventurous activities such as jungle survival skills, rock climbing, and white-water rafting. Participants will enhance their resilience, problem-solving abilities, and teamwork while embracing the challenges of the great outdoors.
Tips for Choosing the Right Workshop
When selecting the most suitable outdoor team building workshop for your team, consider the following tips:
Identify Your Team's Goals: Determine the specific objectives you want to achieve through the workshop. Whether it's improving communication, building trust, enhancing leadership skills, or fostering creativity, clarifying your goals will help you find a workshop that aligns with your team's needs.
Assess Budget and Logistics: Consider your budget and logistical constraints. Outdoor workshops can vary in terms of cost, duration, and location. Evaluate factors such as transportation, accommodation (if applicable), and any additional expenses to ensure the chosen workshop fits within your budget and logistical requirements.
Research Workshop Providers: Look for reputable workshop providers with a track record of delivering high-quality programs. Read reviews, testimonials, and case studies to gauge their reputation and the effectiveness of their workshops. Don't hesitate to reach out to the providers directly to ask for more information and clarification.
Consider Team Dynamics and Size: Take into account your team's dynamics and size. Some workshops are better suited for smaller, tightly knit teams, while others are designed for larger groups. Consider whether your team would benefit from a more intimate setting or thrive in a larger group environment.
Request Customization Options: If you have specific requirements or want to focus on certain aspects of team development, inquire about customization options. A workshop provider that can tailor activities, challenges, or content to address your team's unique needs can make the experience more impactful and relevant.
Outdoor Team Building Workshops Singapore
Outdoor team building workshops in Singapore offer a fantastic opportunity for teams to grow, bond, and develop essential skills in a dynamic and natural environment. From adventure-based challenges to problem-solving activities, these workshops provide engaging experiences that foster teamwork, communication, and leadership. By participating in these top outdoor team building workshops in Singapore for 2023, your team can unlock their full potential and cultivate a more collaborative and productive work environment.
Remember to select a workshop that aligns with your team's goals, consider logistics and budget, and prioritize reputable providers. Invest in your team's growth and reap the rewards of stronger bonds, improved communication, and enhanced performance. Start planning your outdoor team building journey today!
Looking for more articles? Check out our recommendations below:
Frequently Asked Questions (FAQ)
If you have any questions about outdoor team building workshops in Singapore, you can refer to the frequently asked questions (FAQ) about the best Outdoor Team Building Workshops In Singapore below:
Are outdoor team building workshops suitable for all ages?
Outdoor team building workshops can be designed to cater to different age groups. Some workshops are suitable for participants of all ages, while others may have age restrictions or specific activities tailored to different age ranges.
What should participants wear and bring to an outdoor team building workshop?
Participants should wear comfortable clothing and appropriate footwear for outdoor activities. It is recommended to bring sunscreen, a hat, insect repellent, and a refillable water bottle. Some workshops may require participants to bring additional equipment or clothing specific to the activities involved.
How long do outdoor team building workshops typically last?
The duration of outdoor team building workshops can vary depending on the specific program and activities involved. Workshops can range from a few hours to full-day or multi-day experiences. The duration is usually specified by the workshop provider or can be customized based on the team's requirements.
Can outdoor team building workshops accommodate large groups?
Yes, many outdoor team building workshops can accommodate large groups. Workshop providers often have the flexibility to tailor the activities and challenges to suit different group sizes and ensure effective team engagement and interaction.
Are there any safety measures in place during outdoor team building activities?
Reputable workshop providers prioritize participant safety and have safety measures in place during outdoor activities. These measures may include risk assessments, trained facilitators, safety equipment, and adherence to safety guidelines. Participants are typically briefed on safety protocols before engaging in any activities.
Can outdoor team building workshops be customized to specific team goals?
Yes, many workshop providers offer customizable programs to align with specific team goals. They can tailor activities, challenges, and content to address the unique needs and objectives of the team. Communicate your goals and requirements to the workshop provider to ensure a customized experience.
Are there any prerequisites or physical fitness requirements for outdoor workshops?
Prerequisites and physical fitness requirements can vary depending on the workshop and activities involved. Some workshops may have minimum age or fitness requirements for certain activities. It's important to check with the workshop provider beforehand to understand any prerequisites or physical fitness considerations.
What is the cost range for outdoor team building workshops in Singapore?
The cost of outdoor team building workshops in Singapore can vary depending on factors such as the workshop duration, activities offered, customization level, and the reputation of the provider. It is advisable to request quotes from multiple providers to compare prices and ensure they fit within your budget.
How far in advance should we book an outdoor team building workshop?
It is recommended to book an outdoor team building workshop several weeks to months in advance to secure your preferred date and ensure availability. Popular providers and peak seasons may require booking further in advance.
What happens if it rains during an outdoor team building workshop?
Workshop providers typically have contingency plans for inclement weather, such as providing alternative indoor activities or rescheduling the workshop. It's important to discuss the provider's policy on weather conditions and any backup plans they have in place.