Outdoor Team Building Ideas Singapore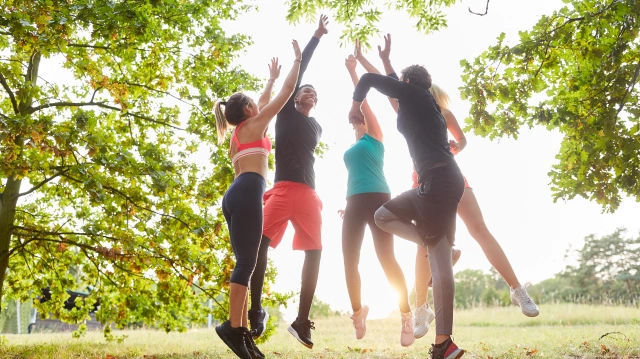 Team building activities are essential for fostering collaboration, boosting morale, and enhancing communication within a group. Singapore, with its stunning landscapes and vibrant cityscape, offers an array of outdoor team building opportunities that are both engaging and memorable.
In this article, we present 15 of the best outdoor team building ideas in Singapore. These team building exercises are designed to promote teamwork, improve problem-solving skills, and create lasting bonds among team members.
Best Outdoor Team Building Ideas Singapore
1) Amazing Race
The Amazing Race is a thrilling team building activity that combines elements of adventure, strategy, and exploration. Teams race against the clock as they navigate through Singapore's iconic landmarks, solving clues, and completing challenges. This activity encourages effective communication, decision-making, and teamwork under pressure. From the bustling streets of Chinatown to the serene Gardens by the Bay, the Amazing Race offers an exciting way to discover Singapore while strengthening team dynamics.
2) Bullet Ball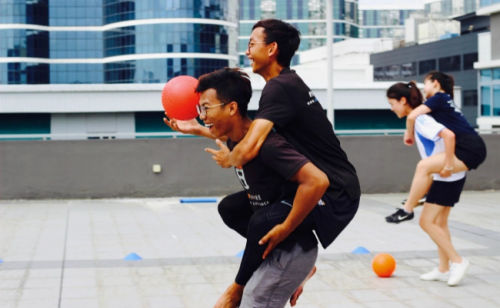 For a unique and adrenaline-pumping team building experience, Bullet Ball is an ideal choice. This fast-paced sport combines elements of soccer and dodgeball, played within an inflatable arena. Participants work together to outmaneuver their opponents and score goals. Bullet Ball promotes teamwork, coordination, and strategic thinking. With various locations in Singapore offering Bullet Ball facilities, teams can engage in friendly competition while fostering a sense of camaraderie.
3) Giant Whack-A-Mole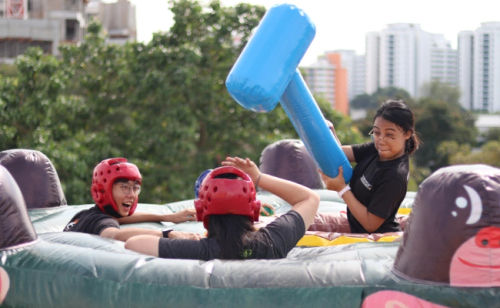 Unleash your team's energy and competitive spirit with the Giant Whack-A-Mole game. In this larger-than-life version of the classic arcade game, participants become the "moles" and must evade being tapped by the "mallets." This team building game encourages agility, coordination, and quick thinking as teams strategize to avoid being caught. With several venues in Singapore providing Giant Whack-A-Mole setups, teams can enjoy a lively and interactive team building experience.
4) Bubble Soccer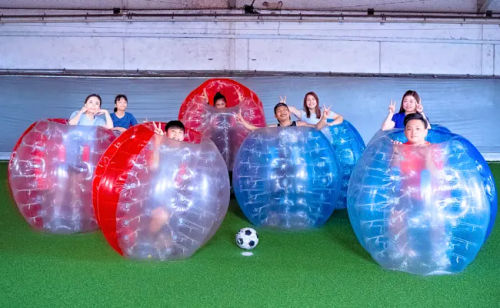 Get ready for a hilarious and action-packed team building adventure with Bubble Soccer. Participants don inflatable bubbles that cover their upper bodies and engage in a friendly game of soccer. The bubbles add an exciting twist, allowing players to bounce off one another, creating hilarious and unexpected moments. Bubble Soccer promotes teamwork, communication, and adaptability while ensuring an unforgettable and laughter-filled experience for everyone involved.
5) Ninja Tag
For a team building activity that combines agility, strategy, and fun, Ninja Tag offers an exhilarating experience. Inspired by the popular TV show, participants navigate through a challenging obstacle course while being chased by "ninjas." The objective is to complete the course by avoiding capture and reaching the finish line. Ninja Tag requires teamwork, problem-solving skills, and effective communication to overcome obstacles and accomplish the mission. Several venues in Singapore provide Ninja Tag courses, offering teams an exciting and physically engaging adventure.
6) Outdoor Escape Rooms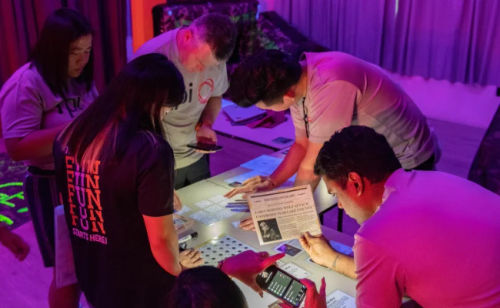 Put your team's critical thinking and collaboration skills to the test with an outdoor escape room experience. In a themed outdoor setting, teams must work together to solve puzzles, decipher codes, and find hidden clues to escape within a given time limit. Outdoor escape rooms encourage communication, problem-solving, and teamwork under pressure. With various intriguing themes available, such as espionage or jungle survival, teams will enjoy an immersive and mentally stimulating adventure.
7) Outdoor Laser Tag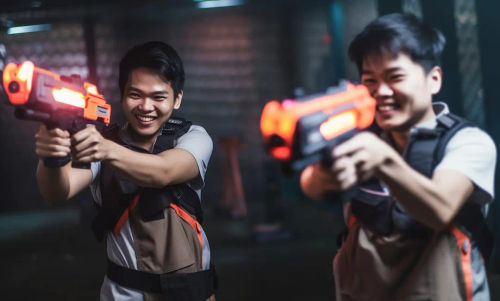 Engage in a high-energy and strategic team building activity with outdoor laser tag. Equipped with laser tag gear, teams compete in a thrilling combat game set in a specially designed outdoor arena. Participants strategize, communicate, and work together to outmaneuver opponents and achieve victory. Outdoor laser tag promotes teamwork, leadership, and quick decision-making skills while providing an exhilarating and immersive experience.
8) Dragon Boating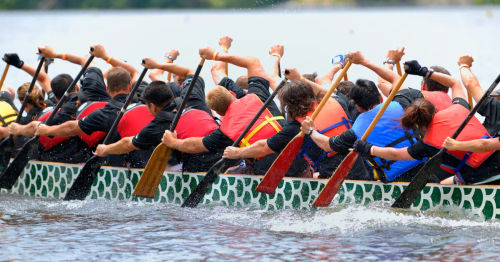 One of Singapore's most iconic team building activities is Dragon Boating. As a team, you'll embark on a journey across Singapore's scenic waterways, paddling in synchronization to the rhythmic beat of a drum. Dragon Boating promotes teamwork, unity, and endurance. It requires coordination and communication for every team member to work together to propel the boat forward, fostering a sense of camaraderie and shared achievement.
9) Kayaking Adventure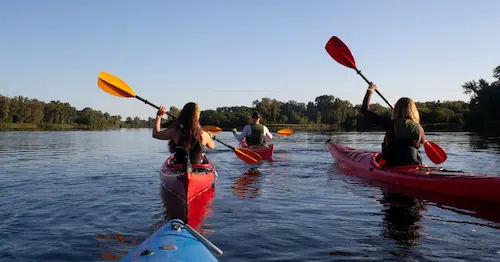 Explore Singapore's stunning coastline and waterways with a thrilling kayaking adventure. Teams paddle together, navigating through scenic locations while building coordination and communication skills. Kayaking requires synchronization and teamwork to maintain a steady rhythm and propel the kayaks efficiently. As teams navigate the water, they will bond over shared experiences, enjoying breathtaking views of Singapore's skyline or mangrove forests.
10) High Elements Course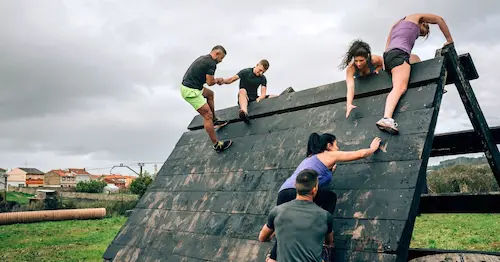 Challenge your team's courage and problem-solving skills with a high elements course. Suspended high above the ground, participants navigate a series of obstacles, such as rope bridges, balance beams, and ziplines. This corporate team building event pushes individuals out of their comfort zones, encouraging trust, communication, and collaboration. With professional instructors and safety equipment provided, teams can conquer their fears and build stronger bonds as they conquer the course together.
11) Orienteering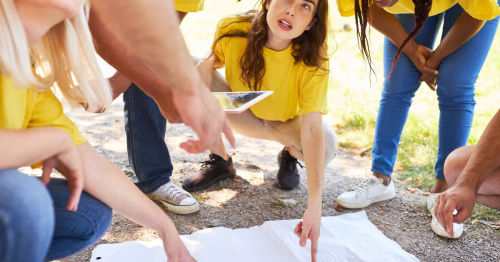 Challenge your team's navigation skills and problem-solving abilities with orienteering. Teams are equipped with maps and compasses as they navigate through a designated course, locating checkpoints along the way. Orienteering tests teamwork, communication, and decision-making under time pressure. With various terrains available, from urban settings to lush parks, orienteering allows teams to explore Singapore while honing their navigation skills.
12) Beach Olympics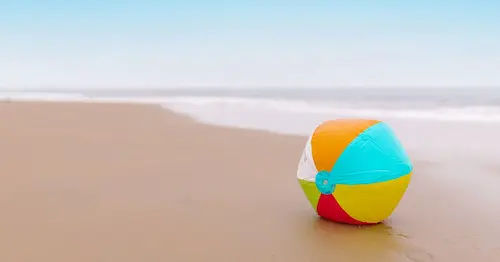 For a day filled with fun and friendly competition, organize a Beach Olympics event. Teams participate in a series of beach-themed challenges and team building games, including beach volleyball, sandcastle building, tug-of-war, and relay races. Beach Olympics encourage collaboration, communication, and teamwork while providing a relaxed and enjoyable environment. Bonding over the sand and sun, teams will create lasting memories and strengthen their relationships.
13) Outdoor Cooking Challenge
Combine team building with a culinary adventure by organizing an outdoor cooking challenge. Teams are tasked with preparing a delicious meal using limited resources and cooking equipment. This fun team building event promotes teamwork, creativity, and problem-solving as teams collaborate to plan menus, assign roles, and work together in preparing and presenting their dishes. With beautiful outdoor locations in Singapore, such as parks or nature reserves, teams can enjoy the process of cooking while enjoying the great outdoors.
14) Sports Day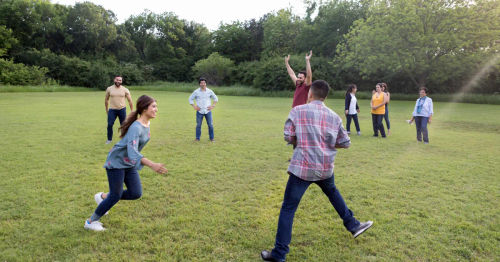 Revive the spirit of friendly competition with a sports day event. Teams compete in various sports and athletic challenges, such as relay races, obstacle courses, and traditional games like sack races or tug-of-war. Sports Day encourages teamwork, camaraderie, and healthy competition. Whether on a sports field or in a park, teams can engage in a range of activities that promote physical fitness, teamwork, and a sense of achievement.
15) Outdoor Movie Night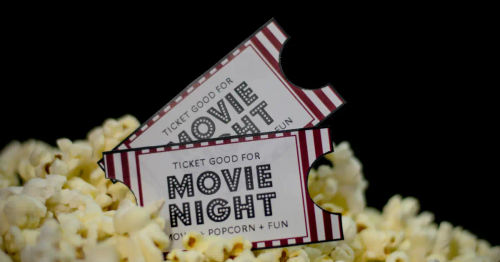 End the team building experience on a relaxing and enjoyable note with an outdoor movie night. Set up a large outdoor screen, cozy seating areas, and provide popcorn and refreshments. Teams can unwind and bond while enjoying a movie together under the stars. This activity fosters a sense of camaraderie, relaxation, and shared experiences, allowing team members to connect in a more informal and relaxed setting.
Outdoor Team Building Ideas Singapore
These 15 outdoor team building ideas in Singapore offer a wide range of thrilling, challenging, and engaging activities that promote teamwork, communication, and bonding among team members. Whether it's participating in the Amazing Race, engaging in Bubble Soccer, or exploring Singapore's waterways through Dragon Boating, these activities provide opportunities for teams to enhance their collaboration, problem-solving skills, and overall team dynamics.
Choose the activities that best suit your team's interests and goals, and embark on a memorable team building journey in the beautiful city of Singapore.
Looking for more articles? Check out our recommendations below:
Frequently Asked Questions (FAQs)
If you have any questions about outdoor team building ideas in Singapore, you can refer to the frequently asked questions (FAQs) about the best Outdoor Team Building Ideas in Singapore below:
Are these team building activities suitable for all age groups?
While most of the activities mentioned are designed for adults, there are options available that can be tailored for different age groups, including families or youth teams. It's important to consider the physical requirements and safety guidelines for each activity before making a selection.
How long do these team building activities typically last?
The duration of each activity can vary. Some activities, such as the Amazing Race or Beach Olympics, can span a few hours, while others like outdoor escape rooms or kayaking adventures may take up a half or full day. It's advisable to check with the activity providers for specific timeframes.
Do we need prior experience or special skills to participate?
Most of the team building activities mentioned do not require prior experience or special skills. They are designed to be inclusive and suitable for participants of varying abilities. However, certain activities like high elements courses or Dragon Boating may require moderate physical fitness levels. It's best to choose corporate team building activities that match the capabilities and interests of your team.
Can these activities be customized for corporate team building events?
Absolutely! Many of the activity providers offer customizable options for corporate team building events. They can tailor the challenges, themes, or objectives of the activities to align with your team's goals and desired outcomes. Discuss your requirements with the providers to create a customized experience.
Are these team building activities safe?
Safety is a top priority for activity providers. They adhere to strict safety standards and guidelines to ensure participants' well-being. Trained instructors or facilitators are usually present to provide guidance and maintain safety protocols during the activities. However, it's essential for participants to follow instructions, use appropriate safety equipment, and disclose any relevant medical conditions before participating.
Can we combine multiple activities into a team building program?
Absolutely! Many providers offer the flexibility to combine different activities into a comprehensive team building program. You can work with them to create a tailored itinerary that includes a variety of activities to suit your team's preferences and goals.
Are these team building activities suitable for large groups?
Yes, these activities can be adapted for both small and large groups. The providers have the expertise to handle groups of varying sizes, ensuring that everyone has a meaningful and engaging experience. It's recommended to contact the providers in advance to discuss group size and any specific requirements.
What is the cost associated with these team building activities?
The cost of each activity can vary depending on factors such as group size, activity duration, and any additional services or customization requested. It's advisable to reach out to the team building event providers for detailed pricing information and any available packages or discounts.
Can we book these activities throughout the year?
Yes, most of the best team building activities can be booked year-round, subject to availability. However, it's advisable to make reservations in advance, especially during peak seasons or for popular activities, to secure your preferred dates and times for your next next team building event.
Can we combine indoor and outdoor team building activities?
Absolutely! Many providers offer a combination of indoor and outdoor team building activities in Singapore. This allows teams to experience a diverse range of challenges and environments. You can discuss your preferences with the providers and create a well-rounded team bonding program that includes both indoor and outdoor components.