Indoor Group Activities Singapore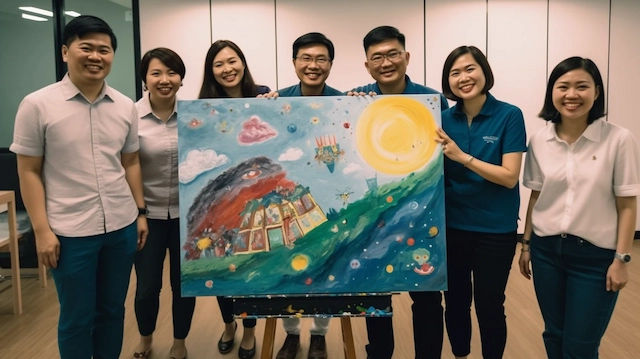 Indoor group activities have gained immense popularity in Singapore, providing a perfect avenue for friends, families, and colleagues to come together and engage in exciting and creative experiences. In 2023, Singapore continues to offer a diverse range of indoor group activities, catering to various interests and preferences.
Whether you're looking for hands-on creative workshops, artistic endeavors, or interactive challenges, there's something for everyone.
In this article, we will explore the 10 best indoor group activities in Singapore, each offering all the fun and opportunities for team building and fun.
Best Indoor Group Activities Singapore
1) Terrarium Workshop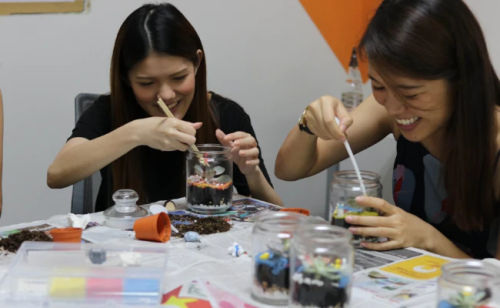 Immerse yourself in the enchanting world of terrariums through a captivating workshop. Terrarium workshops in Singapore have gained popularity due to their therapeutic nature and the chance to create miniature ecosystems. Participants learn how to assemble and care for their own terrariums, using a variety of plants, stones, and decorative elements. These workshops not only provide an opportunity to unleash your creativity but also serve as a relaxing and educational team building experience for groups.
2) Cooking Class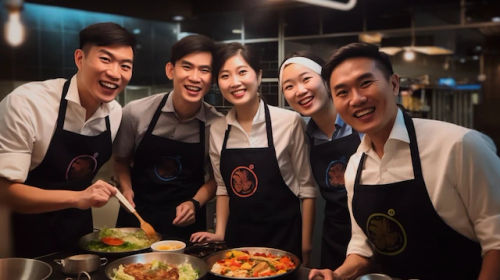 Embark on a gastronomic journey with your group by participating in a cooking class. Singapore is renowned for its diverse culinary scene, and cooking classes offer a chance to learn the secrets behind local and international cuisines. Expert chefs guide participants through the preparation of delicious dishes, providing insights into various cooking techniques, ingredients, and flavor combinations. From mastering the art of sushi rolling to perfecting the preparation of local delicacies, cooking classes guarantee a memorable and mouthwatering experience for groups of all sizes.
3) Canvas Art Jamming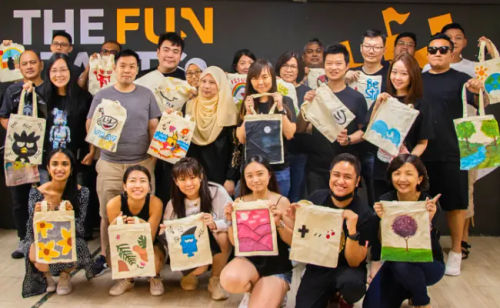 Unleash your inner artist and indulge in a session of canvas art jamming. Art jamming studios in Singapore provide the perfect environment for groups to express their creativity on a blank canvas. With an array of vibrant paints, brushes, and tools at your disposal, you can create personalized masterpieces or collaborate on a collective artwork with your group. This activity encourages free expression, fosters teamwork, and allows participants to tap into their artistic potential while enjoying a relaxing and enjoyable atmosphere.
4) Soy Candle Making Workshop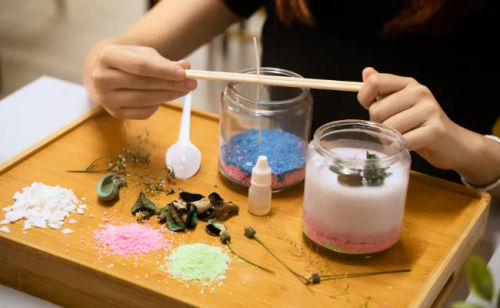 Discover the art of soy candle making and ignite your creativity during a soy candle making workshop. These workshops provide an immersive and aromatic experience for groups, as participants learn the techniques of crafting their own eco-friendly and beautifully scented candles. From selecting fragrance oils to designing unique candle containers, every step in the process allows for personalization and experimentation. The soothing ambiance and delightful fragrances make soy candle making workshops an excellent choice for group bonding and relaxation.
5) Perfume Workshop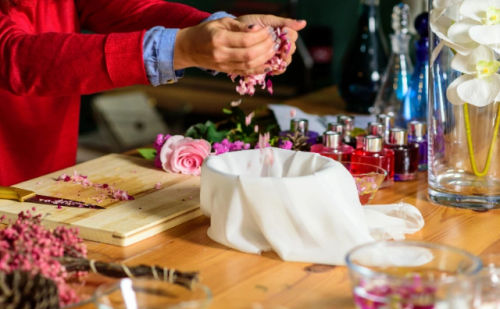 Embark on a sensory journey with your group through a perfume workshop in Singapore. Perfume workshops offer a unique opportunity to delve into the world of fragrances and create your own signature scent. Guided by professional perfumers, participants learn about the art of blending different notes, exploring various scents, and crafting their personalized perfumes. This interactive and aromatic experience allows groups to engage their senses and create lasting memories while discovering the nuances of perfumery.
6) Stitched Leather Workshop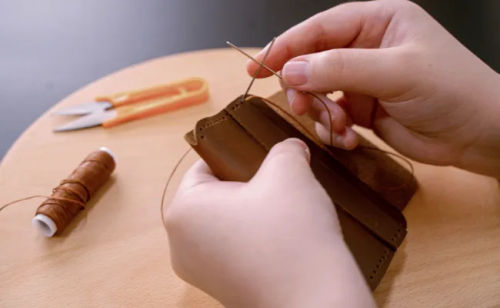 Unleash your craftsmanship and delve into the world of leatherworking with a stitched leather workshop. Participants are introduced to the basics of leathercraft, learning techniques such as stitching, cutting, and assembling leather pieces to create personalized accessories like wallets, keychains, or bracelets. These workshops provide a hands-on experience and allow groups to develop their skills while fostering creativity and camaraderie.
7) Non-Stitched Leather Workshop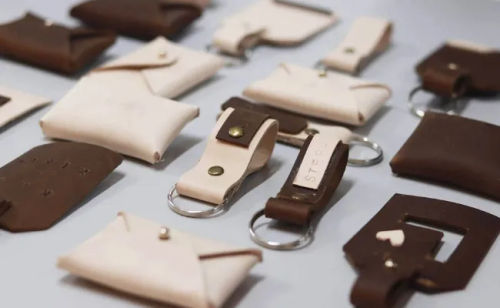 For those seeking a different approach to leathercraft, non-stitched leather workshops offer an alternative experience. Participants explore techniques such as leather molding, carving, and embossing to create unique leather items. From stylish phone cases to elegant cardholders, non-stitched leather workshops allow groups to unleash their artistic flair and produce bespoke leather goods.
8) Tote Bag Art Jamming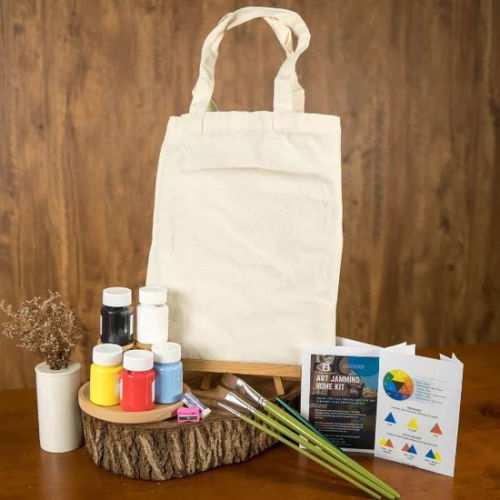 Combine functionality and creativity by engaging in a tote bag art jamming session. Tote bag art jamming workshops provide groups with plain canvas tote bags and an assortment of paints, stencils, and brushes. Participants have the freedom to design and customize their tote bags, incorporating personal touches, slogans, or vibrant patterns. This activity promotes self-expression, encourages collaboration, and provides a useful and stylish memento for participants to take home.
9) Gel Candle Making Workshop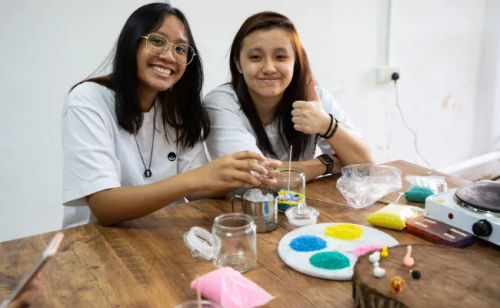 Discover the art of gel candle making, a captivating group activity that combines creativity and craftsmanship. Gel candle making workshops allow participants to experiment with various colors, embeds, and scents while crafting their own captivating gel candles. These workshops provide an opportunity to learn about the different techniques involved in creating layered or themed gel candles, resulting in stunning decorative pieces that can illuminate any space.
10) Balloon Sculpting Workshop
Spark joy and laughter within your group by participating in a balloon sculpting workshop. Balloon sculpting is a delightful art form that transforms simple balloons into whimsical creations. Led by experienced balloon artists, participants learn how to twist and shape balloons into animals, flowers, and other imaginative designs. Balloon sculpting workshops not only bring out the inner child in participants but also encourage teamwork and foster a sense of accomplishment as groups marvel at their colorful and inflatable creations.
Indoor Group Activities Singapore
Indoor group activities in Singapore offer an array of exciting and enriching experiences for people of all ages and interests. From nurturing creativity through art jamming and leather workshops to indulging in aromatic escapades with candle making and perfume workshops, there are indoor activities to suit every group's preferences.
These activities provide the perfect platform for bonding, collaboration, and shared memories. So gather your friends, family, or colleagues and embark on a journey of exploration and fun as you engage in the 10 best indoor group activities Singapore has to offer in 2023.
Looking for more articles? Check out our recommendations below:
Frequently Asked Questions (FAQs)
If you have any questions about indoor group activities in Singapore, you can refer to the frequently asked questions (FAQs) about the best Indoor Group Activities in Singapore below:
Why are indoor group activities popular in Singapore?
Indoor group activities have gained popularity in Singapore due to various reasons. The city-state experiences hot and humid weather, making indoor activities a comfortable option. Additionally, indoor group activities provide an avenue for socializing, creativity, and shared experiences, making them ideal for families, friends, and colleagues.
Are these activities suitable for all age groups?
Yes, the mentioned indoor group activities in Singapore are generally suitable for participants of different age groups. However, it's advisable to check with individual activity providers regarding any age restrictions or recommendations for specific activities.
Are prior skills or experience required to participate in these activities?
Most of the indoor group activities listed in the article are designed to be beginner-friendly and do not require prior skills or experience. Experienced instructors or facilitators guide participants through the cool team building activities, providing necessary instructions and assistance.
How long do these activities typically last?
The duration of each fun team bonding activity may vary. It depends on the specific activity and the package chosen. Cooking classes, art jamming sessions, and workshops usually range from 1 to 3 hours, while other activities like escape rooms games or virtual reality experiences can have varying timeframes, typically around 1 to 2 hours.