Office Plants Singapore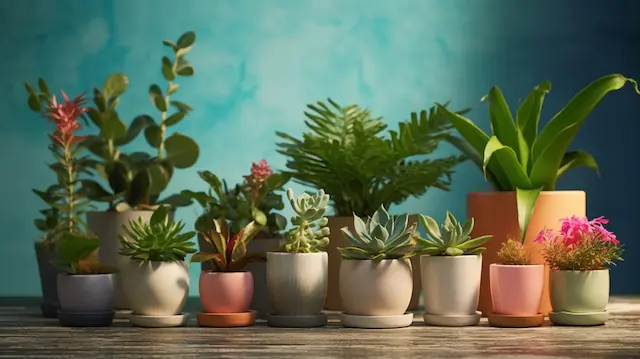 Indoor plants have become increasingly popular in office environments, and Singapore is no exception. Beyond their decorative appeal, indoor plants offer a range of benefits that can greatly enhance the workplace.
From improving air quality to boosting productivity and reducing stress, these green companions have proven their value in office settings.
In this article, we will explore the top ten indoor plants ideal for Singaporean offices in 2023, considering factors such as light conditions, maintenance requirements, and their suitability for the local climate.
Benefits of Indoor Plants in Office Environments
Improved Air Quality: Indoor plants act as natural air purifiers, filtering out toxins and releasing oxygen. This can help reduce the presence of harmful chemicals and improve overall air quality in the office.
Increased Productivity: Studies have shown that the presence of plants in the workplace can enhance productivity and concentration. Greenery has a calming effect, reduces fatigue, and promotes a positive work environment.
Stress Reduction: Indoor plants have a therapeutic effect, promoting relaxation and reducing stress levels among employees. Their presence can help create a soothing and tranquil atmosphere in the office.
Enhanced Aesthetics: Indoor plants add a touch of nature and beauty to office spaces, making them more visually appealing and inviting. They can elevate the overall ambiance and create a welcoming atmosphere for employees and visitors alike.
Factors to Consider When Choosing Office Plants in Singapore
Light Conditions: Assess the available natural light in the office and choose plants accordingly. Some plants thrive in bright, well-lit areas, while others can tolerate low-light conditions.
Maintenance Requirements: Consider the time and effort required to care for different plant species. Opt for low-maintenance plants that can withstand the busy schedules often found in office environments.
Suitability for the Local Climate: Singapore's tropical climate calls for plants that can thrive in high humidity and warm temperatures. Select plants that can adapt to these conditions and withstand fluctuations in air conditioning.
Tips for Caring for Indoor Plants in Office Spaces
Watering Routine: Develop a watering schedule based on each plant's specific needs. Ensure proper drainage and avoid overwatering or underwatering.
Light Requirements: Place plants in areas where they can receive adequate sunlight or artificial light. Monitor their growth and adjust their placement accordingly.
Common Troubleshooting: Stay vigilant for signs of pest infestations, diseases, or nutrient deficiencies. Take prompt action to address these issues and keep plants healthy.
Employee Involvement: Encourage employees to participate in plant care by assigning watering responsibilities or establishing a communal plant care routine. This fosters a sense of ownership and shared responsibility.
Top 10 Indoor Plants Ideal for Singaporean Offices
1. Snake Plant (Sansevieria)
This low-maintenance plant thrives in low to medium light conditions, making it perfect for offices with minimal sunlight. It has air-purifying properties and adds a touch of elegance with its upright, sword-shaped leaves.
2. ZZ Plant (Zamioculcas zamiifolia)
The ZZ plant is a hardy choice that can tolerate low light and irregular watering. Its glossy, dark green foliage adds a tropical touch to any office space, and it requires minimal attention.
3. Pothos (Epipremnum aureum)
Pothos is an excellent choice for offices with medium to bright light. With its cascading vines and heart-shaped leaves, it brings a trailing, lush aesthetic to shelves and hanging planters.
4. Peace Lily (Spathiphyllum)
The peace lily thrives in medium to low light and helps purify the air by removing toxins. It produces elegant white flowers and adds a touch of serenity to the office environment.
5. Spider Plant (Chlorophytum comosum)
Spider plants are resilient and adaptable, making them suitable for various office conditions. They thrive in bright, indirect light and produce cascading foliage, adding a fresh and lively vibe.
6. Chinese Evergreen (Aglaonema)
Chinese evergreens are known for their beautiful, variegated leaves that come in different colors. They thrive in low to medium light conditions and can tolerate fluctuations in temperature and humidity.
7. Dracaena (Dracaena spp.)
Dracaenas are versatile and come in various forms, such as the Dracaena marginata or Dracaena fragrans. They do well in medium to bright light and make excellent statement plants with their upright, sword-like leaves.
8. Boston Fern (Nephrolepis exaltata)
Boston ferns are lush and feathery, perfect for adding a touch of greenery to office corners or hanging baskets. They prefer indirect light and high humidity, making them suitable for air-conditioned environments.
9. Areca Palm (Dypsis lutescens)
The Areca palm is a popular choice for offices, with its graceful, feathery fronds adding a tropical vibe. It thrives in bright, indirect light and can tolerate lower light conditions as well.
10. Rubber Plant (Ficus elastica)
Rubber plants are known for their large, glossy leaves and their ability to adapt to various light conditions. They are low-maintenance and can add a statement element to office spaces.
Creative Ways to Incorporate Indoor Plants in Singaporean Offices
Desk Arrangements: Place small, low-light plants like snake plants or ZZ plants on desks to add a touch of greenery without occupying too much space.
Communal Areas: Use larger plants like peace lilies or dracaenas to create focal points in common areas such as reception areas, lounges, or break rooms.
Hanging Gardens: Utilize hanging planters or macrame holders to suspend plants from ceilings or walls, adding vertical greenery to office spaces.
Living Walls: Install vertical gardens or green walls, which consist of a collection of plants mounted on a vertical surface, to make a bold and eye-catching statement.
Potential Challenges and Solutions for Office Plants in Singapore
Air Conditioning: Air-conditioned environments can lead to drier air, so consider placing plants away from direct vents or use humidifiers to maintain adequate moisture levels.
Limited Natural Light: If your office has limited natural light, opt for low-light plants that can thrive in artificial light conditions. Supplement with full-spectrum grow lights if needed.
Busy Work Schedules: Choose low-maintenance plants that require minimal attention and can tolerate occasional neglect. Develop a watering schedule and consider self-watering systems or plant care services if necessary.
Incorporating indoor plants in Singaporean offices is a fantastic way to enhance the work environment, boost productivity, and create a visually appealing space. Whether you opt for low-light plants like snake plants and ZZ plants or bright, vibrant options like Chinese evergreens and peace lilies, there is a plant to suit every office setting. Remember to assess the specific needs of your office space and choose plants accordingly to ensure they thrive and contribute to a healthier, more enjoyable workplace.
Office Plants Singapore
Indoor plants can be a great addition to any office in Singapore, and there are many creative ways to incorporate them into the space, such as by having them in terrariums. Opt for low-light plants that are suitable for air-conditioned environments, such as snake plants or ZZ plants. For medium to bright light areas, consider incorporating peace lilies, spider plants, or Chinese evergreens. Keep in mind the potential challenges such as air-conditioning, limited natural light, and busy work schedules. With a bit of planning and maintenance, you can create an inviting space with vibrant plants that bring life into your office.
Happy planting!
Looking for more articles? Check out our recommendations below:
Frequently Asked Questions (FAQ)
If you have any questions about benefits of keeping a terrarium in Singapore, you can refer to the frequently asked questions (FAQ) about the Benefits Of Keeping A Terrarium In Singapore below:
Are there any office plants that can thrive in low-light conditions?
Yes, several office plants can tolerate low-light conditions. Some suitable options include snake plants, ZZ plants, pothos, and Chinese evergreens. These plants have adapted to survive in environments with limited natural light.
Are there any office plants that are safe for pets?
Yes, there are pet-friendly plants that can be safely placed in office spaces. Some examples include spider plants, Boston ferns, and Areca palms. However, it's always important to research specific plants to ensure they are non-toxic to pets.
How often should I water office plants?
The watering frequency depends on various factors such as the plant species, pot size, light conditions, and office temperature. It's generally recommended to allow the top inch of soil to dry out between waterings. Avoid overwatering as it can lead to root rot.
Can I use artificial light for office plants?
Yes, if your office has limited natural light, you can supplement it with artificial light. Full-spectrum grow lights are an excellent option as they mimic natural sunlight and provide the necessary light spectrum for plant growth.
How can I prevent pest infestations in my office plants?
To prevent pest infestations, regularly inspect your plants for signs of pests like mealybugs or spider mites. Maintain good plant hygiene by keeping leaves clean and removing any dead or decaying plant material. If an infestation occurs, isolate the affected plant and treat it with appropriate insecticidal solutions.