Plant Gifts Singapore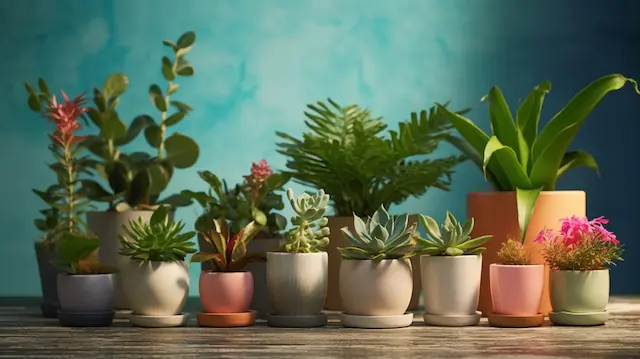 If you have a plant lover on your gift list, it can be hard to know what to get them. Whether you're looking to buy gifts for someone who loves to garden or just wants something to brighten up their space, these plant gifts are sure to please any plant lover. From terrarium workshops and bouquets to succulents and tote bags, here are best plant gifts to give any plant lover in your life.
If you want to make your own terrarium for your loved one, here are DIY Terrarium Singapore Tips (2023!
Key Consideration Factors
Light conditions: Consider the light requirements of the plant and ensure that it is appropriate for the recipient's living space.
Maintenance: Choose a plant that matches the recipient's level of experience and ability to care for plants.
Size: Take into account the size of the plant and whether it can be accommodated in the recipient's living space.
Purpose: Determine the reason for giving the plant gift, such as for decoration or air purifying, and select a plant that meets the intended purpose.
Personal preferences: Consider the recipient's personal style and preferences to ensure that they will love and appreciate the plant gift.
Toxicity: If the gift is intended for a household with pets or small children, ensure that the plant is non-toxic or safe for them to be around.
Best Plant Gifts Singapore
1. Terrarium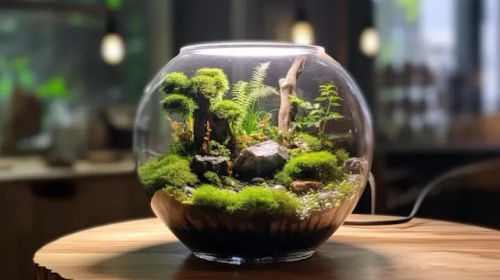 Terrariums are glass globes that house plants. They're very easy to care for and require little maintenance. You just add water every few weeks and your plant will flourish. Best of all, they make great plant gifts.
You can buy terrariums from most plant stores. However, if the person you are giving the gift to wants to learn how to make them, continue reading below!
2. Terrarium Making Home Kit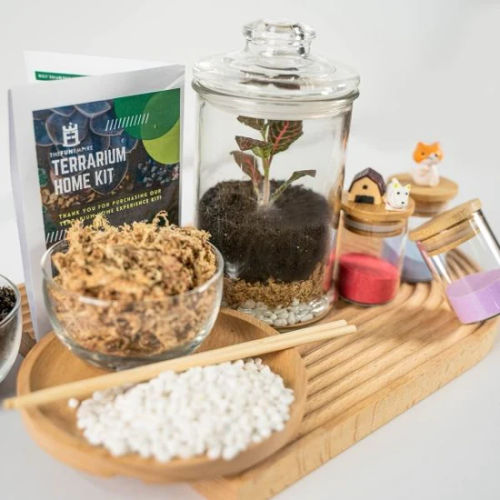 Help a plant lover start his or her own terrarium at home with our DIY Terrarium Home Kit. With everything you need to get started, including a Fittonia plant and a glass jar, he or she will have a space to decorate and maintain in style. It's an easy way to help someone grow (literally) into a home-decor hobby, as well as make for some very cool plant gifts!
Starting from only $25/pax, we deliver the home kits straight to your doorstep. Or we could even deliver the home kit straight to the person you are buying plant gifts for!
3. Virtual Terrarium Workshop
For unique plant gifts, gather his or her and your friends and participate in our Virtual Terrarium Workshop!
Starting from $28/pax, participants in our virtual terrarium workshop would create their terrariums from home. All materials will be sent to your doorstep! The workshop would be led by experienced and certified facilitators. Our Virtual Terrarium Workshops are excellent plant gifts because they give the recipient the opportunity to build a terrarium in a safe and facilitated environment while having fun with their friends!
4. Terrarium Figurines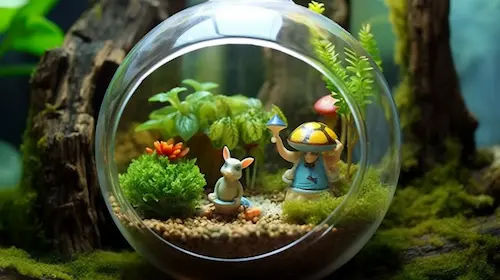 Show your favourite plant lover that you love them with a terrarium figurine. This mini, decorative planter will ensure that your loved one is thinking of you every time they water their plant. Figurines are cute and practical; they make ideal plant gifts!
We offer a wide variety of figurines to shop from! From cartoon characters and pets to buildings and greenery.
5. Clay Making Home Kit
If your fellow plant lover is a more hands-on kind of individual, why not gift him or her FunEmpire's Clay Making Home Kit? Our Clay Home Kits make great plant gifts as it allows the individual to create their own figurines for their garden or terrarium.
6. Potta Plantta Gift Card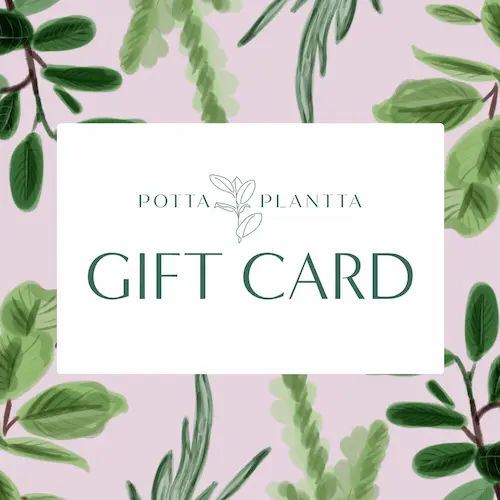 Potta Plantta is a local boutique plant shop that offers a variety of products. Their gift cards are great plant gifts for plant lovers. They never expire and can be used both digitally and physically. You can customise the value from as low as $50 to a whopping $300.
7. Sorrento Self Watering Planter Pots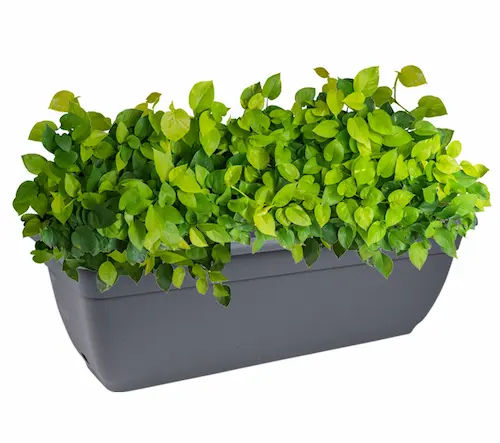 Self-watering planter pots are one of those things that should've been invented a long time ago, as they solve all kinds of issues plant lovers encounter on a regular basis. Hence, they can be really good plant gifts.
Well, check out Décor's newest planter pots for your cool plant gifts! The pot has a built-in water reserve that can hold up to 4 weeks' worth of water. The roots are also kept aerated by a ventilated floor. Ideal for usage in an outdoor setting.
8. Biodegradable Coconut Fiber Pot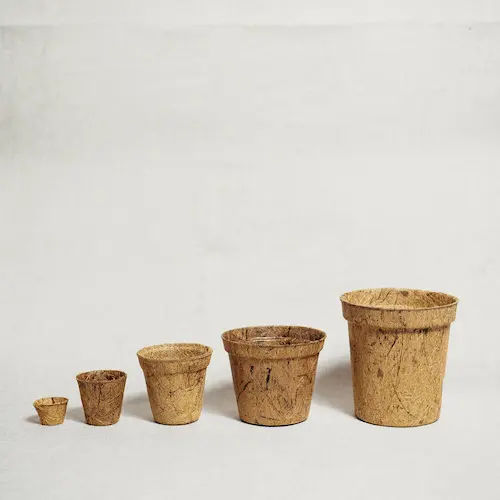 These biodegradable pots from Potta Plantta, which start at $1.50, make ideal plant gifts for plant enthusiasts. They'll last anywhere from 9 to 18 months, depending on how often you use them. When it's time to repot, place the entire plant and pot in a larger pot, and the coconut fiber will break down inside the soil. The porous nature of these pots allows water to drain.
9. Mini Planter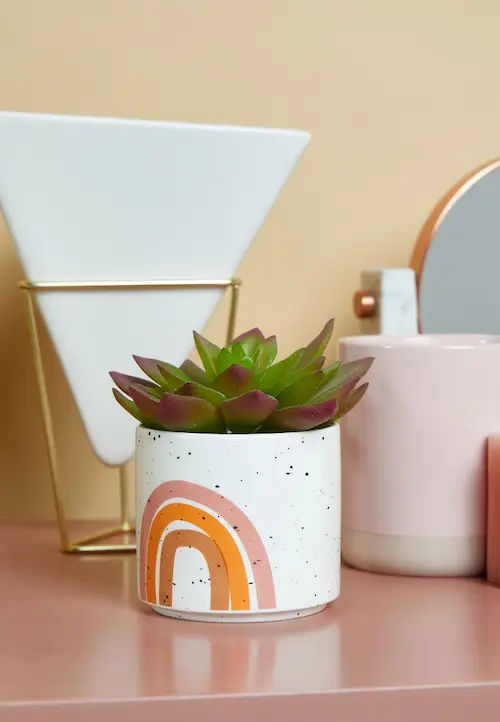 Mini planters would be great plant gifts! Especially if the other person loves little plants! Check out this one from Rubi for only $5. An artificial plant is included and it looks good in the house and anywhere. Pop of colour and adorable!
10. Hand bouquet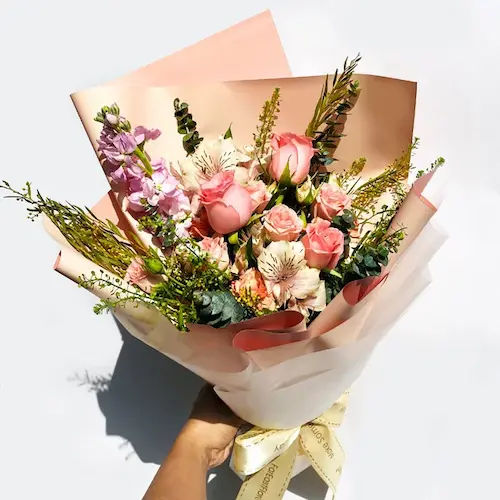 Hand bouquets are perfect plant gifts for any occasion, whether it's a birthday or just to express that you care. Check out Far East Flora's hand bouquets, which are continually updated with new patterns inspired by global floral trends. Their experienced florist uses only the freshest blossoms, such as premium roses, sunflowers, and other flowers.
Make someone smile today with these gorgeous plant gifts!
11. Wine x Foliages Gift Set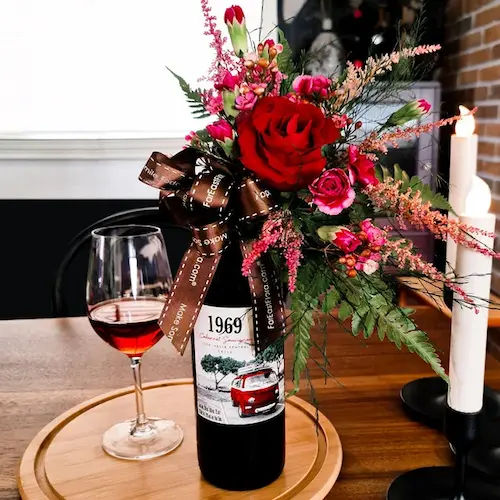 Another goodie from Far East Flora is the WE10 – J.P Chenet Merlot Wine x Foliages Gift Set! These gift sets are great plant gifts as they combine both of man's greatest pleasures – flowers and wine. Make sure your plant lover is of drinking age though!
A toast and a tipple are appropriate for all milestones and pleasant events. Send this gift and let him or her open this box of joy, which comes in the form of J.P Chenet Merlot, which is nestled among luscious tropical greens. Calathea, ficus murraya, dianthus barbatus, baby's breaths, eryngium questar sirius, and J.P Chenet Merlot 250ml are included in this gift set (13 percent Alc).
12. Flower Necklace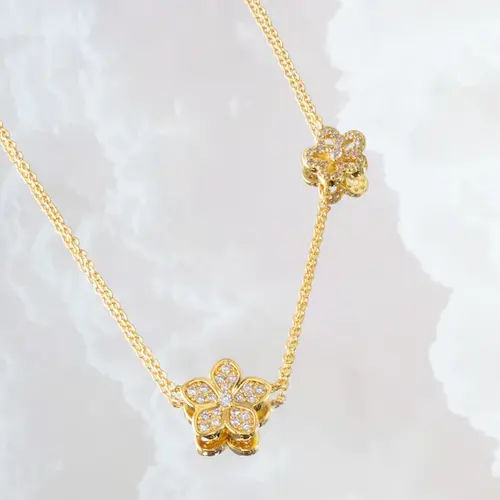 Want choices of elegant plant gifts? Made Different Co. introduces the Zinnia Flower Necklace. Get this lovely accessory for your plant lover to complement their everyday outfit. Additionally, it is hypoallergenic and suitable for delicate skin.
It costs $48 and comes in gold, silver, and rose gold.
13. Plant a-maze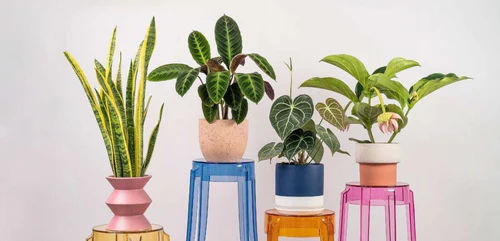 Plant a-maze by Tumbleweed Plants is a great option if you're looking for plant gifts for kids.
Real seeds and materials are included in these plant-growing kits, allowing a child to cultivate their own plant. They'll see how plants grow and navigate a maze to reach daylight, as well as how the roots develop and grow to support the plant.
Plant gifts help kids learn about the environment by seeing how nature moves through it.
14. Box of Blooms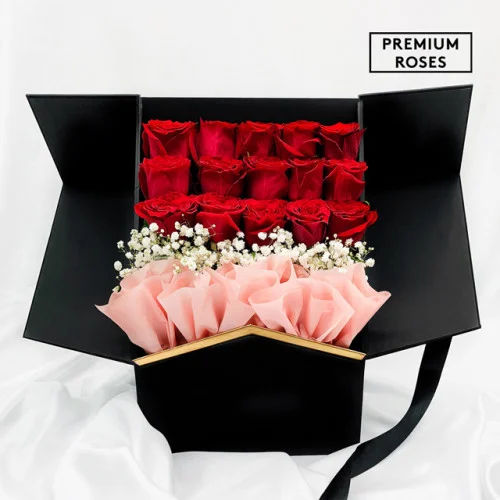 Are you looking for romantic and unique plant gifts to make your special someone happy? Why not give a flower box as a present? These bloom box flowers, filled to the brim with fresh flowers, will undoubtedly be one-of-a-kind plant gifts for them.
Far East Flora offers a number of Box of Blooms available as plant gifts, starting at $85.49.
15. Cute Cat Plant Print
A square size print (13cm each side, 5.1 inches) depicting a scene of a black cat lounging out in his little pot, surrounded by his potted plants is available from Rabbit Island. A small bird sits on the window sill, staring into the room. If the recipient enjoys cats, plants, or both, these are the perfect cute little plant gifts!
16. Plant Buddies Weekly Planner Pad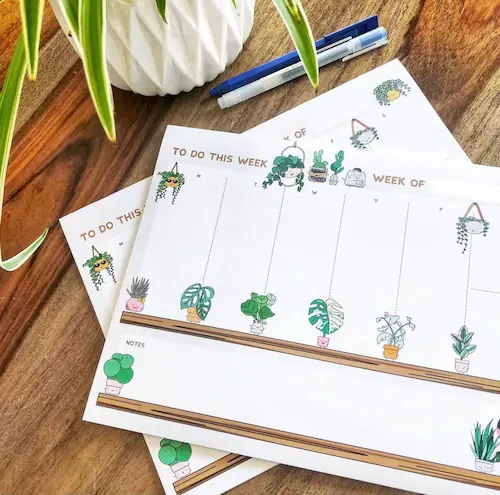 This plant-themed planner from The Chlorofeel Shop is designed to make it easy to keep track of the most important tasks. With this charming Plant Buddies weekly planner, you can get your inner planner ready! At only $25, these cute pads are excellent plant gifts for anyone who enjoys plants and planners.
17. Leaf and Flower Press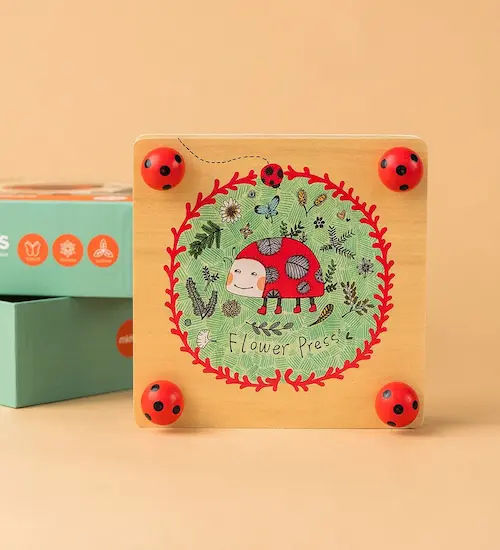 More children's plant gifts! By preserving the leaves and flowers found in this kid-friendly flower press, Tumbleweed Plants' Leaf and Flower Press encourages a child to develop creativity and connect with nature. Personalised art, greeting cards, and bookmarks can all be made with pressed flowers and leaves. These plant gifts teach a child to appreciate and be inspired by the beauty of nature!
18. Yotto Reusable Face Mask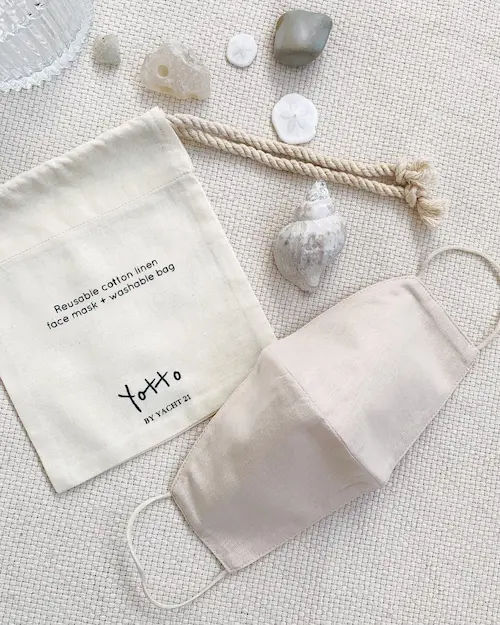 Looking for fashionable plant gifts? Yacht 21's Yotto Reusable Face Mask is a biodegradable face mask that can be used multiple times in one sitting. It's perfect for keeping your skin feeling fresh and clean, without having to waste paper or plastic on disposable face masks.
19. Vinyl Sticker Sheet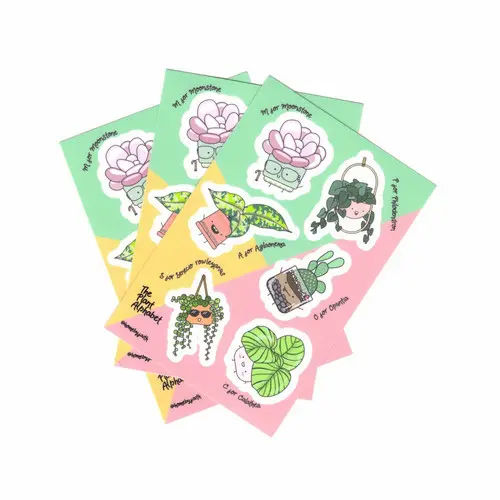 Ideal for a back-to-school plant lover, these colorful plant-themed vinyl stickers by The Chlorofeel Shop make great plant gifts! The plants Alocasia Frydek, Tradescantia, Philodendron Pink Princess, Venus Fly Trap, Fiddle-Leaf Fig, and Monstera Variegata are included in this item for one (1) sticker sheet.
20. Bonsai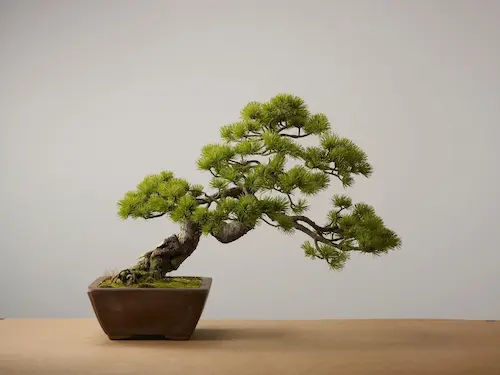 Bonsai trees bring an artistic element to a home and can be very relaxing to look at. Some people see bonsai as another type of tree art or centerpiece item for their homes; others enjoy watching them grow and seeing how they adapt to their new environment. Rabbit Island's Bonsai are perfect plant gifts for nature lovers. It is serresia that is being grown into a bonsai shape.
21. Orchid Folios by Mok Zining
If you know someone who's really into plants, get them a book regarding their favourite plant and nature! Books are definitely new and interesting plant gifts. One such example is Orchid Folios by Mok Zining.
Carried by The Chlorofeel Shop and priced reasonably at $19.
22. Rabbit Plants Postcard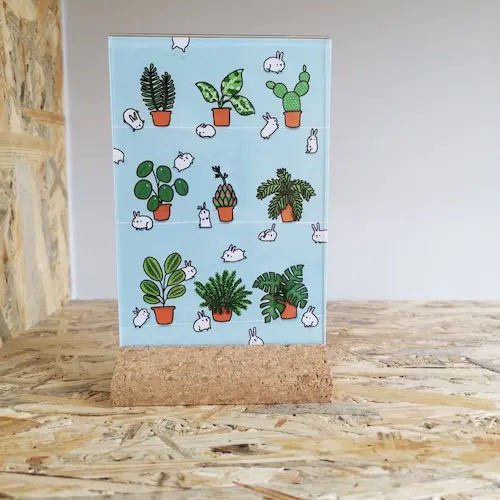 We love these whimsical postcards by Rabbit Island. Cute little plant gifts, featuring a bunch of tiny adorable rabbits hopping about inspecting a variety of plants.
23. Micro Veggies
Want interesting and unique plant gifts? Get your plant lover seeds for micro veggies. Although they are small in size, micro veggies still pack a wallop of flavour when you cook them. These make great plant gifts because there is no limit to how many different recipes you can use these dainty bites in. They also will add an unexpected pop of colour on your plate.
24. Down to Earth Tote Bag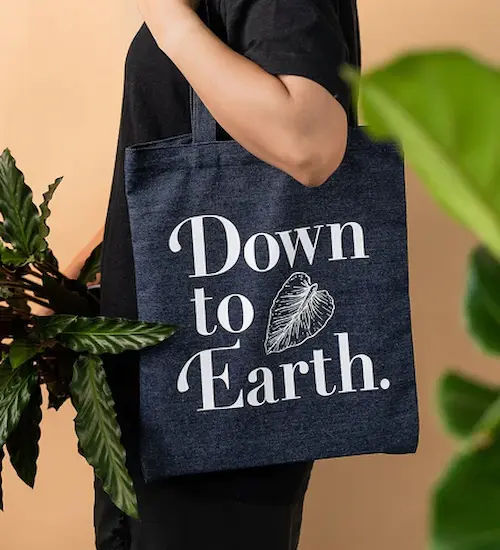 Some trendy plant gifts for the plant lover!
Tumbleweed Plants' Down To Earth line denim style cotton tote bags are everyday carry-around bags that may be taken plant shopping or for a Sunday morning stroll. These bags are an unpretentious representation of their passion for nature and what is valuable in life, designed by plant people for plant people.
25. Dried Flower Ear Studs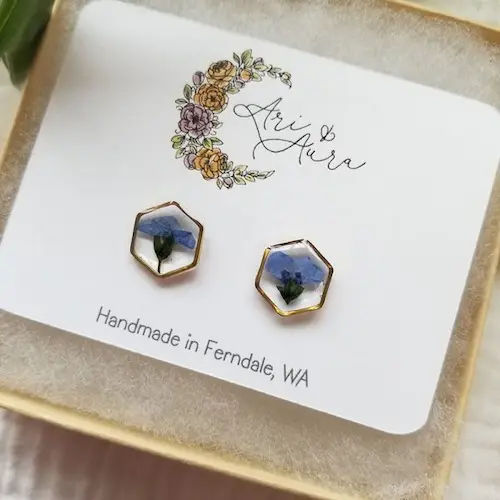 These delicate yet fun blue earrings from Ari & Aura are great plant gifts. Dried flowers are one of those things that really make great plant gifts and they come in many different colours and shapes, so the fact that they are available as ear studs is amazing.
They also come in pink that you won't be able to resist buying!
Plant Gifts Singapore
Plant gifts add life and personality to any room in your home, not to mention natural beauty and soothing scents. It's no wonder that plant lovers are some of the happiest people in the world – after all, what's not to love about plants? Good luck choosing from these plant gifts!
Looking for more articles? Check out our recommendations below:
Frequently Asked Questions (FAQ)
If you have any questions about plant gifts for plant lovers in Singapore, you can refer to the frequently asked questions (FAQ) about the best Plant Gifts for Plant Lovers In Singapore below:
What types of plants are suitable as gifts in Singapore?
Some popular plant gift options in Singapore include succulents, air plants, snake plants, peace lilies, and money trees.
Do I need to have gardening experience to care for a plant gift?
Not necessarily. There are many low-maintenance plant options that require minimal care and are easy to grow, making them suitable for beginners.
Can I request a specific plant or pot for my plant gift?
It depends on the retailer or florist. Some may offer customization options, while others may have a set selection of plants and pots to choose from.
Can I have my plant gift delivered?
Yes, many retailers and florists offer delivery services for plant gifts. However, some may have restrictions based on location or availability.
Are plant gifts environmentally friendly?
Yes, plants are a sustainable and eco-friendly gift option. They can help purify the air, reduce carbon dioxide levels, and provide a natural and beautiful addition to any living space.